Get ready for a fun-filled vacation with your family. The long Christmas holiday is fast approaching; and Filipinos are looking forward to taking a break from their work and spending more quality time with their loved ones. You don't even need to go far for travels and accommodations that cost a fortune so you can relax and unwind. There are a number of green destinations in the city that offer you a great sanctuary with lots of activities to choose from. Here are places you can visit within Metro Manila that will not break your wallet.
1. La Mesa Ecopark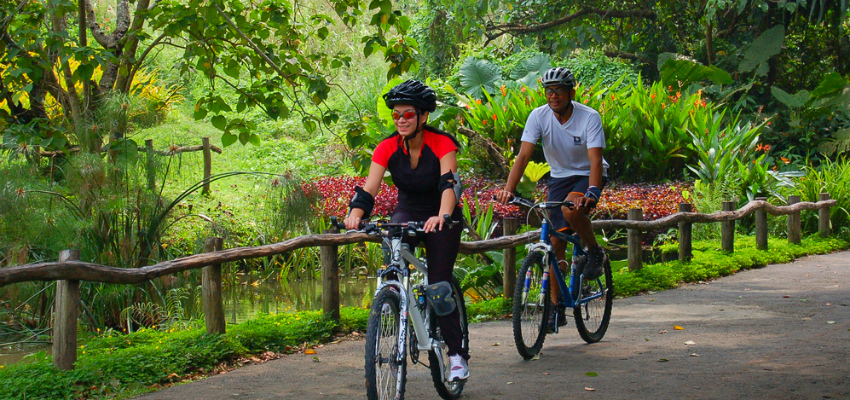 (Image source: radikalfool/Flickr)
Location: La Mesa Dam Compound, Greater Lagro, Quezon City
Website: www.abs-cbnfoundation.com/bk/lamesa.html
Contact: (02) 430-4051 or (02) 430-5207
La Mesa Ecopark is a wonderful reserve within the busy Quezon City that provides its residents and visitors a taste of authentic forest experience. Prior to its redevelopment, the La Mesa watershed was in a dire state. In order to revitalize and protect it, Metropolitan Waterworks and Sewerage System (MWSS), in partnership with ABS-CBN's Bantay Kalikasan, started its rehabilitation and reforestation program in 1999. Today, this 33-hectare park features exciting amenities that everyone would enjoy. The park is open daily from 8am to 5pm, giving you ample time to explore the different wonders of nature that you'll mostly see when you go to provinces. There are a lot of activities to do here such as enjoying picnics and visiting its orchidarium and butterfly garden. You can also bring your own bike and have fun at the trails, or you may use the rentals instead. For those who are fond of going to Tagaytay and Baguio to experience horseback riding and to go boating, respectively, you don't need to travel far. La Mesa Ecopark has its own stables and boating lagoon. You and your family can also take a dip in the salt water swimming pool, which is possibly the only type of pool open to public use in the country according to its management. For angler-wannabes or at fishing aficionados, there's a lot of catch such as tilapia and catfish waiting for you. For the more adventurous and free-spirited members of the family, there are many facilities that will satisfy your adrenalin rush. You can try the zipline, archery, or bungee jumping. And if one day is not enough, you can also stay overnight and try out their camping facilities.
2. RAVE (Rainforest Adventure Experience) Pasig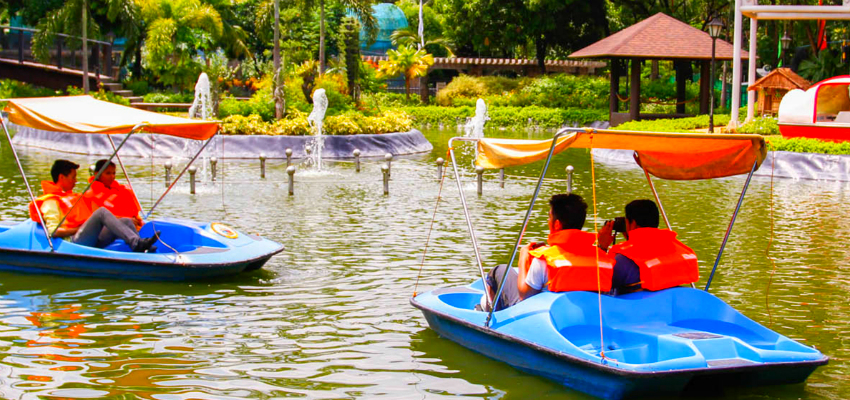 (Image source: rave.pasigcity.gov.ph)
Location: F. Legaspi Ave, Maybunga, Pasig City
Website: rave.pasigcity.gov.ph
Contact: 642-5280 (Admin) or 628-4291 (Waterpark)
Pasig City's revamped tourist attraction lets you experience a new world amid the concrete jungle. Despite its highly urbanized setting, this place is an ideal respite for families on weekends or during the holidays. From its zoo to its adventure park, there are many family-friendly attractions in store for you. Check out the entire
RAVE map
to get you started. First stop is the Botanical Garden. This enchanting greenery features a butterfly pavilion that lets you discover the life cycle of butterflies. For a close encounter with animals, the zoo is your next stop. It is composed of an aviary, vivarium, and place for petting the animals. If you want to discover floras, the flower garden is a veritable Eden. Breathe in the fresh flower fragrance and enjoy photo shoots with a colorful background. Another fun feature of the park is its aMaze Garden with an "Alice in Wonderland" theme. This refreshing labyrinth will make you want to get lost and take in the beauty of nature. Children would love this place. And if they want to interact with other kids, they can go to the Kiddie Playland, a playground where they can try the mini-obstacle course. For those in for a more daring experience, RAVE's Adventure Park is dedicated for extreme sports lovers. This new and improved facility features a skate park, rappelling, wall climbing, an obstacle course, and the longest zipline in Metro Manila. Other interesting facilities to try out include the boating lagoon, camping area, fitness center, and picnic grove. There are also two water park pools as well as tennis and basketball courts available.
3. Quezon Memorial Circle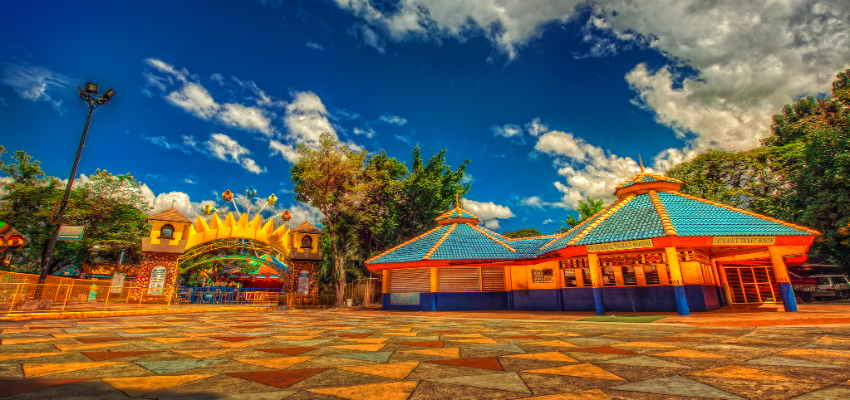 (Image source: pipoyjohn/Flickr)
It's more fun in Quezon City. The city's national park is indeed a fun place to celebrate the holidays in an affordable style. Though it's not a forest park, lush trees encompass the place, making it a wonderful place for relaxation. This is a favorite venue for families, biking enthusiasts, and just about anyone who wants to enjoy a free day on a budget. One of the main attractions in the circle is the fountain. Located smack dabbed in the park, it features a colorful display of dancing light bands and dancing waters that will make the kids and adults ooh and ahh in amazement. Your children will also have fun playing in the Circle of Joy. This is a large playground area with numerous slides. If you want to experience a different kind of amusement park aside from the popular Star City in Pasay or Enchanted Kingdom in Laguna, another destination in Quezon Memorial Circle is the Circle of Fun. Bring out the child in you and try the different rides and parlor games that are available in the park. This well-maintained activity area offers roller coaster, bicycle, boat, and carousel rides. There is also bumper cars, a Ferris wheel, and a zipline.
Want to have your share of the fun in Quezon City? Find properties for rent in Quezon City.
4. Arroceros Forest Park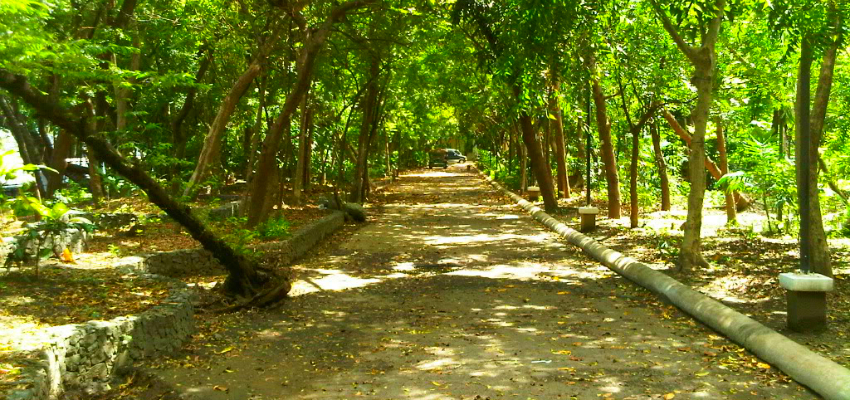 (Image source: liquiddruid.wordpress.com)
Location: Manila
Facebook Page: arrocerosforestparkmanila
While Arroceros Park does not have the myriad of facilities for extreme activities, as the "last lung" of Metro Manila, it surely is a nice place to visit during the holiday. Once you enter the park, it feels like you are transported to a magical forest. And only with the rumbles of cars and the LRT would you know that you're still in the city. Claimed as one of the best kept secrets of Manila, the park features soothing shades of lush trees. It is a host to a diverse array of plant life and a refuge for avian wildlife. Have a guide tour you around the place and discover the myriad of tree and bird species. There is a fish pond inside the park where visitors can feed the fishes. You can even join tree planting, cultural shows, and other social activities here. Indeed, as the only forest left in the entire Manila, this valuable patch of green allows you to commune with nature for free without leaving the comforts of urban living.
5. Marikina River Park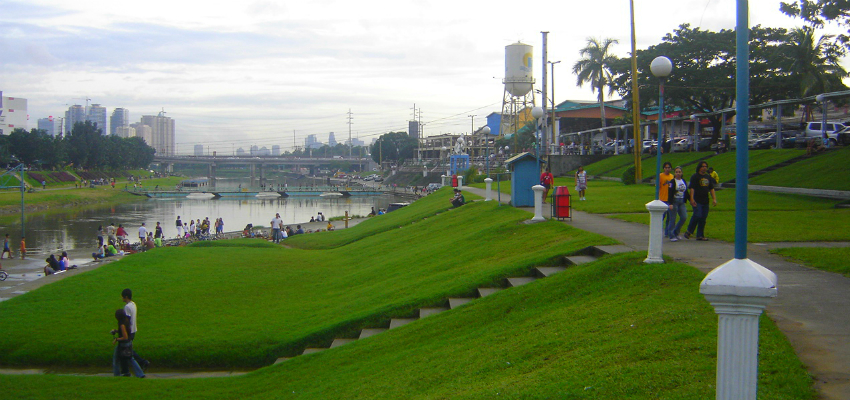 (Image source: www.skyscrapercity.com)
Marikina River Park, or Ilog to its denizens, offers a wonderful breather away from your busy schedule. It is the venue for the city's annual Christmas festival that starts on the second week of November. The park features an 11 kilometer lane dedicated to fitness enthusiasts, making it an ideal location for your morning jog or biking sessions. Moreover, there are many picnic spots where you and your family can also view the tranquil river. Parents can enjoy the scenery while sitting in the park benches or walking around the area. Meanwhile, their children interact with other kids in the playgrounds. Or they can practice their skating prowess with the park's skating rink. Other park amenities to visit include the Roman Garden and Chinese Pagoda. At night, it comes alive as people visit the numerous bars, restaurants, and cafes found within the vicinity.
What are your experiences with these places? Do you know other urban destinations for the holidays? Share your thoughts with us by leaving a comment below.
Like What you've read?
If so, please join our newsletter and receive exclusive weekly home buying tips, financing guides and Philippine real estate news. Enter your email and click Send Me Free Updates