If you ask average Filipinos about what concerns them the most, it most probably be poverty. Indeed, it is a constant reminder that despite what the Philippines has achieved so far economically, a great number of Filipino families live on just $2 a day.
Take the case of Aling Ely, a 65-year-old widow who for the last four decades has worked as a laundress for well-off families. All those years she recalls having spent every single day toiling, trying to make ends meet, and was never able to afford a decent home. But there just was no way she could have. The paltry sum she got was barely enough to pay the landlord for a single-room dwelling in one of Manila's slums, and there were other needs as well. A home mortgage was definitely out of the question.
And Aling Ely is just one of many—too many in fact. One need not look too far to grasp the extent of the country's housing problem. According to UK-based nongovernment organization Homeless International, approximately 22.8 million Filipinos live in slums. That's almost one in four.
In urban areas, the proportion is even more staggering—close to 44 percent. It is no wonder that wherever we go, we are greeted by the ubiquitous presence of informal settlements: under bridges, on riverbanks, along the shores of Manila Bay, on idle government-owned lands, and public parks. They have also become a staple of primetime news: informal settlers fighting tooth and nail against police, their homes set to be demolished to give way for a gleaming mall or a high-rise condominium.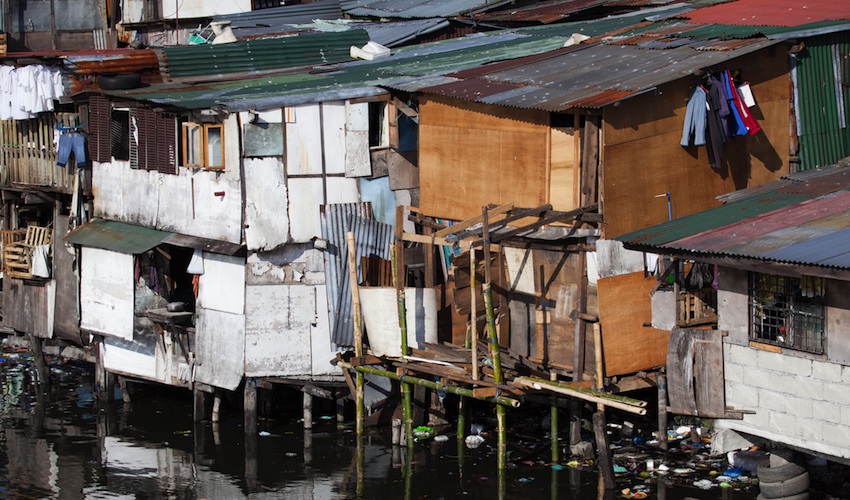 To appreciate the extent of our housing problem, we need to examine carefully what's causing this and where the government has failed.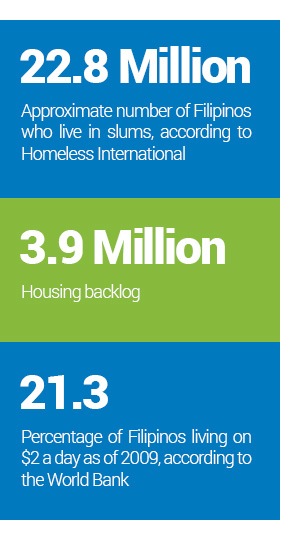 How Dire Is This Need?
Although the supply of houses is fast catching up the demand in other sectors of the real estate market, particularly high-end condominiums, there remains a huge backlog in mass or affordable sector of the housing market, those units costing a maximum of Php1 million. According to Professor Enrique Soriano III of the Ateneo Graduate School of Business, the Philippines currently has a housing backlog of 3.9 million housing units. The demand is also growing at 3 to 5 percent per year. Said Soriano: "If we keep on adding only 200,000 units every year—the current rate new dwellings enter the market annually—we'll have a housing backlog of 6.5 million units by 2030."
In an interview with Inquirer, Januario Jesus Atencio, former president of the Subdivision and Housing and Developers Association (SHDA), said the challenge is not so much to find the demand for these housing units, but more on improving the ability of the potential buyers to purchase them.
"In our housing market, finance is always an issue," said Atencio.
Comprehensive Strategy
What we lack is a comprehensive national strategy for shelter, asserts lawyer Ryan Christopher Tan, president of the Organization of Socialized Housing Developers of the Philippines (OSHDP).
Tan outlines the four pillars to a successful housing program that their organization is trying to promote. The first is a strong regulatory framework. "Case in point here: Singapore's Housing and Development Board was successful not because it built massive numbers of government housing for ordinary Singaporeans."
Instead, the HDB begins with basic planning: trying to determine the technical side of the supply and what the city-state's growing population needs, said Tan. Then they match the supply to the demand they are trying to address. "Here, it's more of a free-for-all market, and because of that profit is more primordial than real need." This is the reason that the OSHDP is pushing for the creation of a Department of Housing to bring back the strong regulatory framework to regulate the market.
Why then does the Philippines do not have a cabinet-level department in charge of housing? "You have to understand that after People Power in 1986, the then administration of Cory Aquino was desperately trying to veer away from everything connected to the previous regime," said Tan. "And because of the personalities attached to it, the very powerful Ministry of Human Settlements, which was used to be headed by Imelda Marcos, was broken down to smaller shelter agencies (today comprising the likes of the National Housing Authority, Housing and Urban Development Coordinating Council, etc.).
Another move taken by the government is to make regulation more market dependent.
"It is not an issue whether the government decides to have a market-driven housing program, as the sector is highly dependent on market forces, but given that a huge percentage of Filipino families are priced out of the market (the average household income according to the National Statistics Office stands at Php235,000), then it probably is not a good solution."
Technology is the second pillar. "We lag behind our neighbors when we talk about technological advancement," said Tan. "In fact, it was only last year when the National Housing Authority (NHA) went back to the discovery of indigenous technology in housing."
Complicating this is the lack of active government participation in the process, said Tan. "The government plays the role of a mere accreditor of novel technology and materials to be used for housing, instead of it taking an active role in actually coming up with technology and develop materials that are cheaper yet stronger."
The third pillar is finance. "Everybody involved in real estate business understands the workings of real estate finance," said Tan. "Market and effective demand versus supply, but we haven't solved the problem of how to make housing affordable to the lower segment of the society."

This is always a thorny issue, laments SHDA's Atencio, and comes particularly complicated in the aftermath of the Globe Asiatique controversy, which caused government shelter agencies to tighten controls and raise credit standards. "Instead of playing the role of a partner, the government now acts like a regulator, tightening and slowing down the release of housing funds to borrowers."
Although many developers now are coming up with many affordable projects, these are still not enough. For example, Ayala Land's low-end BellaVita brand offers whose residential projects in Quezon and Cavite provinces offer house and lot packages for as low as Php400,000 and a monthly amortization of Php2,000–2,800. These projects target wage earners with a monthly salary of Php10,000 to Php25,000, and to put this into perspective, the minimum wage in Metro Manila is Php429–466 a day or about Php9,438–10,252.
Despite talks of a real estate slump, demand for housing remains great, said Atencio. "It's just that most of the people who need housing just can't afford them.
Tan agrees. "In terms of finance, the government's solution is merely a provident fund through the Home Development Mutual Fund or Pag-IBIG. The government may have realized that it's not sufficient, so it created the Social Housing Finance Corporation adjunct to the National Home Mortgage Finance Corporation, whose task is to finance socialized housing, to identify beneficiaries, and subsidize interest rate."
But then again we are still stuck to the old regime of merely subsidizing interest rates, said Tan. "We're not yet at the level where the government is spending a fractional portion of our gross domestic product for housing, similar to Brazil's "Minha Casa Minha Vida" program (My House My Life). Instead we rely on provident fund contributions and then you borrow against those funds. Doesn't really work that way."
Finally, the fourth pillar according to Tan is holistic planning, which over the years has become even more relevant.
"When we talk about planning, we don't only refer to comprehensive land use of a particular locality. What we have here is spot zoning, which is usually at odds with a city's master plan and current zoning restrictions: a melting pot here, a subdivision here, a memorial park here, which doesn't make sense. Rows of houses are smaller but the density is higher. We're very poor in planning."
Also critical today is climate change, which was a non-issue at least a decade ago, said Tan. "Now because of Typhoon Yolanda, we're talking of 40-meter no-build zones."
According to Tan, these four pillars must be taken into consideration in coming up with a new shelter program.
Solutions
One of the possible solutions for "in-city" or "near-city" resettlement for gainfully employed informal settlers in Metro Manila and other key cities is the use of medium-rise buildings or MRBs. But sadly the government has not decided on this yet.
According to Tan, the HUDCC approved to increase the socialized housing price ceiling from Php400,000 to Php450,000 in October of 2013, but this was just a partial approval of a list of proposal they have put forth.
One of which is the expanded definition of socialized housing to include vertical developments. "We propose to come up with a new definition for socialized housing: vertical development, five-story walk-up buildings in urban centers at Php750,000 and Php840,000, but this was deferred for 'further study.'"
The reason? Section 3 of the Urban Development and Housing Act of 1992 (RA 7279) defines socialized housing as being limited only to "house and lots" or "lots only." "Condominium units do not seem to fall within the definition and there may be a need to amend the law," Tan explained. In fact, even the principal author of the law himself, former senator Jose Lina Jr., concedes that the law should be amended to expand the meaning of socialized housing.
As for Aling Ely, she and her two sons two years ago got involved in the Cash-for-Work efforts of Habitat for Humanity, and they became one of over 32,000 Filipino families who benefited from this "partnership housing," a program in which families in need of decent shelter participate in building, and then eventually buying the homes they helped built.
Habitat, it should be noted, is a private organization and it does not run a giveaway program. Its beneficiaries' pay monthly interest-free mortgage payments, which are then "recycled" in a Fund for Humanity and used to fund more homes for other families.
But 32,000 is a mere trickle compared to the vast number of Filipinos in dire need of decent housing. This is one of the reasons why the Philippines has a very high rate of self-reported poverty. We may not be under a recession; in fact, our economy is robust and just received investment-grade status from ratings agencies, but the benefits of this economic growth are not trickling down to the lowest segment of the society. Indeed, for the average folk, recession is represented by ongoing hardship exacerbated by rising cost of food and the inability to get decent shelter.
Like What you've read?
If so, please join our newsletter and receive exclusive weekly home buying tips, financing guides and Philippine real estate news. Enter your email and click Send Me Free Updates