Raise your hand if you feel that you are chained to your smartphone all the time. As a real estate professional, you can't help but be connected all the time, especially during rest days and holidays. You don't want to miss anything, especially if it means moving a client to the next stage towards signing a sales contract with you.
But the barrage of texts, emails, regular old phone calls, and notifications from your social media accounts and listing portals can get overwhelming. As such, there is always that temptation to take a well-deserved break from certain types of messages, like first-time inquiries for instance.
"Mamaya na lang 'to"
Whether you admit this or not, first-time inquiries are often placed as the lowest priority in your line of work, especially if you're already on the property viewing/negotiation/reservation stage with other clients. Bakit ka pa magrereply eh (insert holiday/sleeping hours/weekend here) na?
But the reality of the business dictates that first-time inquiries are your lifeline to a successful, long-term real estate career. Traditional real estate agents and professionals during the pre-Internet era can attest to this, and even consider answering every inquiry is the essence of a real estate professional. They treat all incoming inquiries as if it's the last inquiry that they will receive in their careers, and get it touch every now and then well after a successful (or failed) sales attempt.
Chow Paredes explained in a recent blog post:
If they consistently see that as a broker and as a licensed professional, you're there along the way, they will always remember you and come back to you because now you've become their go-to person.
Beck and Call? No Problem
No matter how many articles on the Internet have recommended you to unplug from work, the reality is that A REAL PRO will take time to reply. This is because in order to cultivate a quality business relationship with a prospective client, it has been proven by research that one has to address the client's inquiry within the first five (5) minutes after the inquiry has been placed. It's also easier for you to establish a relationship if the client has not lost interest.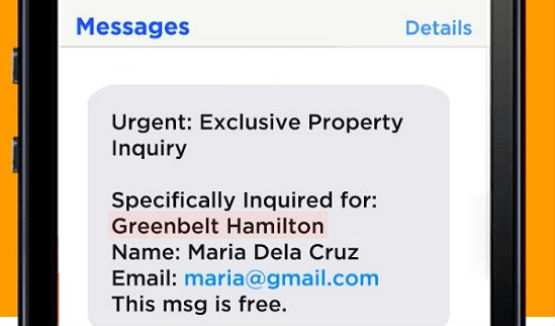 Of course, you can't really serve all client inquiries. You may not have the inventory that they need right now, or you are not the right broker that they could consult with. But you can always decline and refer your client to someone else.
This is still a form of response real estate professionals, and even some people in the customer service, forget to do for whatever reason. But think of it this way: you can still do people a service by saying "No thanks." When you decline and refer a client to someone else, you are leading them to the right person who can best serve their needs and help them save time on waiting for the right person to assist them.
At the end of the day, we should always remember that our jobs are simply not just selling condos, townhouses, or house and lots for sale (or lease). What we do is something more bigger and life-changing: we help homebuyers own (or get closer to owning) their next home.
Keep track of all your clients in your own personal dashboard here at ZipMatch Pro. Manage all their inquiries exactly just like a PRO.
Like What you've read?
If so, please join our newsletter and receive exclusive weekly home buying tips, financing guides and Philippine real estate news. Enter your email and click Send Me Free Updates