Now that you've bought your new home, it's time to create the ultimate urban space that will best reflect your personality. If you are like most first-time homeowners, you already have an idea of what your dream home will look like and what it will have. Who says you need to be a professional interior designer to fix it up?
Start with these fun and easy 18 home improvement hacks for your new home.
Creative wall designs
One of the easiest ways to spruce up your condominium is to paint your walls. A fresh paint job will do wonders and transform your unit's look in a breeze.
1. Make a room pop out by creating an accent wall.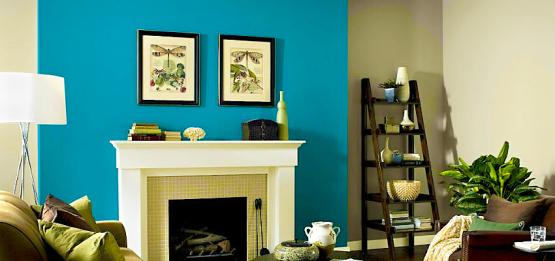 (Image source: www.decortalk.dcgstores.com)
2. Liven up your walls with fabric wallpaper.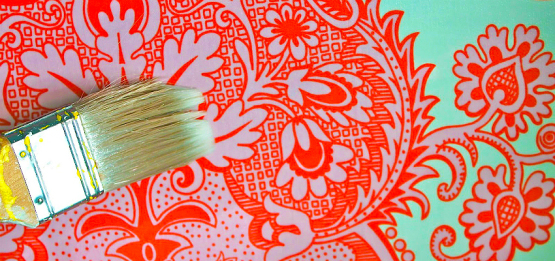 (Image source: www.howaboutorange.blogspot.com)
3. Create an illusion of a higher ceiling by painting your walls in two tones.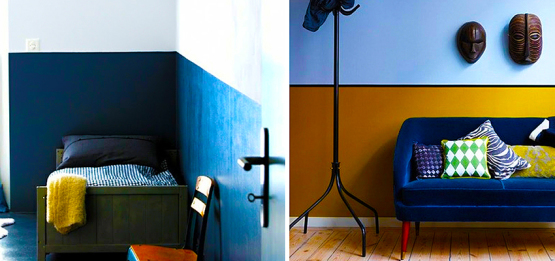 (Image source: www.martadelarica.es)
4. Forget about boring white walls, add some wall decals.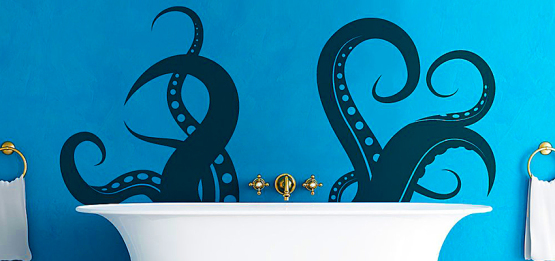 (Image source: www.invoicingsolution.com)
5. Place a mirror to change the room's perspective and to make it look larger.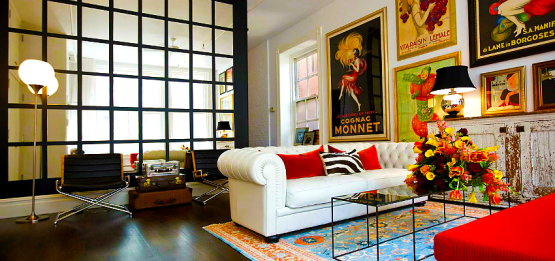 (Image source: www.timticks.com)
6. Paint with patterns. You can buy these cool patterned paint rollers at your local stores like Ace Hardware or Handyman.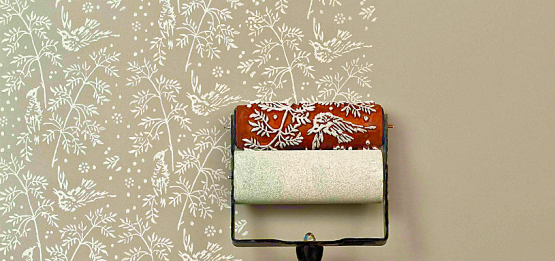 (Image source: www.cdlapa.com)
Space savers and nifty storage solutions
Have more area to move around in your unit by using these space-saving and organization techniques. These hacks allow you to maximize space and make the most out of every room.
7. Use a pull-out bed to save more space in your bedroom.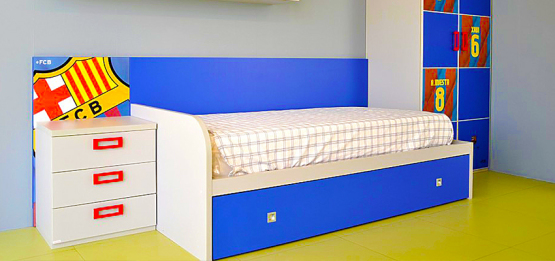 (Image source: www.groovexi.com)
8. Or maybe a wall bed?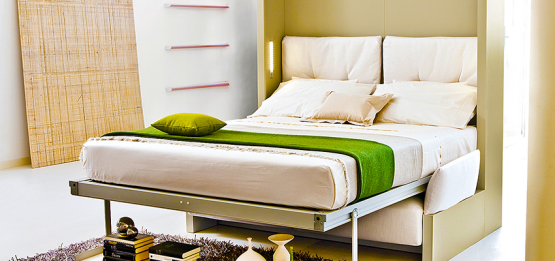 (Image source: www.bonbon.co.uk)
9. Store your pots and pans creatively in this kitchen pegboard, which comes complete with outlines.
(Image source: www.abeautifulmess.com)
10. Spice up your storage spice and put up a magnetic rack.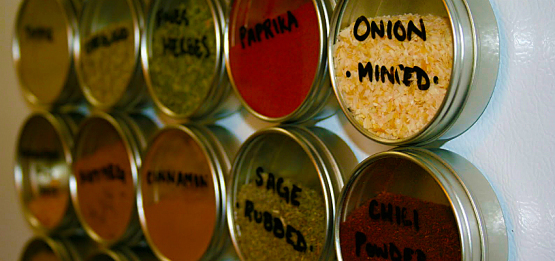 (Image source: www.jillyotz.blogspot.com)
11. Prop your ironing board on the wall with two coat hooks. Make sure its color matches that of the wall so it will blend well and won't stand out.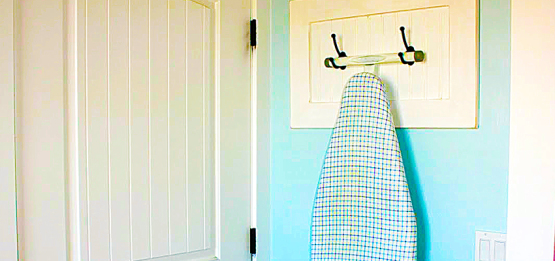 (Image source: www.odome.com.ua)
Clutter control
Do away with cable messes and unattractive home features like light switches. Hide them in different and creative ways.
12. Hide an exposed electrical switch box, or light switches, with a hinged canvas.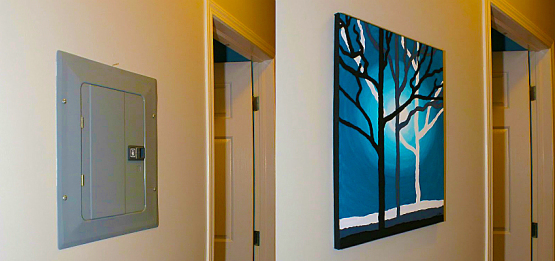 (Image source: www.thecozycondo.blogspot.com)
13. For your Globe or PLDT router, you can use hallowed, old books.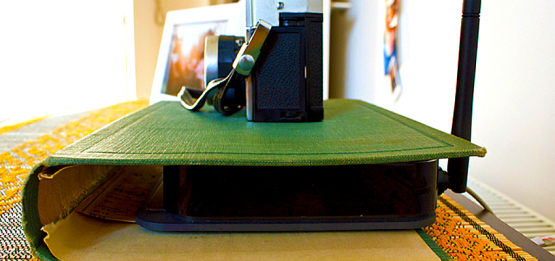 (Image source: www.anamariamunoz.com)
14. Keep the messy and cluttered cords out of sight. Put some Velcro and attach it to the appliance.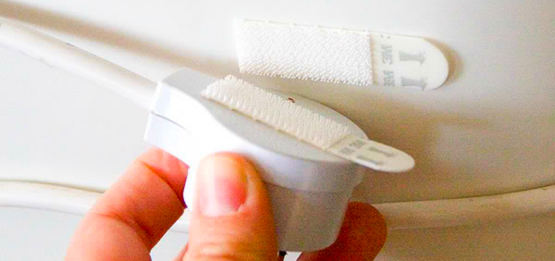 (Image source: www.jenthousandwords.com)
15. For the techies, control your cable clutter with this clever charging station. This can even rival that of 7-11's charging stations once you decorate it.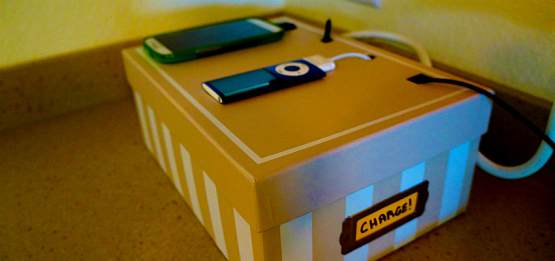 (Image source: www.creativeramblingsblog.com)
Other must-try home improvements
Whether it's filling up a blank space or simply putting life to your home's interior, you can try these neat home hacks.
16. For an empty space near your door, you can place this floating bookcase.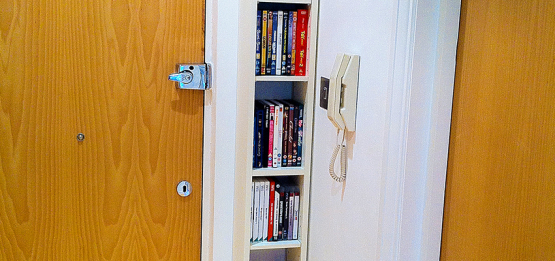 (Image source: www.darncrafty.wordpress.com)
17. Put up a magnetic rack to keep small paraphernalia like bobby pins and metal manicure in order.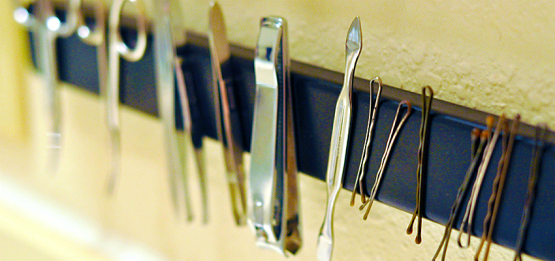 (Image source: www.darkroomanddearly.com)
18. Grow herbs such as Bay Leaf (Laurel) in small pots. It freshens up the room and lets you add flavor to yummy Filipino dishes like Adobo.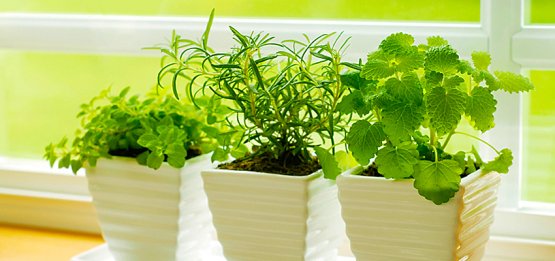 (Image source: bonnieplants.com)
Moving in to your new home is certainly exciting since the next step is decorating it. Don't be afraid to try out different design styles. Set the rooms and create a cozy space that you'll want to come home to each day.
Excited to try these easy home improvement hacks in your own place? Search for your new home here.
Like What you've read?
If so, please join our newsletter and receive exclusive weekly home buying tips, financing guides and Philippine real estate news. Enter your email and click Send Me Free Updates