The Philippines is fast becoming one of Asia's favorite real estate investment hotspots. With the number of condominium developments being planned and built in the country, the average gross rental yield of Philippine real estate is among the highest in the Asian region. This may be attributed to a couple of factors – the BPO industry, which is steadily attracting expatriates and top Philippine talent alike, and to some extent, the influx of retirees, both local and foreign. With this new breed of tenants, it's quite tempting to take advantage of the investment opportunity being presented by the market. But before you take the plunge in Philippine real estate, let's look at the numbers. Exactly how high is the demand for a condo for rent in the Philippines?
ZipMatch's Data Science Team has run the numbers on the trend of condominiums listed in its database over the past year, and has identified five key cities in Metro Manila: Makati, Taguig, Quezon City, Pasig, and Mandaluyong. While all five have some similarities, the average demand for a condo for rent in each city differs significantly.
How Much are Metro Manila Tenants Willing to Pay for Rent?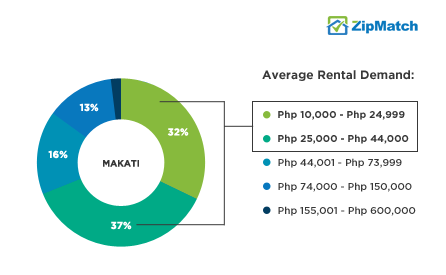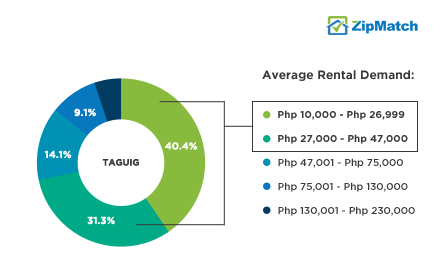 A large portion of rental demand in Makati (69%) and Taguig (72%) have budgets from Php 10,000 – Php 47,000. Both cities have their own business and financial districts that serve as the headquarters of both multinationals and top local companies. The demand for rentals includes expats working or living in these cities. To cater to the needs of this mostly high-end market, malls and entertainment options have been built in the townships of Ayala Center, Bonifacio High Street, Serendra, and Uptown.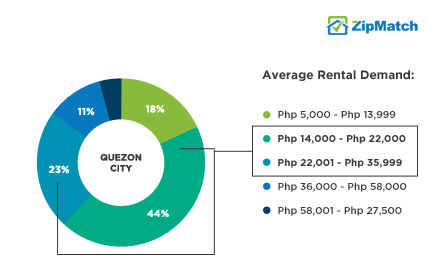 Correspondingly, a large share of tenants looking for a condo for rent in Quezon City (67%) have budgets that range from Php 14,000 – Php 35,999. Aside from being the center of the Philippine entertainment industry, the city also has a high concentration of BPO firms, particularly in Eastwood City and Cubao.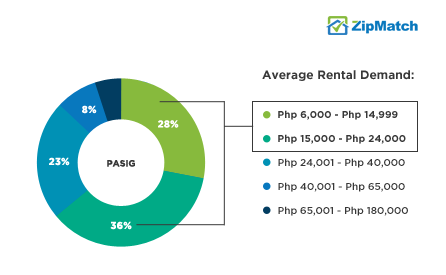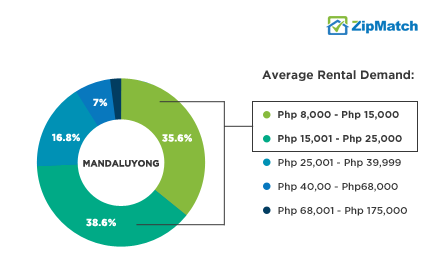 The majority of renters in the cities of Pasig (64%) and Mandaluyong (74%) have budgets ranging from Php 6,000 – Php 25,000. Many of these residents work in the Ortigas CBD, which is home to the Asian Development Bank and the Philippine Stock Exchange, while others work in Pioneer district, which is also a fast becoming site for BPOs. Residents of both cities get to enjoy a high concentration of malls: Shangri-La Plaza, SM Megamall, Robinsons Galleria, and Estancia at Capitol Commons.
Condo for Rent in Metro Manila: The Most Popular

*Data from all condo inquiries received on Zipmatch from Jan '16 to Mar '17.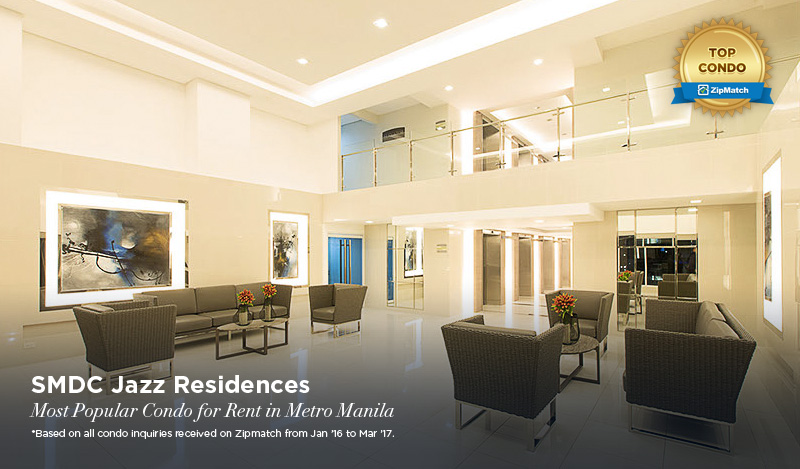 ZipMatch's Data Science team was able to conclude that among people searching for a condo for rent in the Philippines, Makati seems to be the most popular choice for having 8 out of 20 condos that making the list, while Taguig runs second for having 7 out of the top 20. Mandaluyong and Quezon City, on the other hand, have two each. In Makati, the most popular are Jazz Residences, Paseo Parkview Suites, and Two Central. These condos are located in Bel-Air and Salcedo villages, both well-recognised as prime locations for those working in the Makati financial district. Taguig's most popular condos are the following: Ridgewood Towers, Forbeswood Heights, and Two Serendra. The latter two are concentrated within Fort Bonifacio Global City, a fast-rising business district for multinational companies, while the first one is located in one of BGC's outlying neighborhoods.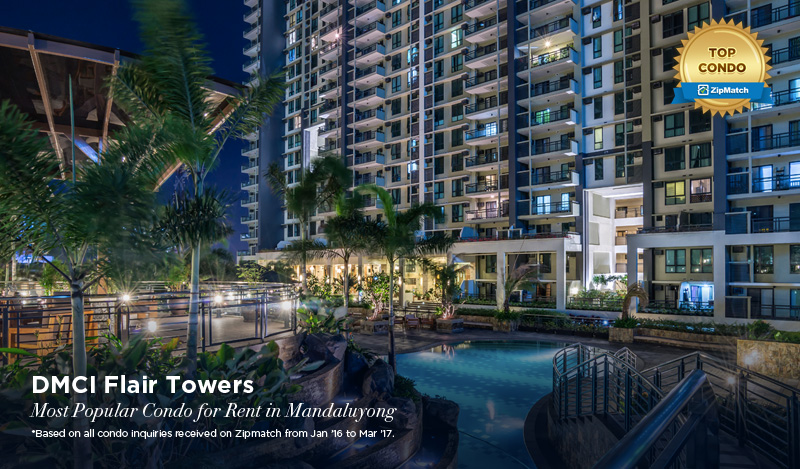 In Mandaluyong, the popularity of condos for rent are dictated by their accessibility. This is especially true for The Flair Towers complex which is a short distance from EDSA, Metro Manila's major access road, while Tivoli Garden Residences is near the Makati CBD.
Quezon City's most popular condo, Eastwood Le Grand Tower 3, is located within Eastwood City, a township that popularly caters several BPOs. M Place at South Triangle on the other hand is right across ABS-CBN, a major television and entertainment network with a nearby MRT station along EDSA. The only condo not located in the four cities mentioned, Solemare Parksuites in Parañaque, is located near the SM Mall of Asia, one of the country's largest malls. Additionaly, its vicinity is a fast-rising gaming and resort district, heavily populated by five-star hotels and amusement centers.
What Unit Types are Renters Looking for in a Condo?
With a few exceptions, the most tenants seek for a studio for rent or 1br for rent in Metro Manila located in or close to business districts. This is especially true for McKinley Hill, Maybunga, Greenfield District, South Triangle, and Century City, which cater to young professionals and early nesters (couples looking to start their families).
On the other hand, larger families prefer unit types that have 3 or more bedrooms that are ideally located in the residential districts of Loyola Heights, Greenhills, San Juan, San Lorenzo Village, and Merville Park. Most of which are conveniently nearby the country's best schools like the Ateneo de Manila University, The University of the Philippines, De La Salle Greenhills, Saint Pedro Poveda, Xavier School, and Don Bosco High School Parañaque.
The table below shows rental demand for different types of units in top Metro Manila districts.

*Data from all condo inquiries received on Zipmatch from Jan '16 to Mar '17.
Why Invest/Rent in Philippine Condos?
Considering the need for quality housing and the prevailing rentals, the ZipMatch Data Team has determined that the trend for condo rentals in the Philippines is not about to end any time soon. In fact, it is only beginning to catch up with the demand generated by young professionals, families, retirees, and expatriates. The factors mentioned above make a condominium in the Philippines a sound investment or rental opportunity.
Disclaimer: Note that these rankings change periodically. The rankings mentioned in this article are results from data gathered in the second quarter of 2017.
Want to know more? Visit ZipMatch Rankings and find out which properties and locations in the Philippines have the most affordable prices, best investment potential, best amenities, and best neighborhoods.
Like What you've read?
If so, please join our newsletter and receive exclusive weekly home buying tips, financing guides and Philippine real estate news. Enter your email and click Send Me Free Updates