Learn why Southerners love living in Parañaque, and why you should find your next home here.

Parañaque is more than just a city in Southern Metro Manila.
When buying a home, one of, if not the most important consideration is the
location
. Choosing the right location will not only help speed up the process of finding the right home for you, it will also determine your quality of life if you are planning to stay in your new home for the longest time. 
And for people who are looking to buy a home in Metro Manila, a place in the south is a good idea. If you are one of them, have you considered searching for a property in Parañaque?
Sure, the obvious places to search for a real estate property for sale is anyone of the sought-after areas in the metro, specifically in cities with central business districts like Makati, Taguig, Pasig, and Quezon City. But with the ongoing pandemic, more and more home seekers, who are also working from home, are now seeking places that are less dense and where there are affordable housing. Some even are now considering upgrading their current homes with properties that offer more square footage, additional features such as a balcony or yard, or in communities where there are recreational amenities such as pocket gardens, swimming pool, a clubhouse, or a park. The fast-paced lifestyle is now reconsidered in favor of more square footage, access to more outdoor spaces, but is still within reach of the metro. 
The city of Parañaque is still part of Metro Manila, but its southern location makes it one of the ideal locations to purchase a house and lot in the metro. Here's why:
1. It is accessible to important areas in the metro.
Parañaque may be located in the southern part of Metro Manila, but it doesn't mean it is accessible to the rest of the metro, including central business districts and important points of interest. The city is bordered to the north by the city of Pasay, to the northeast by Taguig, to the southeast by Muntinlupa, to the southwest by Las Piñas, and to the west by Manila Bay. 
People can easily commute to and from Parañaque using the major road systems, including the NAIA Expressway – E6, Elpidio Quirino Avenue, and Ninoy Aquino Avenue. Moreover commuters can also take alternative routes that pass through the city's neighboring cities, Las Piñas, and Muntinlupa, with main gates leading to each of them. This is great especially when the city's main throughways such as Alabang-Zapote Road or Dr. A Santos Avenue (formerly Sucat Road) are experiencing heavy traffic.
Parañaque is also close to neighboring provinces such as Cavite and Batangas. As such, it is quite easier to schedule a much-needed vacation away from the metro temporarily.
2. It's a quiet alternative from the busy city life.
In pre-pandemic times, most of the working population work in central business districts and commerce areas such as Makati and Taguig. But the fast-paced lifestyle and the density in these locations have prompted more people to move into cities like Parañaque. Parañaque is comparably much quieter as it is away from noise and traffic jams of busier cities in Metro Manila. Sure the main roads tend to get busy during rush hour, but residents love the intimacy and relaxing vibe when they come home to their respective subdivisions and communities.
3. It has all the modern conveniences of a fast-paced city.
Communities like
BF Homes Parañaque
come with modern conveniences like grocery stores, banks, gyms, spas, drug stores, schools, clinics, restaurants, bars, and the like, that it is unlikely for any resident to venture away from the city. There are also several big shopping malls and hospitals that can service at scale. For example, Parañaque is home to at three SM Supermalls, with SM Mall of Asia, one of the country's largest. 
4. It has several highly rated schools and educational institutions.
Parañaque is home to top-rated public, private, and even international schools. Starter to growing families who are looking for new homes will consider Parañaque as these highly rated school districts are one of the main draws for families. And when there are families, it is easier for kids (and parents) to settle in. Even with the pandemic, it is much easier to live in family-friendly communities in Parañaque as it foster social relations, even in safe distances. Family-friendly communities are also relatively safe.
4. There are plenty of transportation options to and from the city.
Light and medium industries dominate the eastern side of Parañaque, and SLEX serves as the main conduit for motorists and commuters going to and from the factories located in the south of Metro Manila.
If you are one of the many folks who need to report for work there or any of the neighboring cities, you do not need a car to commute in and out of Parañaque. The major road systems in Metro Manila allows connections between cities, and that  there's no limit to the amount of public transportation available to anyone who needs to get around and out of Parañaque. In major transportation hubs, there are shuttle services, UV vans to jeepneys that allow commuters to travel to Makati or Taguig for work, and then come home to Parañaque afterwards. 
5. The city has a laid-back culture.
The need to dress up depends on how you feel in Parañaque. The residents, for example, consider the city as an extension of their homes. The number of lifestyle places, restaurants, and hangouts foster a chill vibe, even in the most busiest of days. The city is also a
culinary haunt
, thanks to the number of food hotspots that can cater even the pickiest palates.
BF Homes residents treat the subdivision like an extension of their homes. We're comfortable to the point where we wear flip flops and shorts when we go out to restaurants and bars along Aguirre (although in recent years, this has been banned in some drinking establishments). Outsiders might deem it inappropriate, but it's already a common understanding. Even during the busiest of days, the vibe is never erratic and hostile. After all, this is our home so we treat it with care.
6. It has varied housing choices for every budget.
From a bustling fishing port during pre-Spanish times, Parañaque has become a home markets and condominium buildings, plus newer subdivisions further inland that have become the largest residential centers in the city.
BF Homes Parañaque
, for one, is one of the largest subdivisions in all of Asia.
Merville
and
Better Living
continue to attract middle-class residents, thanks to the number of house and lot options that cater to their price range.
Planning to buy a home in Parañaque?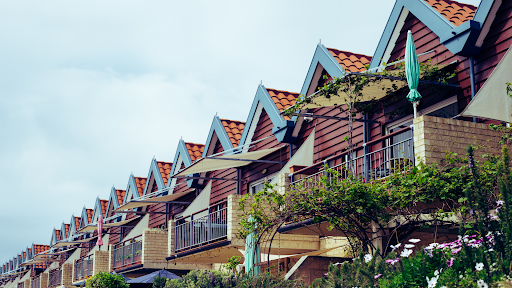 Check out these house and lot properties for sale in Parañaque.
Because of the many subdivisions in the city, it is not that hard to find a house in Parañaque. However, it is important that you select the right location when buying a house and lot, or even a condo in Parañaque. As the city grows fast thanks to the foreseen trend of exodus from urban housing, it's advisable to buy a house in Parañaque now. 
Majority of the available properties in Parañaque are
house and lot units
that are in residential enclaves or communities. The difference between the house and lot units for sale in Parañaque compared to other cities in the metro are very obvious. Prices range from P1.8 million to P65 million, and most of these houses are located in safe and secure, well-lit villages, some with complete amenities.
Aside from the square footage, your homebuying budget will get a lot of mileage when investing in a house and lot in Parañaque. For example, you can avail this
house and lot for sale at Multinational Village
for P9.5 million. With a total floor area of 160 Sqm and at five bedrooms and four baths, this is already considered a steal as compared to a studio property in Makati or Taguig. Multinational Village, which comprises about one-half of Barangay Moonwalk, is nestled within other residential enclaves but is a few minutes away from major throughways, a public hospital, and even major shopping malls. It is a perfect real estate investment for a starter family who is new to the city. This four-bedroom
house and lot property for sale in Better Living
is also a perfect choice for a homebuyer who wishes to live near South Luzon Expressway. The property is accessible via Doña Soledad Avenue, but it is surrounded in a family-friendly community that you will not even feel living near a major road.
If you are more into luxury homes, there are a lot of choices in Parañaque. For example, this five-bedroom
house and lot for sale is located in BF Homes
, a luxury residential community in the city. The modern contemporary home offers a whopping 380 square meters of floor space on a 285 square meter land, which is something of note. You can also take advantage of properties located in exclusive residential enclaves like this four-bedroom
house and lot in South Bay Gardens
, which fetches a whopping P60 million price tag.
Check out more house and lot for sale listings in Parañaque here.
Like What you've read?
If so, please join our newsletter and receive exclusive weekly home buying tips, financing guides and Philippine real estate news. Enter your email and click Send Me Free Updates