Are you one of the many Filipino homebuyers who rely on the Internet to find their dream home? Chances are you've encountered websites featuring impressive condominiums that claim to have amazing views or great amenities. And aside from the wonderful description of these properties, you'll even be enchanted with the beautiful images that come with it.
But come viewing time of the condominiums, most of your expectations fall flat because the reality is far different from the ones posted in the agent or developer's website.
Here are some of the things that usually don't meet your expectations once you visit the property:
1. View (i.e. water view, city skyline, etc.)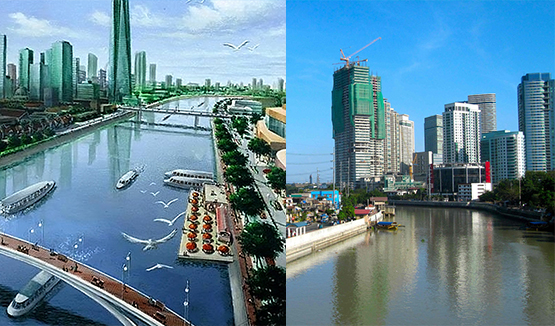 (Image source: palafoxassociates.com and skyscrapercity.com)
Enjoy a perfect view of the Pasig City.
The "perfect view" of the river's murky green waters? Are you sure it's a scene you'd want to stare at while lounging in your balcony or enjoying a romantic dinner with your special someone?
Pasig River is a popular body of water that traverses several cities in Metro Manila. Despite its ongoing rehabilitation, what was once idyllic scenery is now unsightly and polluted. It sure is very different from the promotional ads you see that make the river look like a serene, sparkling waterway.
And don't get started with claims of fine city skyline views. On a good day, you can appreciate the clear blue sky in Metro Manila. But there are times when smog is so heavy that you won't really care about the view and just stay inside your room.
2. Amenities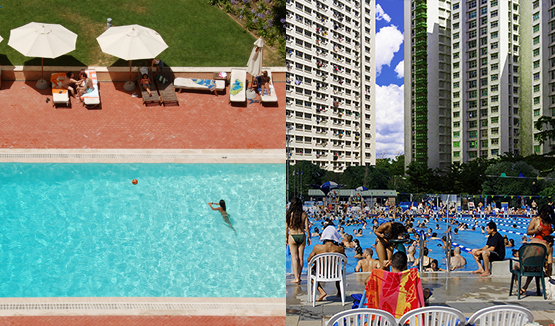 (Image source for left photo: Agostinho Goncalves / Shutterstock.com)
When living in a condo, most people are looking forward to using the amenities, especially the swimming pool. They see themselves lounging and basking in the warm sunshine as they take in the resort-like pool area with shaded trees, comfortable pool lounge chairs, and peace.
But what some people fail to grasp is that a single condominium building can have hundreds, or sometimes, even thousands of units. On an average, there will be two persons per unit. Multiply that and the number of people who will use the pool, or the other amenities for that matter, will be more than what you will expect. And that doesn't even include your guests.
Many Filipinos love having their friends over to hangout, and when a condominium allows visitors to use the pool for free, guess what you'd want to do with them? Take a refreshing dip in the swimming pool. So, you do the math.
3. Neighborhood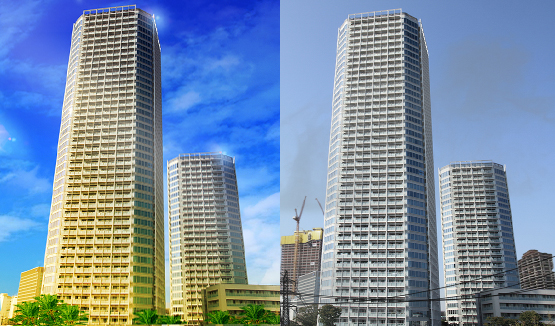 Metro Manila is a concrete jungle. And no matter where you look, there will only be a few trees or greenery to see. So if you're expecting a lush forest surrounding your building, it's highly unlikely in most parts of Metro Manila.
Going back to the view, you're lucky enough if can score a condominium in Bonifacio Global City, for example, that looks out on the Manila Golf Club. If not, then you'll have to make do with the rusting roofs of the houses nearby or the busy streets below your place.
4. Unit
You know how they create fancy unit layouts and make you feel like the size is just right for you? Well, it's an illusion. In newer condominiums, Kris Aquino's wardrobe closet or bathroom might probably be larger than your own one bedroom unit. While older buildings enjoy larger cuts, some property developers are cramming their developments with shoe box-sized units to get more tenants, and in extension, profits.
And thanks to Photoshop, it's now possible to liven up a dreary old house and make it charming enough that you'll think you're going to live in a posh, modern home.
5. Neighbors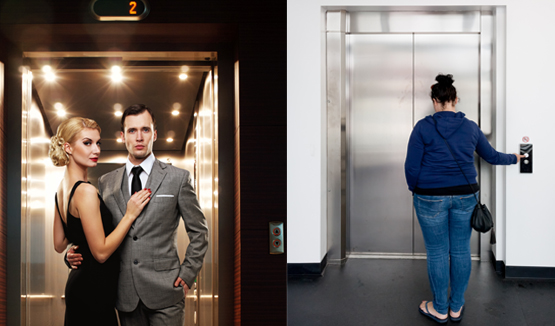 If you think you'll have neighbors dressed up to the nines and looking like their lives revolve around going to socialite parties every single day, you might be a tad disappointed. Or if you think you'll have Filipino celebrities like KC Concepcion, Anne Curtis, or Piolo Pascual as your next-door neighbor, guess again.
If you can afford to live in some of the most upscale condominiums in the metro and if – and that's the operative word – they live in your condo, you might be lucky to rub shoulders with them. But that would be one in who-knows-how-many-million chance.
Your neighbors would most probably wear casual clothing on a daily basis, except if they need corporate attire or long gowns. One thing is for sure, it's not going to be glitz and glamour every day.
6. Distance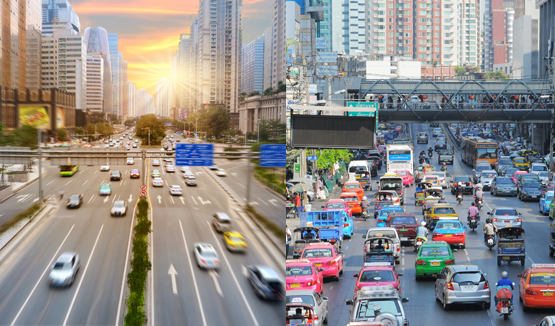 (Image source for right photo: 1000 Words / Shutterstock.com)
You might be familiar with ads claiming a condo is few minutes away from Makati Central Business District or Bonifacio Global City. An image of empty streets with few vehicles passing through comes to mind. You think it's going to be easy breezy. And so you relish the thought of not having to suffer the long commute or drive, as you will have more time to sleep.
Fact: many cities in Metro Manila are plagued by heavy traffic. No streets remain unscathed. Traffic woes are part of every Filipino motorist's daily transport experience. It's common to hear your friends or office mates say they're late because it was "ma-traffic."
The only time you'll see no traffic in the street is during Manny Pacquiao's fights. Maybe the Metropolitan Manila Development Authority should get him to solve the endless traffic jams in the country?
How to know the real score
You will never really know if you are buying a worthwhile property unless you check out the place personally. But for others who don't have the luxury of time to do it is often left at the mercy of trusting their agents or what they see online.
This is how property reviews can help you.
Sometimes, word of mouth holds more water than a brochure description. Reviews from real people who are current residents, have lived, or had visited the properties, and real estate brokers are usually more believable as they leave their personal, unbiased assessment.
Don't be fooled by witty promotional lines or catchy sales talk. Be a smarter home buyer today! Explore reviews from the different properties in Taguig and Makati to find out which one is right for you.
Like What you've read?
If so, please join our newsletter and receive exclusive weekly home buying tips, financing guides and Philippine real estate news. Enter your email and click Send Me Free Updates