Filipinos buy a home because they want to give their family a nice and safe place to call their own. Many even go abroad and brave a different culture and environment so that they can save up money to purchase a house. With overseas Filipino workers (OFWs) coming home for a vacation this coming yuletide season, this report says that many OFWs are still planning to buy a real estate property in the Philippines.
From our list of top real estate developers in the Philippines, we've identified which of their properties are the most family-friendly condominiums that you may want to consider buying. These were ranked based on the following factors:
1. Unit Size
Given the number of the family members (there's mom, dad, kuya, ate, or baby) moving in to a condominium, the size of the unit matters. Many prefer larger units ranging from two or three bedrooms around 60 square meters and up. In Collier International's recent market report, three-bedroom units in Makati CBD are enjoying full occupancy, while smaller units are taking more time to be rented out.
2. Location and Accessibility
Location plays a key role when buying a property. It is one of the primary considerations that people look into before they settle for a particular development. A home that is centrally located and has convenient access to modern amenities and public transportation is attractive especially for parents who want to be near their workplace.
3. Neighborhood Safety, Emergency Preparedness, and Medical Access
Your family's safety, either from natural calamities or crimes, is very important. Aside from the security offered within the building, homeowners have more peace of mind when there is sufficient police visibility as well as emergency services such as fire stations and hospitals within the vicinity.
4. Flood Situation
Another consideration that most home buyers think is whether the property is located in a flood-free area. With the rainy season in the country starting in the month of June and lasting up to October or November, people want to live in a place where there is little flooding or better yet none at all.
5. Nearby Schools
Having schools, for young children or college-bound teenagers, near a condominium development is an important factor for parents. They want to give their children the best education there is in the country that will ensure their children's success in the future.
6. Shopping Malls and Dining Options
The number of shopping malls that have risen in the country over the last ten years is a great indication of Filipinos' love for going to the mall. It is one of the most common ways that Filipino families spend their weekends. Having a one-stop shop in proximity helps families – especially parents who both work – so that they can immediately buy groceries and other necessities.
7. Green Spaces and Recreational Areas
Most of those living and working in the city lead a fast-paced lifestyle. As such, having recreational areas parks and museums near their homes will help them enjoy more quality time with their loved ones without traveling out-of-town and keep them from spending too much effort and savings.
8. Condominium Amenities
More and more condominiums are creating residential communities where the interests of every resident are considered. Aside from the usual amenities including swimming pools, gyms, and play areas, they are also including more exotic amenities such as libraries and music rooms to attract more home buyers.
Here are some of the family-friendly condominiums in Metro Manila, which met the factors considered when looking for a home:
1. Serendra Complex by Ayala Land
(Image source: www.ayalalandpremier.com)
Serendra is a carefully-designed community that enjoys a suburban environment – complete with gardens and open spaces – right in the heart of the city, making it a family-friendly place to live in. It has a prime location in Bonifacio Global City and is in proximity to modern conveniences such as international schools, shopping malls, and parks.
2. Sonata Private Residences by Robinsons Land Corporation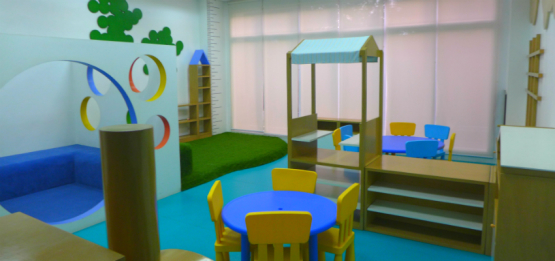 The first condominium to rise in the Sonata Place complex, Sonata Private Residences is created to give families a modern and luxurious home they would proudly call their own. They have included in their amenities a music room, library, and a theater room where you and your loved one can spend time together. Situated in Ortigas Center, Greenfield District Central Park, Lourdes School of Mandaluyong, and SM Megamall are a few minutes away.
3. The Bellagio Towers by Megaworld
Enjoying a prime address in the budding Bonifacio Global City district, The Bellagio Tower offers spacious two- to three-bedroom units ranging from 80 to 186 square meters. It has a great neighborhood where every family's needs are within easy reach. Aside from the array of dining and entertainment option in Burgos Circle and Forbes Town Road, the Mind Museum and St. Luke's Medical Center is also nearby.
4. The Beaufort by Filinvest Land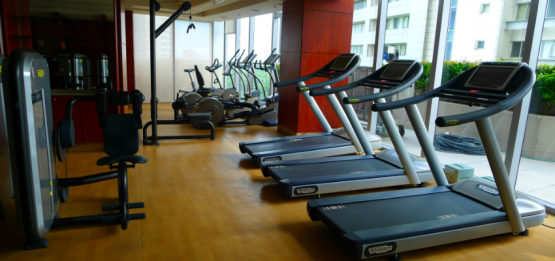 The Beaufort offers a modern home that is family-oriented. Situated in Bonifacio Global City, it is a few minutes away from all conveniences and leisure including The Fort Strip and Bonifacio High Street. Aside from that, The Beaufort is very accessible given its address along one of BGC's busiest thoroughfares.
5. The Grand Midori Makati by Federal Land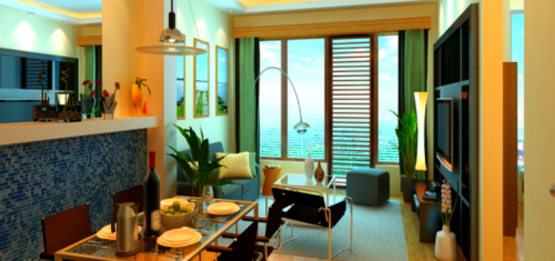 (Image source: www.thegrandmidorimakati.com.ph)
Located in Legaspi Village, The Grand Midori Makati's neighborhood is ideal for a family. It is near shopping malls, universities, parks, and medical and emergency facilities. The two- to three-bedroom unit sizes have a generous floor area ranging from 87 to 146 square meters, giving ample space to move around.
6. St. Francis Shangri-La Place by Shang Properties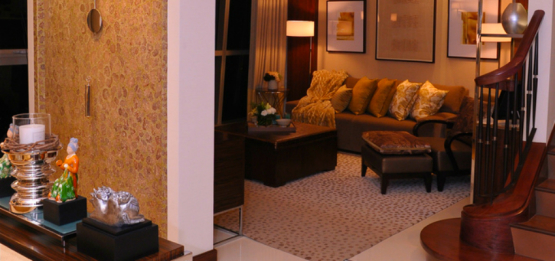 (Image source: www.daphne.ph)
Modern urban families will find a great home in St. Francis Shangri-La Place. They have a myriad of amenities that encourages family interactions including the swimming pool, game room, and even children's playroom. It is also has easy pedestrian access to Shangri-La Plaza, SM Megamall, and Lourdes School of Mandaluyong.
7. The Manansala by Rockwell Land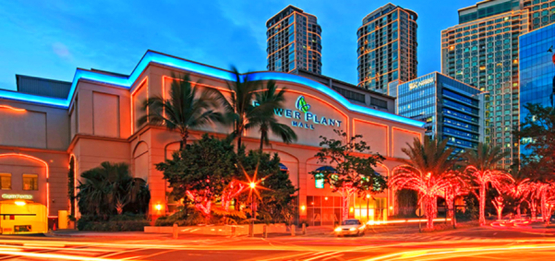 (Image source: www.e-rockwell.com)
With its highly sought-after address in Rockwell Center, The Manansala gives cosmopolitan urbanites and their families everything they want and need in one place. Its residents enjoy generous living spaces plus great amenities for relaxing and unwinding. Its central location in Makati provides easy access to the offices in the Central Business District as well as malls.
8. Avant at the Fort by Vista Land and Lifescapes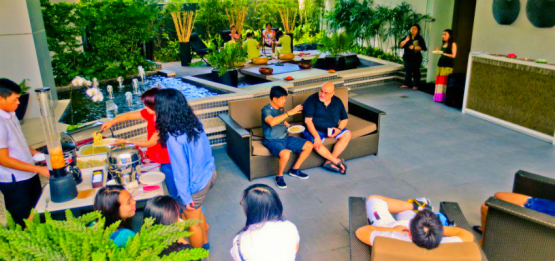 (Image source: Avant at the Fort (Original) Facebook page)
Standing tall at the heart of Crescent Park West in Bonifacio Global City, Avant at The Fort offers a green home featuring heat-reflective glass-windows, providing better views of the outdoors without letting in the heat of the sun rays. Aside from that, it is in proximity to BGC's hip shopping malls and dining options, international schools, and other recreational areas.
9. Gramercy by Century Properties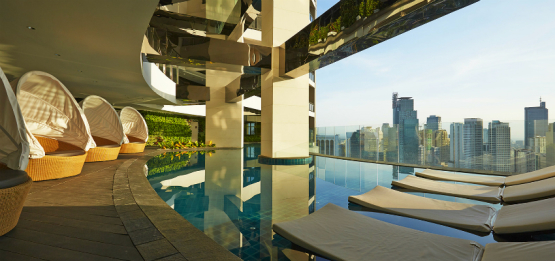 (Image source: www.gramercyresidences.com)
Gramercy Residences makes an ideal home for urbanites who want to be near their workplace, conveniences, and even nightlife in Makati. This development is a short drive away from some of Makati's go-to places for leisure including Ayala Triangle, Greenbelt Complex, and Ayala Museum.
Is your condominium family-friendly as well? Share with us your thoughts by leaving a comment below.
Like What you've read?
If so, please join our newsletter and receive exclusive weekly home buying tips, financing guides and Philippine real estate news. Enter your email and click Send Me Free Updates