Forbes Town Center is Megaworld's five-hectare mega-township, which is adjacent to the exclusive Manila Polo Club, Forbes Park, as well as the Manila Golf and Country Club.
Forbes Town Center has manicured streets and paths with well-kept topiary, ample traffic and area signs, and a strip of restaurants and coffee shops. As such, Forbes Town Center is a welcome reprieve to the working professionals who are working nearby in Bonifacio Global City's central business district and to young families who needed a peaceful and relaxed sanctuary for their children to grow up in.
Forbes Town Center is made up of two sections. The most popular one is Burgos Circle. Burgos Circle is one of Taguig City's famous landmarks because of The Trees art installation by Reynato Paz Contreras, which is installed right smack in the middle of a circular park. Retail shops, banks, restaurants, and coffee shops line Burgos Circle and extend into Forbes Town Road.
Forbes Town Road is mainly dominated by residential properties like the Bellagio, Forbeswood Heights, Forbeswood Parklane, and the newly-built Eight Forbes Town Road Golf View Residences.
Neighbors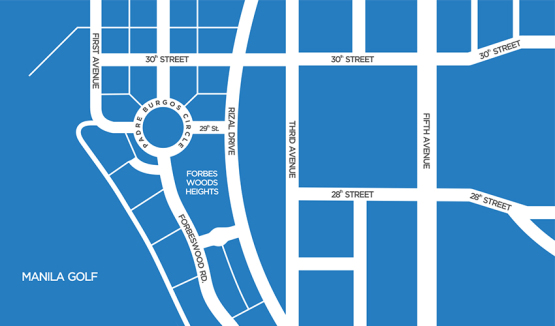 East: Manila Golf Club
West: The Mind Museum
North: 30th Street
South: 26th Street, Burgos Oval
Why You'll Love The Place
For working professionals, Forbes Town Center is a perfect alternative to doing business outside the confines of your office. Restaurants, convenience stores, and coffee shop offer free amenities like fast WiFi, cozy seating furniture, and great lunch deals. Moreover, Burgos Circle is seen as the perfect venue to host that impromptu after-work beer session with coworkers or clients. The rise of business process outsourcing (BPO) workers in the central business district has influenced the operating hours of some hole-in-the-walls by selling beer and finger food as early as 5 in the morning.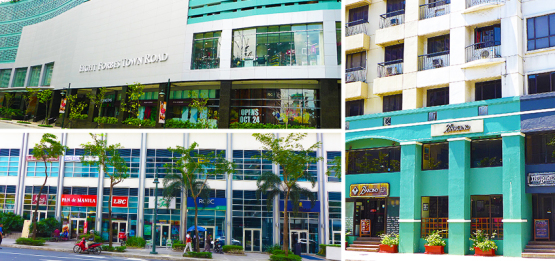 The cost of living in the area and the proximity to basic services like banks, laundry shops, bakeries, mini-groceries, and supermarkets are what makes locals stay in Forbes Town Center. These factors are essential for locals who have limited time to do errands.
For those who wish to get more value for money, there are a smattering of high-end restaurants, shops, and specialty services that cater to customers who are comfortable with paying more for value.
Maintenance crew members are spotted in various parts of the township going about their duties to make sure Forbes Town Center follows through on BGC's policy on cleanliness. Some are tasked to pick up litter on paths or gutters, others trims rowdy branches that mar infrastructure or the landscape, and others use high-power blowers to sweep unruly blown leaves.
Security personnel are visible at almost every street corner, which is a relief for first-time visitors or new residents who are new to Forbes Town Center and needed help in directions or traffic rules.
Getting around
St. Luke's Global City (9-minute walk)*
S&R (8-minute walk)
BGC Central Business District (5 – 10-minute walk)
Bonifacio High Street (10-minute walk)
Serendra (10-minute walk)
Market! Market! mall and transportation hub (13-minute walk)
McKinley Hill (7-minute drive)
Access to EDSA, C5, and Kalayaan (5-minute drive, 20-minute bus commute)
*based on Google Maps calculations
To go to Burgos Circle, there are a couple of bus stations nearby. You can take the west route and ask the bus driver to drop you off at Burgos Circle, which is the 1st Ave stopover. If you take the lower west route, you can ask the driver to drop you off at 3rd Ave stopover. From the suggested bus stops, you can walk towards Forbes Town Center. You can also go by taxi as well.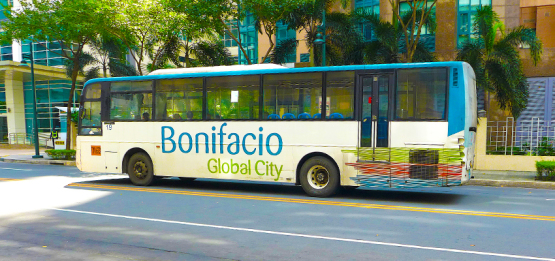 Forbes Town Center is regarded by local security as a private property. As such, you'd be wary about parking your car anywhere in the area. You may want to park your car at the Mind Museum, as there are two parking spaces that are open 24 hours adjacent to the building. Parking is at P40-45 pesos in the first three hours.
People are encouraged to walk to Forbes Town Center from nearby parking spaces at The Mind Museum. For locals who have their own cars, they may opt to rent or purchase parking spaces in condominium developments. Bars and restos like Bar Dolci raffle out free parking space for its customers.
Traffic and public order rules are strictly enforced in BGC to keep the township clean. This is reinforced with the various visible signs in the area. There are ample number of ramps and friendly paths for disabled pedestrians.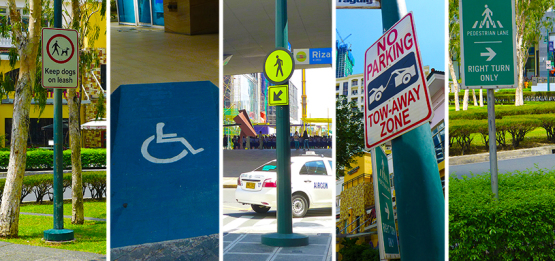 People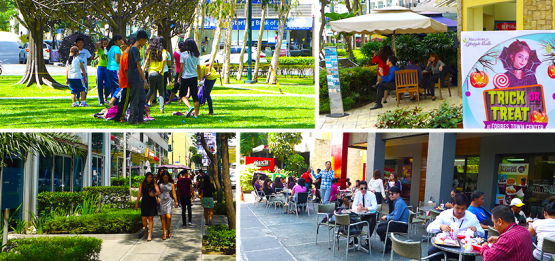 There are three types of people who make up the community in Forbes Town Center. The variety of restaurants and coffee shops in Burgos Circle and Forbes Town Road have attracted working professionals in the nearby central business district. They are often seen dining al fresco in restaurants like Sweet Bella, Cantinetta, 1521 and L'entrecote. Forbes Town Center bars like Bugsy's Bar and Resto attracts yuppies who work in Taguig and in other parts of the metro, especially on Friday and Saturday nights.
During the day, expat families in their casual wear provide a stark contrast to the number of people who are their power suits and business formal attire in the area. They either walk their pets in the mornings or late afternoons or go on errands together with their small children in strollers.
The art installation in Burgos Circle has also attracted another group of people. Because of its proximity and accessibility to other public spaces nearby like Terra 28th, high school children and tourists are often spotted taking advantage of the sun's rays and the ample space at the circular park. Selfies are a must when a visitor stands beside the tree sculpture.
Lifestyle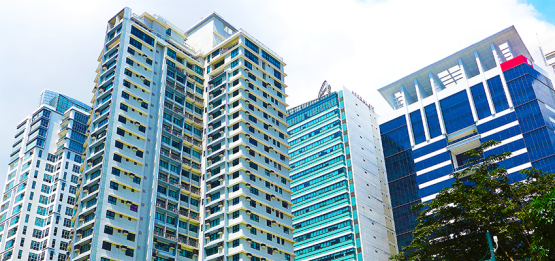 Because Megaworld designed the township for the young and hip, the atmosphere in FTC is an interesting mix of professional and laid-back.
There is not that much recreational activity in Forbes Town Center, but its proximity to the central business district first sets the tone that people living in the area do not find themselves going out except for work or leisure. Majority of the residents are taking advantage of in-house amenities inside their condominiums like pools and gyms.
The only time children are visible in Forbes Town Center is if their stay-in nannies take them out for strolls. There are at least a couple of preschool learning centers available in the area for parents to bring their smaller kids.
FTC is also a place for lounging. All of the restaurants in the FTC strip have chairs and even umbrellas set up. For those who prefer the confines of an airconditioned room, some of the restaurants have second floors equipped with cozy chairs and large windows for lounging. WiFi access is almost a required amenity in all restaurants, especially in coffee shops.
The recent opening of Robinson's Select at 8 Forbes Town Road has finally fulfilled the need of locals who are looking to have quick access to a supermarket. We have also observed that several convenience stores carry wares that can be usually found in a wet market. In a couple of stores, we have spotted fresh fish, local and international vegetables, salted eggs and bagoong. There are also two convenience stores in Burgos Circle that sell fresh ramen noodles and homemade kimchi aside from the usual grocery staples.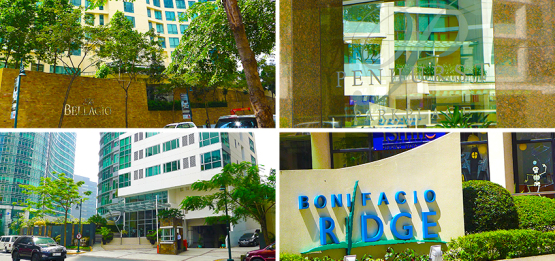 For entrepreneurs who are looking to build their businesses in BGC, they find it easier to have homes at walking distances to better manage their businesses. Most of the hole-in-the-walls, grocery and convenience stores that we interviewed are owned by owners who have units in the same building or nearby.
Do you know of other interesting facts about Forbes Town Center? We'd love to hear them! Share them as comments below.
Like What you've read?
If so, please join our newsletter and receive exclusive weekly home buying tips, financing guides and Philippine real estate news. Enter your email and click Send Me Free Updates