Before you commit to buy a new home, it's only prudent to know, for a fact, how much you can actually spend and how exactly you are going to finance your purchase. Don't come empty-handed; arm yourself with information on housing loan applications and options right away.
1. Consult with a mortgage broker.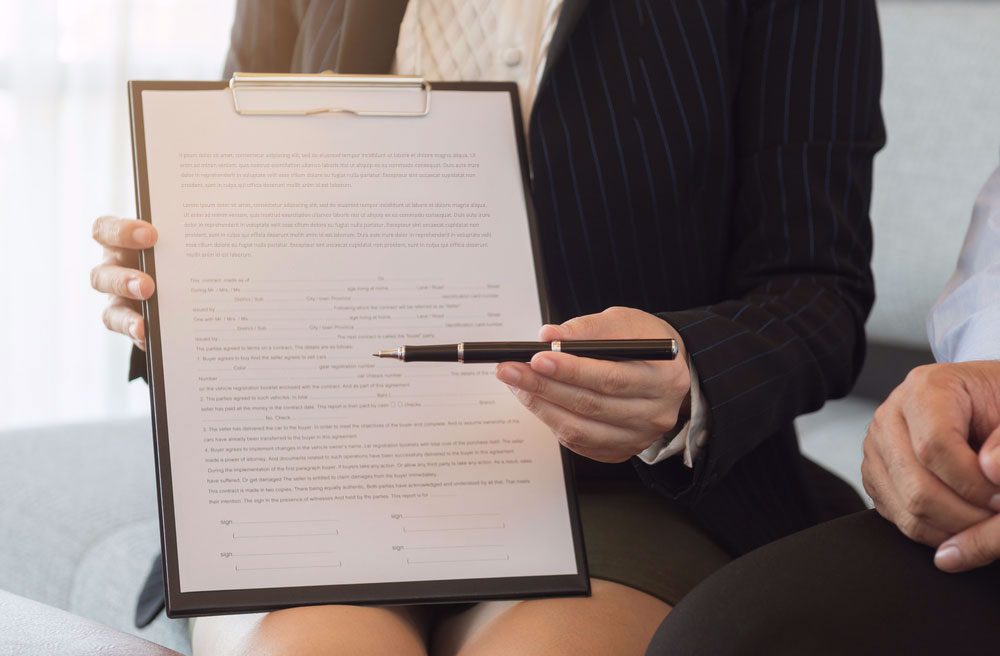 Getting professional advice is a big help, especially if you're a first-time homebuyer who has little knowledge on the different housing loan options available in the market. A mortgage broker will not only lay everything out for you but will also help assess which housing loan best suits you based on your financial history, monthly income, assets and liabilities.
2. Get your finances in order.
As you assess your finances along with your mortgage broker, you start to get a better and bigger picture of how much you can really afford to borrow for your home purchase. This is where smart financial planning comes in.
Take a hard look on all your other financial goals aside from setting aside money for a new home: Are you planning to take a master's degree next year? Are you going to buy a new car? Will you be settling down with your partner anytime soon? Are you planning on having children? Do you have any plans of going on a two-week vacation in Europe?
You should take all of these things into consideration before you finally decide on the amount that you can afford for your monthly payments for your new home.
3. Check your credit score.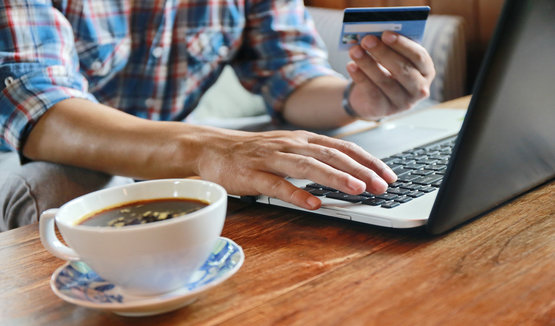 Your credit score reflects your capacity to pay off debts, so lenders look at this number before they decide to approve your loan application. A good credit score shows that you are able to pay your credit bills on time and that you don't carry balances from month to month.
Different lenders have different credit score standards, so you may want to consult with your mortgage broker which lenders will most likely accept or reject you. But remember: History of non-payments of debts is always a red flag for lenders.
And here's a tip: Before applying for a housing loan, avoid incurring new debts or making any major purchases like buying a new car using your credit card.
4. Shop around and compare.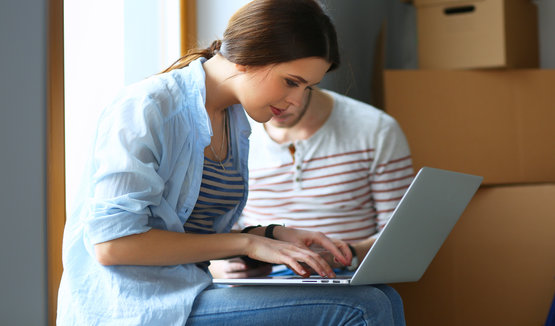 Don't choose a loan before you are sure it's the best one for you. You have at least three options: in-house financing, bank home loans and the Pag-IBIG Fund.
If you don't want to deal with a third party lender for your home purchase, go for in-house financing. If you don't have a great credit history, you might want to go for in-house financing too. Real estate developers usually don't require much paperwork; your certificate of employment and proof of income, plus a downpayment of 10-30% of the total value of the property are enough of a guarantee for your in-house financing. But the downside here is that developers usually offer higher interest rates.
Banks, on the other hand, offer lower interest rates but have more stringent requirements for loan applications. Moreover, the amount of loan depends not only the total property value but also the borrower's paying capacity and credit history. This means that the higher the borrower's income is and the better his/her credit score is, the higher the amount the bank is willing to lend.
Meanwhile, the Pag-IBIG Fund, also known as the Home Development Mutual Fund, is perfect for middle-class Filipinos (and even minimum-wage earners) who dream of owning a home without having to pay high amortization and interest rates.
5. Use a mortgage calculator.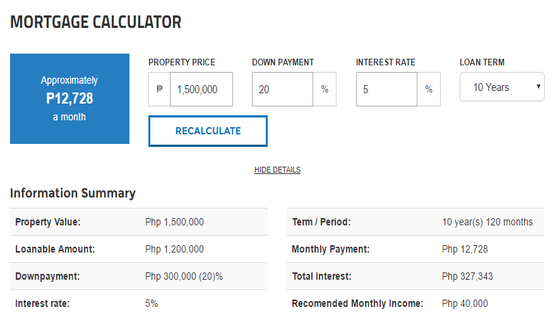 Now that you've checked the various loan interest rates and terms offered by the different lenders, try using a mortgage calculator to get a more definitive picture of what your monthly mortgage payment will be for every loan type. Remember: You have to apply for a realistic loan amount.
When using a mortgage calculator, you just have to input the price of the property — whether a condominium, house and lot, or townhouse, the required downpayment, the loan interest rate, and the loan tenure.
6. Prepare and secure your documents.
While document requirements vary from lender to lender, the following are the most common ones, so you better keep these handy:
– Application form: Most lending institutions now provide applications forms online so you can easily download them from their websites and fill them out early on.
– Government-issued IDs: Banks usually require applicants to submit at least two photo-bearing identification cards issued by government agencies.
Passport
Driver's License
PRC ID
Digitized BIR ID
Digitized SSS ID
GSIS E-card
Unified Multi-Purpose ID
Voter's ID
Senior Citizen's ID
Postal ID
NBI Clearance
Police Clearance
OFW ID
OWWA ID
Seaman's Book
Alien Certificate of Registration/Immigrant Certification of Registration
Government Office and GOCC ID (examples: AFP ID, HDMF ID
Certification from the National Council for the Welfare of Disabled Persons
Department of Social Welfare and Development Certification
IBP ID
Company IDs registered with or supervised or regulated either by the BSP, SEC or IC
– Proof of income: These include your certificate of employment indicating your annual income, payslips, income tax returns and bank statements.
7. Be prompt in responding to your lender.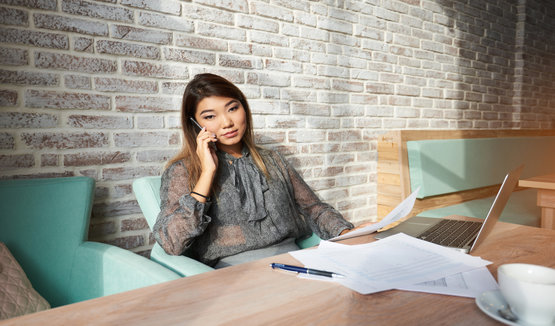 The more responsive and cooperative you are, the smoother the application process will be. After you've submitted your loan application, make sure that you keep your lines open in case your lender needs you to submit additional requirements.
Are you applying for a housing loan in the Philippines for the first time? We've got more tips for you here.
Like What you've read?
If so, please join our newsletter and receive exclusive weekly home buying tips, financing guides and Philippine real estate news. Enter your email and click Send Me Free Updates