Condominiums have redefined urban living. Now, people don't have to leave their homes just to relax and unwind. Everything you need is there – comfort, convenience, and security.
And what make living in a condominium all the more special are the amenities that homeowners and residents can enjoy.
Here are some of the more exotic and luxurious amenities that condos in Metro Manila have on offer.
Personal Services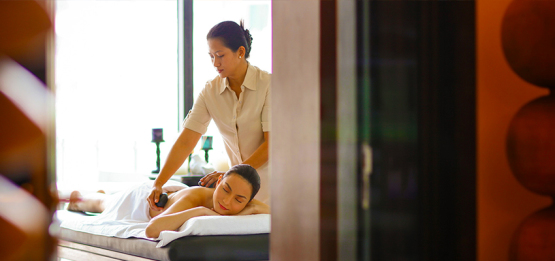 1. Butler service
Raffles Residences is one of the few condos which provides residents with butler service. These butlers are readily available to assist you during your stay. You can even hire them for errands outside the hotel, but for a fee.
2. Spas
Some condos have gone the extra mile by providing spa services to their residents. If you want to pamper yourself and rejuvenate your senses with professional care, Gramercy Residences' The Spa Reception, Raffles Residences' Dedicated Spa, The Residences at Greenbelt's Professional Spa, and Knightsbridge Residences' Spa will help you do that right in the comfort of your own building. Even One Serendra has its own massage place.
3. Day care centers
Busy mommies and daddies can have their children babysat when necessary. Sonata Private Residences, Bellagio Towers, and Gramercy Residences have their own day care centers.
4. Clinics
For first-aid help, The Beacon has an emergency clinic at its podium level amenities area.
Exclusive privileges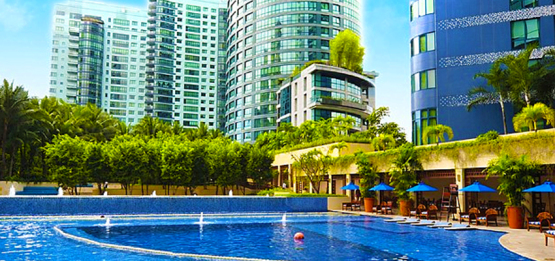 5. Rockwell Club
Those who live in the condos in Rockwell Center have access to Rockwell Club, one of the most exclusive membership clubs in the country. Rockwell Club has a wide range of amenities including fine dining and sports and recreational centers.
Lounges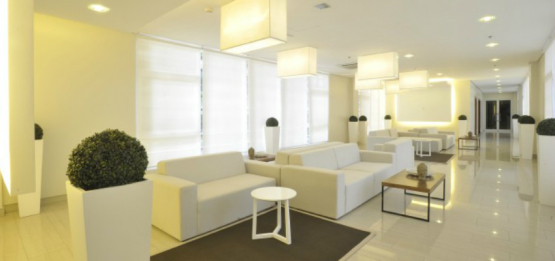 6. Bridgeway Lounge
There are other condos whose amenities really stand out. In Sonata Private Residences, they have the Bridgeway Lounge, which connects its two towers. This is where its recreational amenities are located.
7. Sky lounges
Sit back, relax, and enjoy the views. Sky lounges are one of the hippest amenities ever included in condos. Knightsbridge Residences has The Observatory, a bar cum function room that affords you magnificent city skyline views. Similarly, The Beacon's Sky Lounge enjoys the rising and setting of the sun in Laguna de Bay and Manila Bay, respectively.
Pools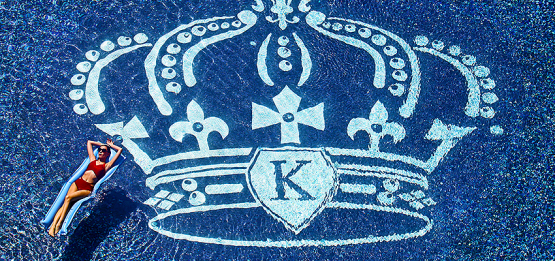 8. Infinity pools
Why go to Singapore to experience Marina Bays Sands' famous SkyPark Infinity Pool? Gramercy Residences, The Salcedo Park, Serenity Suites, and The Bellagio Towers offer neat infinity pools right in the heart of Manila. Gramercy Residences' pool even enjoys a great spot on its 36th floor, giving you spectacular views of the city skyline as well as the sunset.
9. Rooftop pools
Number One Rockwell's rooftop pool will give you unobstructed views of Makati City, Bonifacio Global City, and Ortigas. Meanwhile, Fairways Tower's rooftop pool even boasts views up to Manila Bay.
10. Resort-like pools
There are also many condos that boast resort-like swimming pools, which are surrounded by lush greenery. Four of these breathtaking pools are found in One Roxas Triangle, One Serendra, Two Serendra, and Pacific Plaza Towers in BGC.
11. Luxury pools
On the other hand, Knightsbridge Residences takes pride in its luxury pool. Its pool features the signature crown logo that is made out of BISAZZA's special 24k white gold tiles (talk about extravagant!).
And for more luxury, those who live in the penthouse units in The St. Francis Shangri-La Place have their own swimming pool (whew!).
Entertainment and lifestyle rooms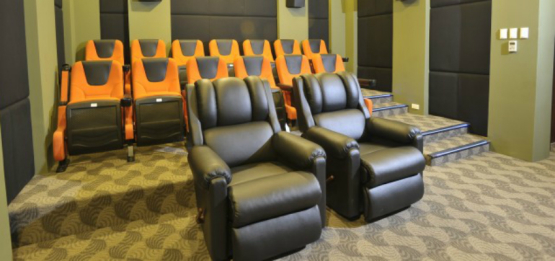 12. Film rooms
One of the modern amenities offered today by select condominiums is a film room that can also double as a presentation room. It lets residents watch movies in a small theatre, without the hassle of lining up to buy tickets and put up with other noisy moviegoers.
Have a more comfortable and chill cinematic experience at the Gramercy Residences' director's club, Sonata Private Residences' private theater, The Beacon's mini theater, or Knightsbridge Residences' movie room.
13. Game rooms
Recreational rooms provide a fun and interactive space where residents can engage in different activities, such as board or card games, billiards, and video games. Sonata Private Residences, Knightsbridge Residences, and Gramercy Residences have created comprehensive play areas that both children and adults can enjoy.
14. Music rooms
Serenade someone today or just let your musical prowess be heard. Newer property developments are creating a dedicated space for their musically-inclined residents. In Sonata Private Residences, they offer the piano room to their residents who want to hone their skills playing the instrument.
15. Libraries and study rooms
Another great addition to some condominiums is the library area or a quiet place for studying. Other developers are now taking to consideration the needs of students or professionals for a communal learning space that will let them study or read without distractions. Sonata Private Residences has a study room, while Knightsbridge Residences has a library.
Amenities too exotic to categorize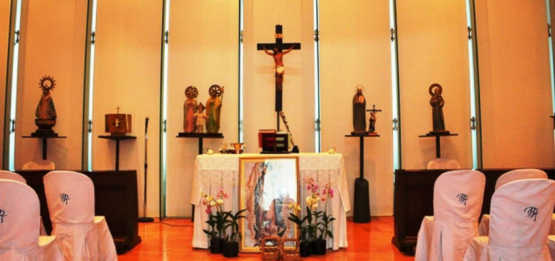 16. Chapels
Other residential buildings are also adding a place of worship as part of their amenities. Pacific Plaza Towers has created a beautiful chapel so that their residents can easily spend worship or pray in a solemn place.
17. Helipads
Residential buildings with helipads are helpful for business and emergency purposes or as a form of security as well. Condominiums which have helipads include 1322 Golden Empire Tower, Fort Victoria Condominium, and Fairways Tower. Meanwhile, Essensa East Forbes and Pacific Plaza Towers have a helipad for both its towers.
18. Courts for different sports
To cater to active and athletic residents, there are property developers who have added facilities where residents can play sports. Two Serendra offers a basketball court and a badminton court. Pacific Plaza Towers has its own squash court.
19. Mall connections
Those who have made their homes in one of Rockwell Center's condominiums have an added perk. These residential buildings have exclusive underground walkways that connect them to the Powerplant Mall.
In Makati, residents of the Raffles Residences have an underground walkway to Greenbelt and Glorietta Malls.
St. Francis Shangri-La Place doubles the fun with its link bridge going to EDSA Shangri-La Hotel and Shangri-La Plaza Mall.
20. Dining areas
Do you want to treat a loved one or yourself to a special meal? Condominiums now provide common dining areas in their amenities. Gramercy Residences has its café and restaurant on the 36th Floor, where you can enjoy good food and spectacular views. Knightsbridge Residences also has its own version with its dining room. If you want a more laidback setting, One Serendra and The Beacon have barbeque areas.
Want to live in one of these condos with luxurious amenities? Search for condominiums for sale here.
Like What you've read?
If so, please join our newsletter and receive exclusive weekly home buying tips, financing guides and Philippine real estate news. Enter your email and click Send Me Free Updates