Deciding on what type of property to invest on takes a lot of time, planning and discussions with your partner. To many, condo dwelling has become the easiest answer to their needs, especially now that high-rise developments continue to integrate entertainment hubs with the residential spaces. To others, the thought of owning a detached single-family home gives them fulfilment, considering how they can freely renovate and develop the piece of land in the future. And then there are those who prefer to start a family in a townhouse, which gives almost the same benefits you would experience in both a condo and a single-detached home—but at a price that fits well into your budget.
Read on to find out why townhouses are worthy investments and how you can make the most out of living in one.
1. Study the location and do site visits.
It is important to do your research before spending your hard-earned money on a house. Begin by choosing a location that not only allows you hassle-free travel to offices and schools, but also gives you easy access to other primary establishments like malls, hospitals, and churches.
Mahogany Place 3 by developer VConsunji Inc., for example, is strategically located at Acacia Estates in the emerging city of Taguig. It is conveniently accessible to main roads like C-5, East and West Service Roads, Skyway, and South Luzon Expressway (SLEX). The townhouse development is also just a few minutes away from the financial district of Bonifacio Global City and the central business district of Makati.
2. Look for a corner lot for extra space and privacy.
Corner lots traditionally have more land compared to other units, which means you are getting added value for money. One downside of living in a townhouse is having at least one shared wall with your neighbours, so chancing upon an end unit equates to a greater sense of privacy. It also allows your house to have another entrance by the side street, but do note that this may also mean more cars passing by the intersecting streets. Should you decide to move houses in the future, corners lots are said to have a higher resale value.
3. Opt for a unit that comes with a balcony.
If you have a green thumb and fear that owning a townhouse would deprive you of your hobby, you may search for units that are equipped with a balcony or a patio. Some boast of private roof decks that overlook the entire community, double as party venues, and simply provide a breath of fresh air within the comforts of home.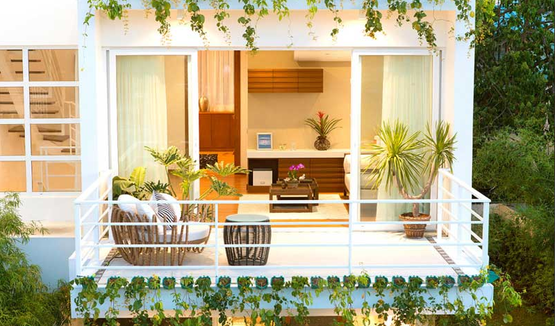 4. Check if the townhouse can grow with your family.
The challenge with buying or renting a house is not knowing exactly how long you are going to stay. However, when you find one that you feel fits into the mold of your dream home, plans become long-term. It would be useful to choose a unit that can grow with your family, especially if you're moving in as a newlywed couple.
It might be good to know that some single-detached units, duplexes and townhouses come with a "bonus" room, giving you more freedom to design your home according to your needs. You can convert it into a nursery for the little one, a game room for your growing children, a spare room for visiting relatives, a movie theatre, or even a walk-in closet. The possibilities are endless!
5. Make sure that the unit is accessible to neighborhood amenities.
Much like living in a condo, townhouses also give you access to shared amenities. Mahogany Place 3, for instance, has a centrally located clubhouse equipped with a mini theater, game room, workout gym and dance studio. If you love the outdoors, you are also free to use the landscaped amphitheater, adult and kiddie swimming pools, basketball court, tennis court and rock climbing wall.
6. Consider space-saving and multifunctional furniture pieces.
While the Asian-themed units of Mahogany Place 3 are generously sized between 180 to 272 square meters, it doesn't hurt to maximize your living spaces. Make every inch count by opting to have storage provisions installed on your walls, below the stairs or under the beds. There are also extendable dining tables, as well as chairs that double as storage boxes.
7. Leave your worries out the window.
It might take a while for you to feel a hundred percent comfortable in your new home, especially if it's located in an area you didn't grow up in. The gated neighborhood of Mahogany Place 3 ensures that your safety is the number one priority with their 24-hour security.
8. Make friends with your neighbors.
One of the thrills of transferring homes, particularly in a townhouse neighborhood where units are connected by walls, is having a new set of people to get to know. Make an effort in becoming friends with your neighbors, as they will be the same group of persons you will bump into the streets while walking your dogs, catch at the nearby gym or pools, and run to first when there's an emergency. There are also higher chances that your children will make good playmates with theirs, especially when the kids happen to attend the same schools.
Are you ready for townhouse living? Explore these townhouses for sale.
Like What you've read?
If so, please join our newsletter and receive exclusive weekly home buying tips, financing guides and Philippine real estate news. Enter your email and click Send Me Free Updates