Public space is defined as shared, accessible space for man's use and enjoyment like parks, roads, and public squares. Private space, on the other hand, is the opposite, and it is often referred to as a personal domain and can only be accessible by permission.
Recently, an article published on Interaksyon.com hit a nerve among many netizens because of the write-up's description of a "deteriorating" Metro Manila. The author shared his observation on how Filipinos had grossly taken advantage of public spaces for their own benefit.
Recalling his observation of the absence of sidewalks and pedestrian-friendly streets in Manila, he lamented about the spaces now being occupied by illegal street vendors and even barangay outposts for their private use. He wrote,
Filipinos do not show any sense of shared responsibility for public space. As a consequence of this particular feature of their mindset, the shared space has only become a place where street vendors, electricity companies, local government units, and business owners can do as they please.
KMC MAG Group believed that walkable central business districts are the keys to decongesting Metro Manila, and ergo, improving overall sentiment of public spaces. This was also echoed in a 2006 publication by Planning.org, which argued that the environment of central business districts, which are cities that have high rises, malls, skywalks, interlinked public transportation and public spaces, elevates the pedestrian above street life. It does not discriminate or segregate social classes, but provides opportunities for Manileños to have a better life from unplanned residential settlements.
We have made a list on why Metro Manila overall is actually progressing in terms of public and private spaces.
1. There is a current demand of public spaces in Metro Manila residential properties.
Mention every new development in Metro Manila and the first thing you'd notice is the number of open, public spaces it offers for its future tenants. Parks, basketball courts, soccer fields, swimming pools, lobbies and function rooms are quite the norm for gated subdivisions and family-friendly properties to high-end luxury condominiums. These public spaces provide a permanent, breathable sanctuary from the hustle and bustle of the city.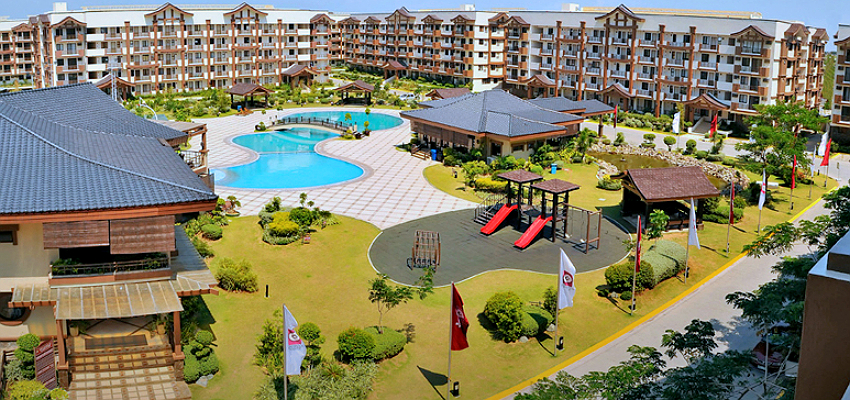 (Image source: DMCI Properties)
2. Malls are now competing with new and existing public spaces in providing a venue for social interaction.
Outdoor shopping centers like Tiendesitas and Bonifacio High Street has paved the way for public spaces to be popular again. Weekend food markets and free social activities like marathons and aerobics classes had given public spaces that needed push for Filipinos to enjoy them again.
For example, the Ayala Triangle Gardens is now the hottest spot in Makati thanks to its annual Christmas Lights show. The quiet Salcedo Park had been given new life by hosting a food market on Saturdays and the Art in the Park twice a year.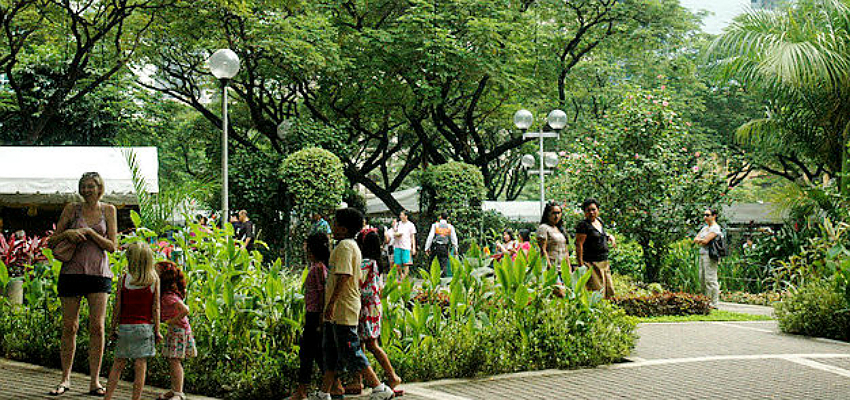 Although malls still generate more foot traffic compared to public spaces, one would only need to be observant that shopping centers are trying to emulate public spaces. Malls nowadays are starting to introduce or incorporate public spaces like indoor mini-parks, amphitheatres and skating rinks in their development plans.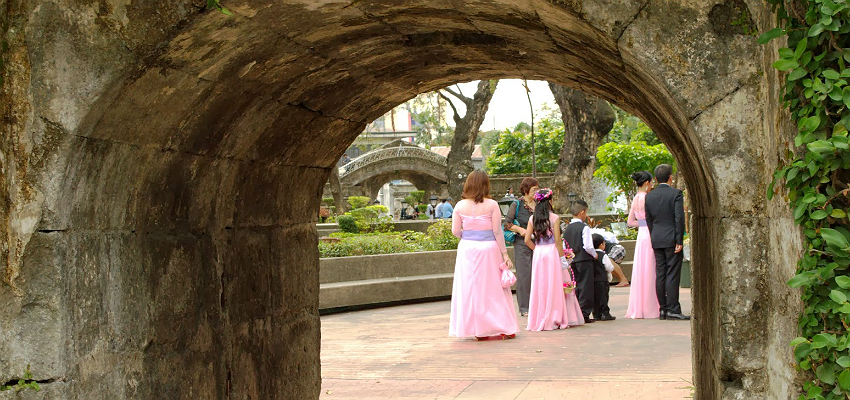 (Image source: www.lonelytravelogue.com)
3. Mixed-use developments celebrate public spaces.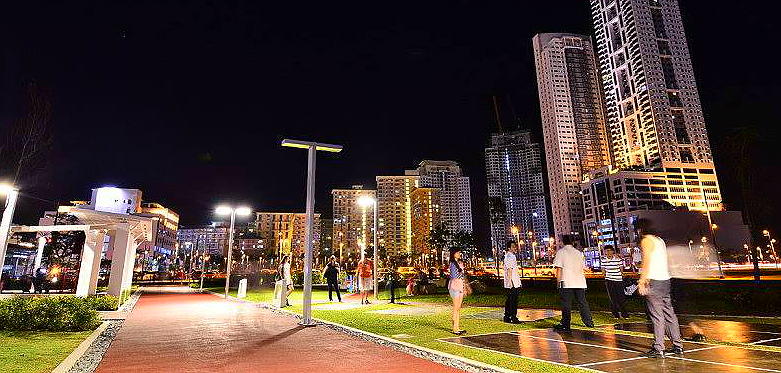 (Image source: Bonifacio Global City/Facebook
An American developer once said,
People are social beings, and they want to go out, be with other people, touch things, feel things.
This has been largely the idea of the rise of mixed-use development in Manila. As Filipinos are fond to be in the center of things, developers either build properties near existing public spaces or make their own. In BGC for example, 40% of the land is dedicated to open spaces. These public spaces currently feature impressive art installations that they are now considered landmarks themselves.
When one mentions Burgos Circle, visitors or local associate the place via The Trees installation art by Rey Paz Contreras. In Quezon City, the local government is planning to use the Quezon Memorial Circle as its focal point of its planned Central Business District called Triangle Park.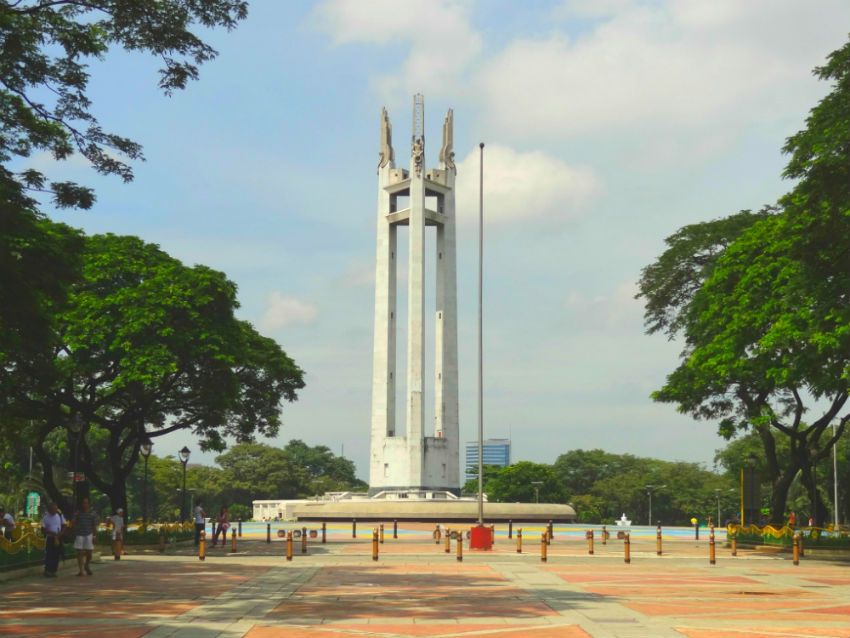 (Image source: Wikimedia Commons)
4. Progressive cities see the value of going green.
Several cities in Metro Manila have initiated campaigns to improve the environment in their own jurisdictions. For example, the Manila Metropolitan Development Authority has prohibited smoking in public places since July 1, 2011, reducing the unsightly smoke and cigarette butt litter in open spaces. MMDA's "re-greening" project allowed the planting of vertical gardens on tunnel walls along EDSA.
(Image source: www.fortyweeksandthensome.blogspot.com)
In line with local government initiatives of going green, a significant number of cities in Metro Manila now see the importance of improving public spaces. Rizal Park and Paco Park, for example, are being lit at night with smart-controlled solar lightposts.
Ecological parks like the La Mesa Watershed Park in Quezon City and The Rainforest Adventure Experience of Pasig (RAVE or Pasig Rainforest) now have facilities that encourage families and friends to bond over fun activities. Visitors can look forward to spending the day in the pools, fitness trails, bike and skateboarding ramps, and a mini-golf course.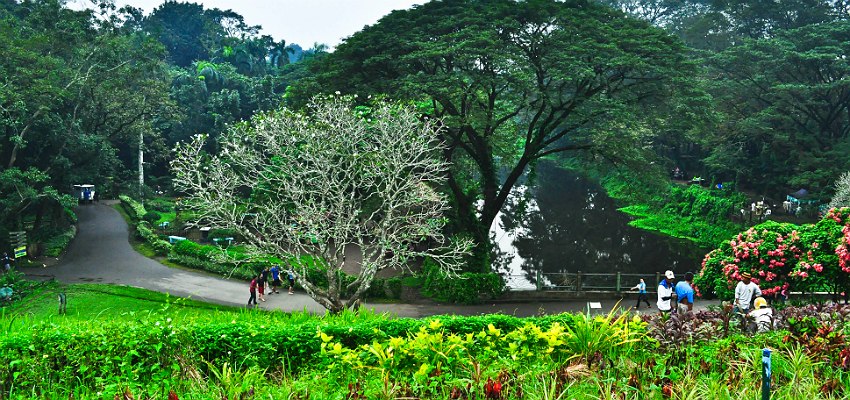 (Image source: www.iloveqc.com)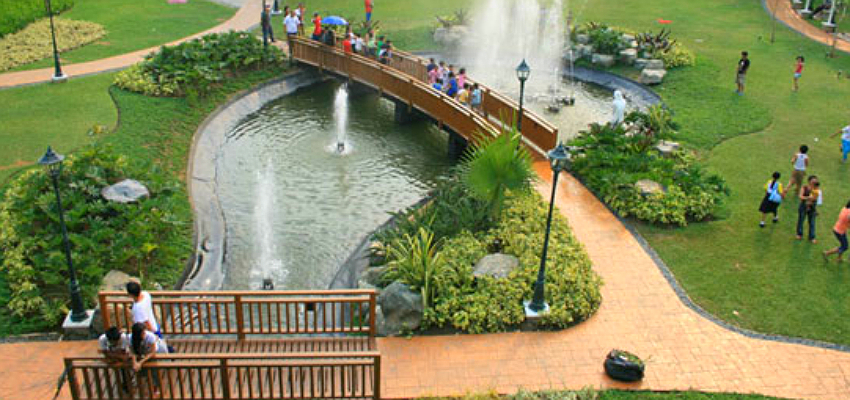 5. Mobility in Metro Manila has actually improved.
According to WalkabilityAsia.org, mobility in Metro Manila has improved in the last few years thanks largely to the MMDA. Footbridges, pedestrian paths, traffic signs and wider roads have since been put up to accommodate the growing population in the metro. On the other hand, the organization cited that for the millions of commuters using such facilities, the agency will have to address the issue of pedestrian traffic as well as road traffic.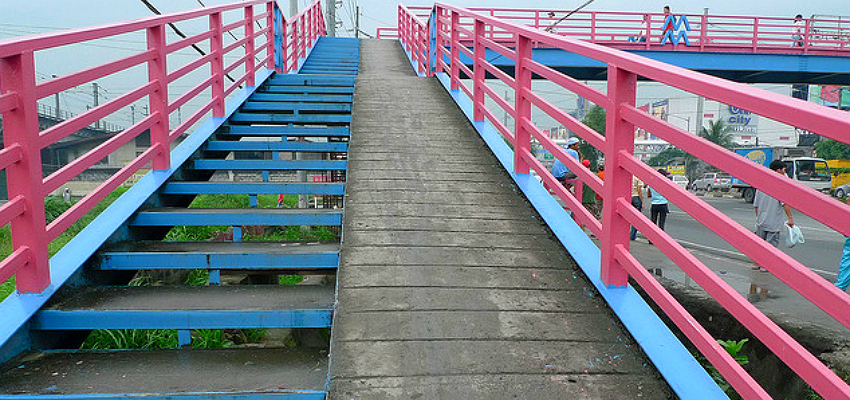 (Image source: Gem/Flickr)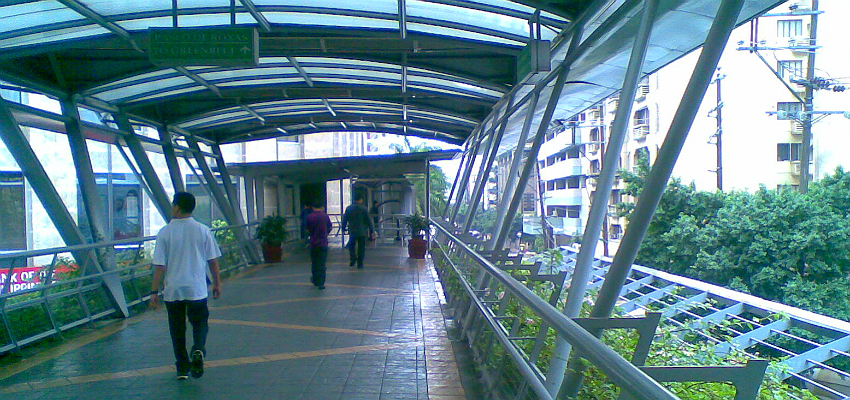 (Image source: hechoayer.files.wordpress.com)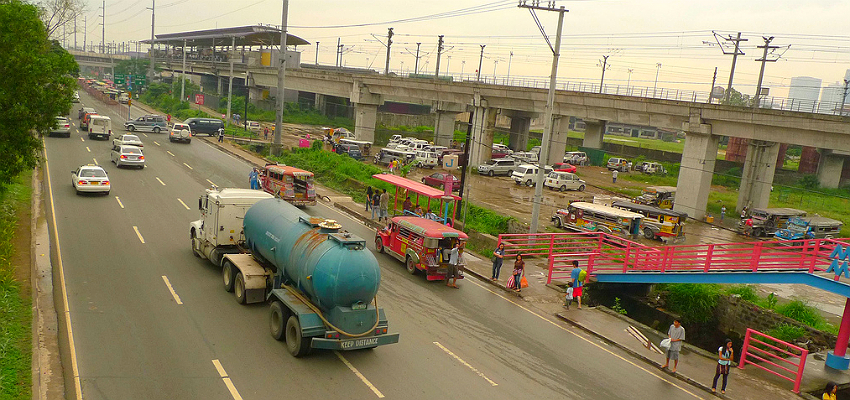 (Image source: Gem/Flickr)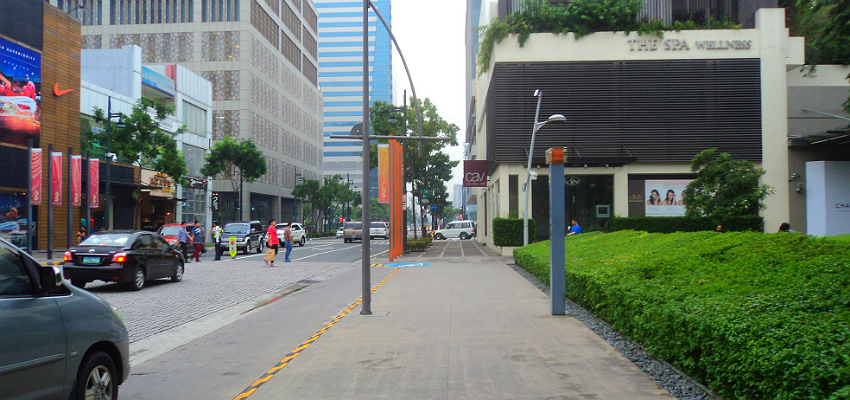 (Image source: D.Zarcal/Flickr)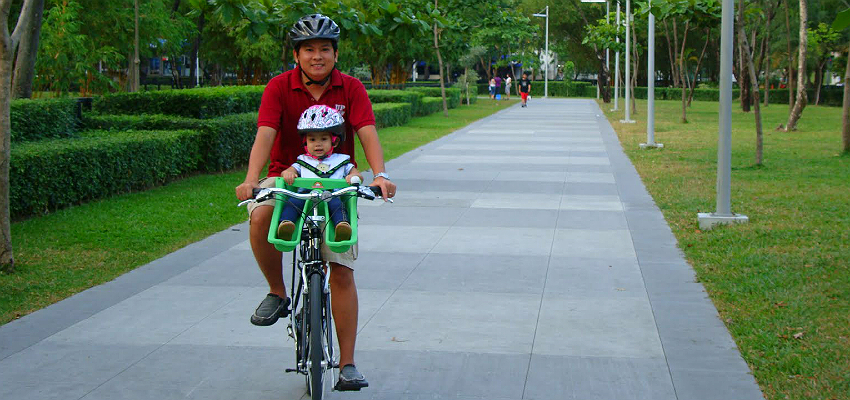 (Image source: Kris Ablan/www.brommieskywalker.blogspot.com)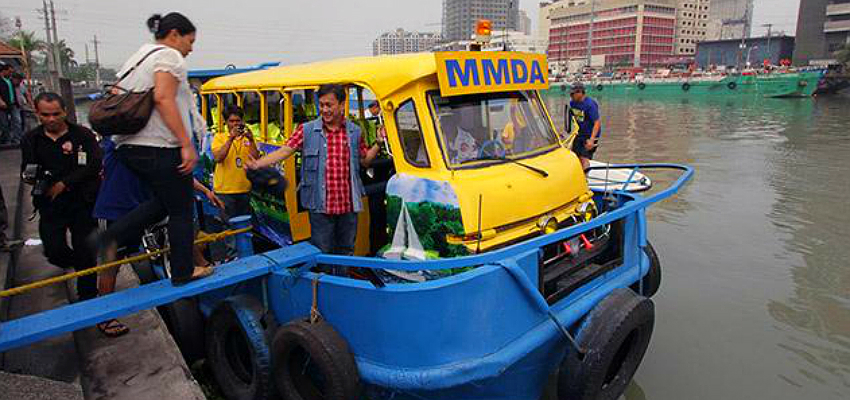 (Image source: GMANetwork.com)
Do you think Metro Manila has improved in terms of its public spaces? Find out by exploring the city here.
Like What you've read?
If so, please join our newsletter and receive exclusive weekly home buying tips, financing guides and Philippine real estate news. Enter your email and click Send Me Free Updates