If money's no object, you can't go wrong with real estate property that comes at a premium. These places may have a heavier price tag if you want to rent a condo or house and lot, but you'll be able to get your money's worth when it comes to amenities, proximity to work and leisure areas, accessibility and environment. Such factors are important in raising your quality of living, which contributes greatly to one's overall happiness and well-being.
ZipMatch Data Science explores Metro Manila's most expensive rental districts and what makes them much sought after by high-end renters and property investors alike. Values listed such as average rent, average rent of a two-bedroom unit and average price per square meter represent median values for all rental listings.
The Most Expensive Condo Rental Districts in Metro Manila

RANK
CITY
DISTRICT
AVE. RENT (Php)
AVE. RENT
PER SQM (Php)
AVE. RENT
2BR (Php)
1
Makati City
Rockwell Center
85,000
1,000
100,000
2
Makati City
Legazpi Village
65,000
928
90,000
3
Taguig City
Fort Bonifacio Global City
65,000
909
85,000
4
Makati City
Century City
36,000
974
75,000
5
Mandaluyong
Wack Wack
50,000
855
110,000
6
Makati City
Salcedo Village
60,000
700
75,000
7
Pasig City
Ugong
42,500
735
65,000
8
Taguig City
McKinley Hill
35,000
781
75,000
9
Pasay City
Newport City
30,000
700
55,000
10
Makati City
Bel Air Village
25,000
889
47,500
*Data was gathered from all condo rental listings on ZipMatch from Jan'16 to Mar'17
Metro Manila's most expensive condo districts offer a standard of living that's second to none, with these areas being located near or within central business districts like that of Makati, Ortigas and Bonifacio Global City. This is important because for most high-end renters, proximity to CBDs are top priority. After all, time wasted is money wasted spending in Metro Manila's notoriously heavy traffic. In addition, most of these areas, such as Fort Bonifacio Global City, McKinley Hill and Newport City, have their own mixed use complexes or malls. With these high-end districts, it's no doubt you will be paying for a higher degree of convenience and worry-free living.
It's no surprise that Makati's districts dominate this list for having the most expensive rental prices. At such a prime location, most of the condo renters here are willing to spend a little more to achieve comforts in their busy lifestyles.
With an average rent of Php 85,000 and average rent per square meter of Php 1,000, Rockwell Center clocks in as Metro Manila's most expensive condo district. This mixed-use development is located in the heart of the Makati CBD, and is arguably its own CBD as well. It is a microcosm of high-end city life, with office buildings such as 8 Rockwell Building and PHINMA Plaza, the prestigious Ateneo Professional Schools, as well as its own Power Plant Mall and Cinema. If that's not enough for you, not too far away are restaurants and leisure spots in Buendia, Makati Ave. and Gil Puyat Ave.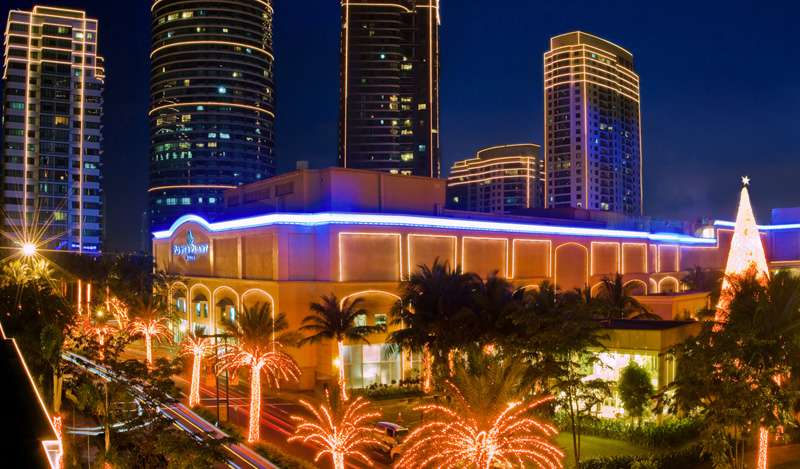 Nestling in the fourth spot is Century City, one of the newer developments in Makati. It has its own mall and a dynamic nightlife that surely attracts the younger crowd. It actually has the second highest average rent per square meter at Php 974. But because of its smaller condo unit cuts, the average monthly rent here is lower compared to condos in Legazpi Village and Fort Bonifacio Global City. A big advantage to those who want to invest in properties here is that there's usually higher demand for smaller condo units. This means finding a renter wouldn't be difficult, as well as getting a quicker return on investment.
On the other hand, Wack-Wack in Mandaluyong has a significantly lower average rent per square meter compared to those in the top five, at Php 855. However, the premium comes in the form of space. Compared to a similarly-priced condo in Makati — for instance, a two-bedroom in Rockwell Center or Legazpi Village — Wack-Wack condos are more spacious, which explains the high average rent for a two-bedroom. This is perfect for renters looking to raise a family in an area that's not too far away from the metro's CBDs.
The Most Expensive House and Lot Rental Districts in Metro Manila

RANK
CITY
DISTRICT
AVE. RENT (Php)
AVE. RENT
PER SQM (Php)
1
Makati City
Forbes Park
430,000
531
2
Makati City
Dasmariñas Village
300,000
563
3
Taguig City
McKinley Hill
225,000
500
4
Makati City
Bel Air Village
195,000
467
5
Makati City
San Lorenzo Village
160,000
500
6
Muntinlupa City
Ayala Alabang
150,000
304
7
Pasig City
Valle Verde
120,000
300
8
Makati City
Magallanes Village
150,000
286
9
Taguig City
Acacia Estates
65,000
353
10
San Juan City
Greenhills
48,000
227
*Data Period: All house and lot rental listings received on ZipMatch from Jan'16 to Mar'17*
Just like in the previous list of most expensive condo districts, Metro Manila's most expensive house and lot districts are mostly situated in the general vicinity of Makati, BGC and Ortigas CBDs and are near the metro's best facilities such as schools and hospitals. Though condo renters and house and lot renters may look for similar things in their search for the best home, there are still some distinct differences between the two.
One may notice that Makati remains to be the city with the most number of expensive rental districts even for house and lots. Because house and lots are mostly rented by families, the list is more populated by quiet villages, spacious areas and places near top notch schools and hospitals. Condo renters, in contrast, place more value on mixed-use and entertainment areas.
According to ZipMatch, Forbes Park is Metro Manila's most expensive house and lot rental district, with an average rent of Php 430,000 and an average rent per square meter of Php 531. Looking at the average rent value, it is a head and shoulders above the rest of the list. This gated community is sandwiched between the Makati and BGC CBDs, making it an excellent location.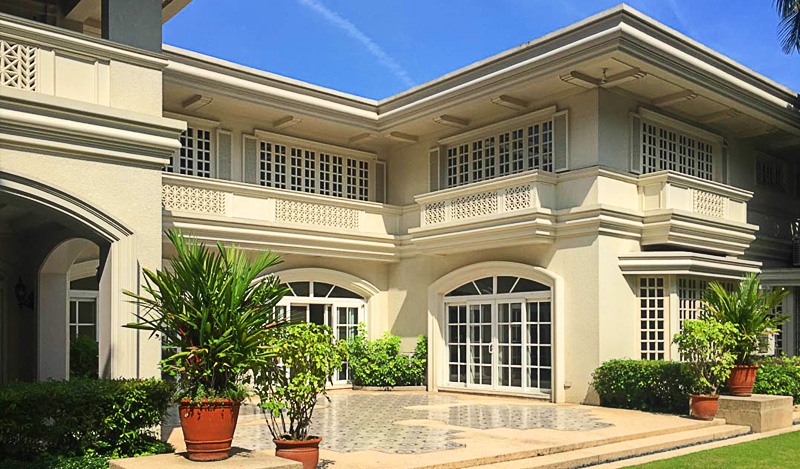 Forbes Park is where you'll find perhaps one of the most exclusive and affluent establishments in the metro: the Manila Polo Club and the Santuario de San Antonio Parish. Makati Medical Center and St. Luke's Medical Center Global City is only a short drive away. It even has the Manila Golf and Country Club within its borders, and just outside it is Ayala Ave., hailed as the Wall Street of Manila. Parks such as the Ayala Triangle and Greenbelt Park, as well as Greenbelt, Glorietta and the Ayala Museum are nearby for a taste of leisure. Its residents still enjoy a quiet and lavish suburban feel despite its proximity to the Makati CBD.
For those who are looking to raise a family in an even more tranquil suburban community atmosphere, Ayala Alabang may be worthy of your investment. Sixth on ZipMatch's list, the average rent in this district is at Php 150,000, and the average rent per square meter at Php 304. Despite being located farther from the main CBDs, the area's value comes from being surrounded by top notch schools such as De La Salle Zobel and PAREF Woodrose School. Residents kick back and relax as well as find everything they need for everyday living in Alabang Town Center. For medical needs, there's the Asian Hospital and Medical Center. Accessibility is not a problem either as there are now more access roads to the area, such as Daang Hari Road, Skyway, Alabang-Zapote Road and SLEX.
What high-end means when it comes to rental districts
The sheer number of high-end properties in Makati further proves that location is king when it comes to value, giving life to the phrase: "Convenience is luxury." Indeed, it's not just the branding, the quality of building and the services that makes a house, condo or district "high-end"; it's the level of comfort that a perfect location offers. This is why high-end property renters and investors cannot go wrong in these prime districts that continue to evolve and grow.
Disclaimer: Note that these rankings change periodically. The top developer rankings mentioned in this article are results from data gathered in the second quarter of 2017. See realtime rankings at www.zipmatch.com/rankings.
Like What you've read?
If so, please join our newsletter and receive exclusive weekly home buying tips, financing guides and Philippine real estate news. Enter your email and click Send Me Free Updates