Featuring Spanish and Italian design sensibilities, the 50-hectare McKinley Hill township brings the spirit of the Mediterranean to Manila. But more than structures reminiscent of renowned European landmarks and style, it's a community where all the elements of cosmopolitan living are brought closer together, with you at the center of it all.
Neighbors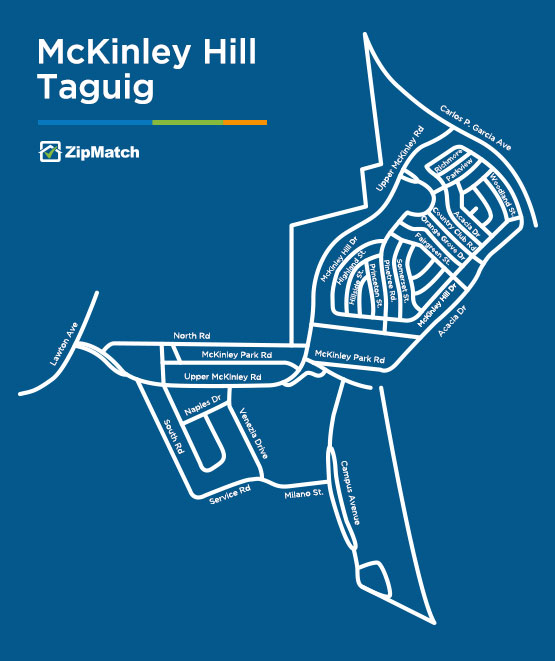 McKinley Hill can be accessed from Lawton Avenue (if you're coming from Pasay), C5 (if you're coming from the South Luzon Expressway or from the North), or McKinley Road (if you're coming from Makati). Nearby cities include Makati, Pateros, and Pasig.
Getting Around*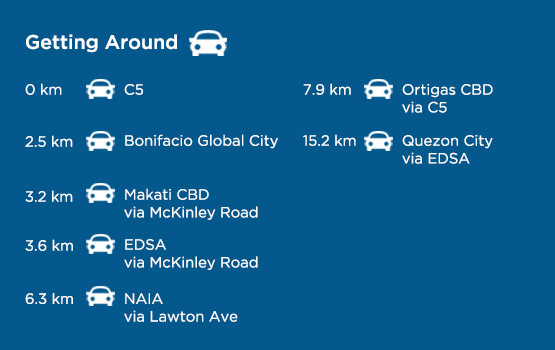 Why You'll Love The Place
McKinley Hill is designed with the Live-Work-Play lifestyle in mind, a signature of all Megaworld township communities. The development took it even a step further and added Learn and Shop into the formula.
Megaworld's fundamental concept behind it is that everything that one needs and wants should be closer to them and that the elements needed to enjoy a modern lifestyle is within reach.
Live
When it comes to choosing a home, you won't lack for options at McKinley Hill; it has 36 residential condominiums, 4,716 apartments, and 470 residential lots. Investors would be pleased to know that the properties have an average annual value appreciation rate of 15 percent.
A true visual stand-out, The Venice Luxury Residences is McKinley Hill's architectural masterpiece. With a Venetian-inspired design by consultancy firm Paolo Marioni Architetto, the property consists of seven (7) towers ranging from 22 to 31 storeys. The Venice is comprised of 12 units per floor ranging from a studio, one- bedroom, two-bedroom, and three- bedroom units.
All seven towers share a massive podium-level amenity area. It features a wide array of exciting amenities including landscaped gardens; a swimming pool complex with a spa, sauna, and jacuzzi; a gym and fitness stations; tennis and badminton courts; and a children's playground.
Moreover, an exclusive feature of this project is its direct integration to the Venice Grand Canal Mall. Residents of The Venice will enjoy their own private access to the mall from their respective towers.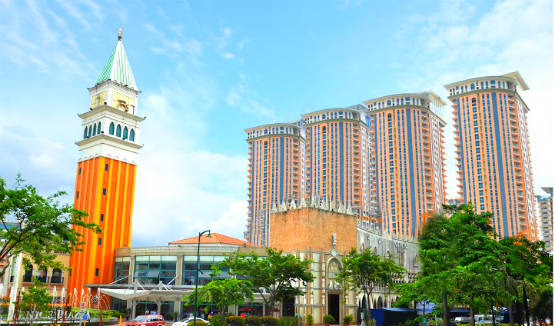 The Florence is a three-tower garden community which puts a premium on privacy. Inspired by the very spirit of Italy, it puts nature at your feet in a truly beautiful, exclusive setting.
Each unit has a balcony where residents can enjoy serene garden views, lush landscapes and wide open spaces that make up 45% of the community. The development also features a bi-level amenity deck on the third floor that showcases several amenities you can enjoy with your loved ones.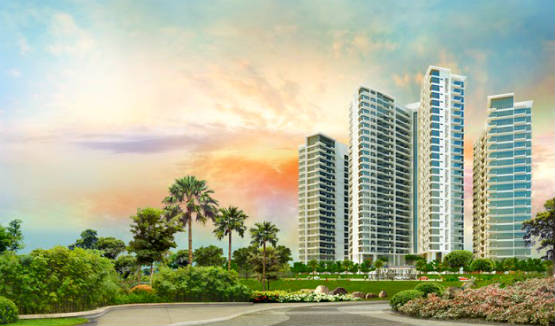 With four towers offering studio and one-bedroom units, The Viceroy was designed with young professionals and starting families in mind. Featuring commercial spaces located at it's podium level, The Viceroy — together with completed projects Morgan and Stamford — form a long commercial strip for both visitors and residents to enjoy, adding another source of convenience to the area.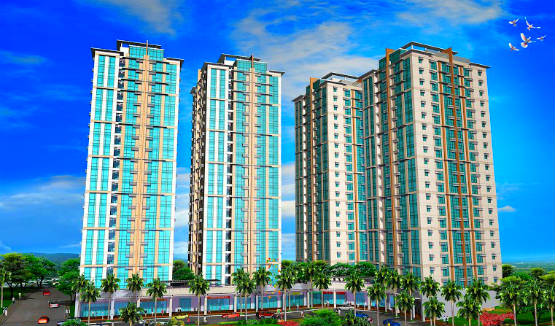 One of the highly prized properties in McKinley Hill is the McKinley Hill Village. Sold in 2004, it consists of 470 lots and spans 10 hectares in size. Located near the C-5 entrance of the township, residents of the Village enjoy exclusivity, and easy accessibility from their own homes.
Another sight of Italian inspiration and architecture is seen in the Tuscany Private Estates. It is made up of seven-clusters featuring one-bedroom is made up of 7 clusters featuring one bedroom, one bedroom with loft, two bedroom, two bedroom with loft, three bedroom, and three bedroom penthouse units. Stone details, arches, and warm colors bring to mind Tuscany's rustic charm.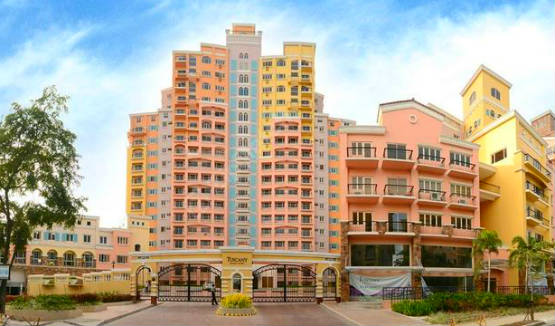 Comprised of studio units, the 3-tower, 18-storey Stamford Executive Residences is for young professionals who want to have the convenience of living close to where they can work and relax.
Sitting next to Stamford is the Morgan Suites Executive Residences where families can have fun swimming in the 20-meter lap pool, wading pool, and children's water play area. There's also a gym, an outdoor fitness station, and a tennis court.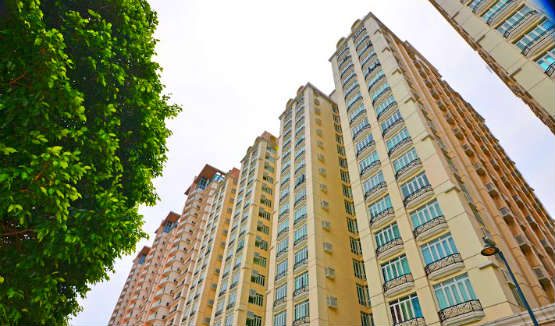 Sitting beautifully across Tuscany is the McKinley Garden Villas. Lined up in beautiful symmetry, each cluster stands at five storeys and is comprised of 2-bedroom or 3-bedroom units covering about 100 to 128 square meters.The low-rise design and Spanish theme give the community a laid-back, suburban vibe.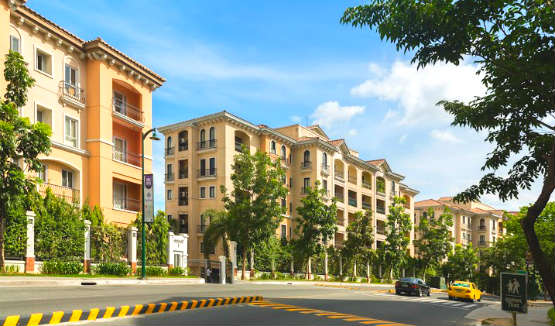 Work
McKinley Hill's PEZA-accredited cyber park features grade-A office buildings including the country's first LEED Gold-Certified building for Business Process Outsourcing (BPO) companies. Its 300,000 square meters of office space is headquarters to more than 90 multinational companies and approximately 80,000 employees, and has room for more.
The 15-storey, 2,000 square meter Commerce and Industry Plaza is the headquarters of the United Arab Emirates Embassy, The Philippine Chamber of Commerce and Industry, the Meridian International School, and a number of foreign and local companies including Megaworld Corporation. The CIP is also set to be the new home of the University of Santo Tomas' MBA Graduate School Program.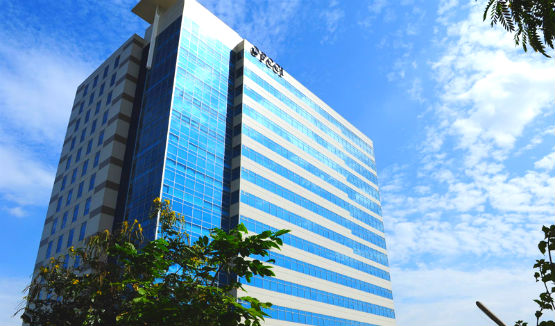 One Campus Place is the first campus-type office development in McKinley Hill's Cyber Park. It is a two-tower, low density BPO community offering 21, 658 square meters of gross leasable space.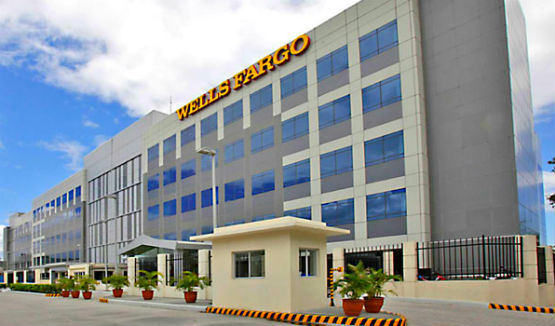 The first office building to be completed at McKinley Hill Cyberpark, One World Square is an 11-storey, 33,512 square meter prime office space. It features fast food and casual dining establishments at the ground-level providing convenience to its tenants.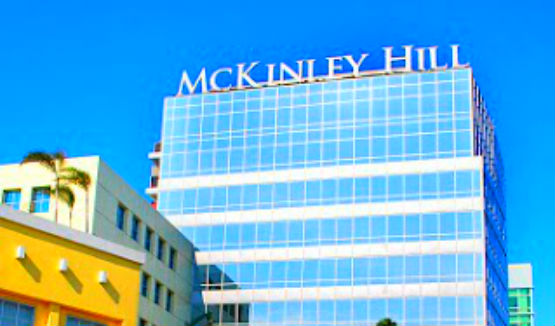 Following suit to One World Square's office set-up, Two and Three World Square combine for a gross leasable area of 41,600 square meters. Similar to One World Square, these two buildings specifically cater to BPO companies.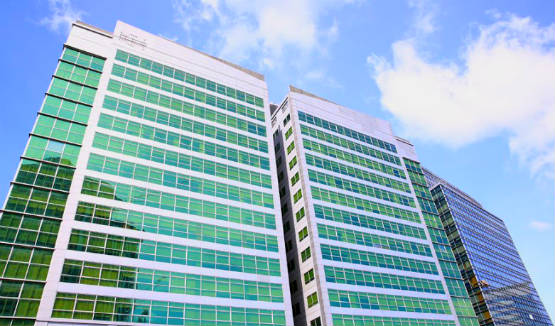 Located across Venice Piazza, the Intellectual Property Center houses Hewlett-Packard and the Intellectual Property Office of the Philippines.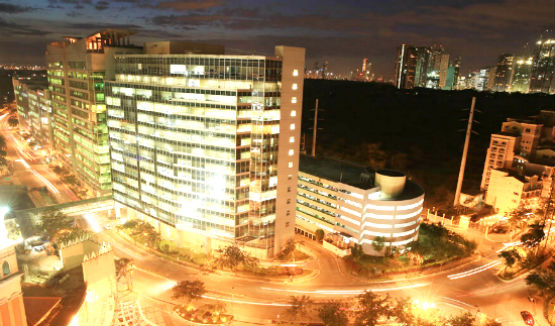 With two 10-storey structures covering 17,142 square meters, the 8/10 and 18/20 Upper McKinley Buildings rise 10 storeys each. Here, clients are offered premium office space with an approximate combined gross leasable area of 39,008 square meters.
Science Hub is home to companies such as Accenture, Bayer, Cognizant, and Samsung.
The Venice Corporate Center Strategically linked to the Venice Grand Canal Mall, the Venice Corporate Center offers four office floors with approximately 8,400 square meters of gross leasable space, placing office tenant- partners at the center of McKinley Hill's work and leisure scenes.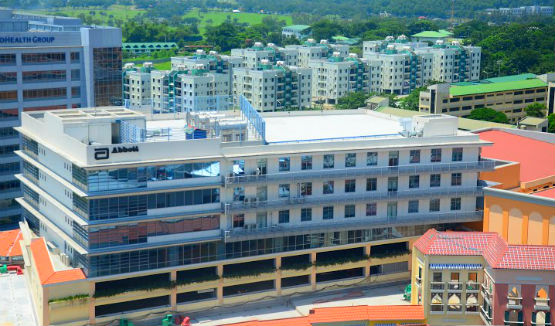 The British and Korean embassies hold offices along Upper McKinley Road.
Play
One of Taguig's highly sought-after dining hotspots, The Venice Piazza at McKinley Hill hosts an excellent selection of restaurants representing the world's most popular cuisines.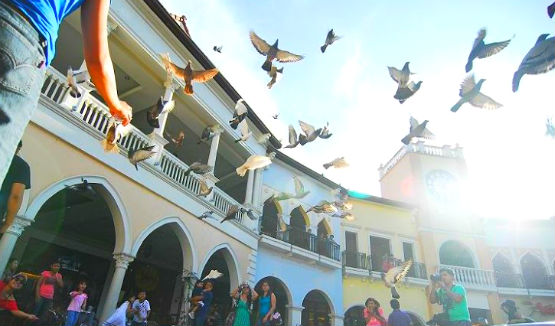 Taking cues from its namesake in Italy, The Tuscany is McKinley Hill's flagship restaurant strip. Surrounded by lush greenery, it showcases international flavors perfect for gourmet explorers.
At 5,000 square meters, The Blue Leaf has been the venue of choice of hundreds of wedding receptions and glittering society events.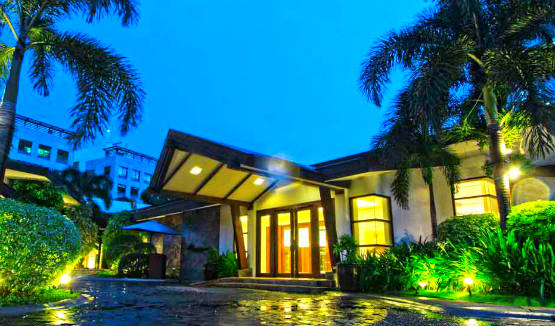 (Image source: www.mckinley.theblueleaf.com.ph )
For sports enthusiasts, there's the McKinley Hill Stadium, an all-weather football pitch made with artificial turf. It also has a 1,750-seater stadium for big games. If football's not your thing, you can always run – the township's hilly terrain will definitely improve your endurance and stamina.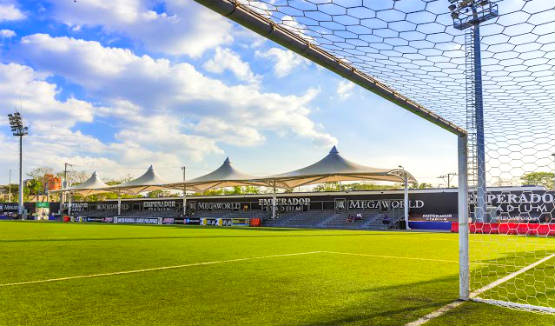 Learn
McKinley Hill is home to international schools focused on nurturing creativity while providing knowledge and skills students need to be truly competitive in the global workplace.
Chinese International School Manila is a non-sectarian, co-educational K-12 school which aims to instill a global outlook in its students by immersing them in Western and Chinese cultures and by training them to be conversant in Mandarin and English.
Korean International School Philippines caters to the growing Korean community in the Philippines. It's run by the Korean School Foundation Philippines Inc. in partnership with Korea's Ministry of Education.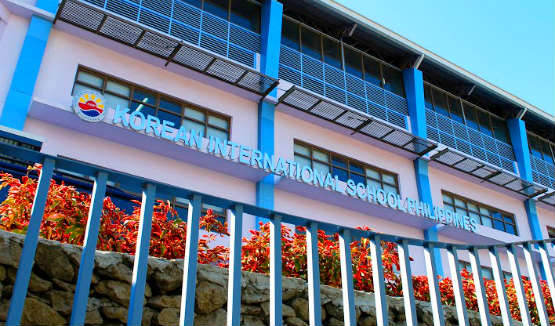 Enderun College is a four-year undergraduate college offering a full range of bachelor's degree and non-degree courses in international hospitality management and business administration.
The school has a network of 280 industry partners in 27 countries for its internship and career placement programs. Among its partners are Switzerland's Les Roche's International School of Hotel Management and France's Alain Ducasse Education, which offers students the opportunity to undergo rigorous culinary training under the latter's world-renowned team.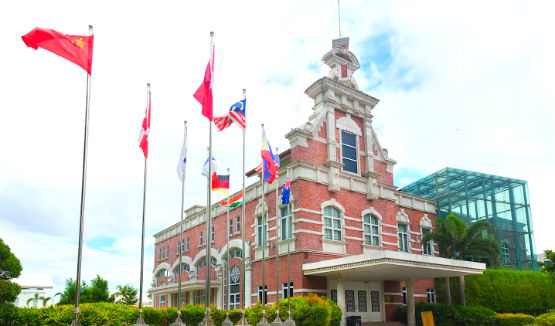 Recognizing that creative industry will play a big role in the global economy, Meridian International (MINT) College's undergraduate programs exposes students to the most relevant disciplines in commerce, computer technology, and the arts.
Its New Media Arts Program, for example, aims to teach effective communications design through print, video, audio, and interactive media. Students can specialize in creative professions such as Animation, Interactive Design, and Integrated Communications Design.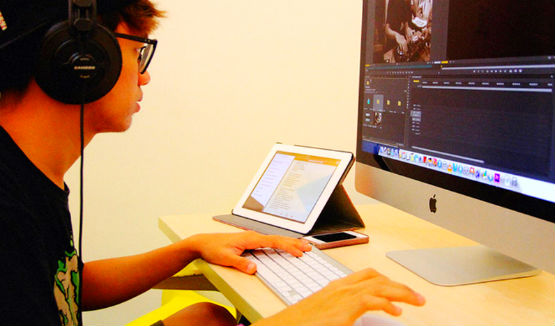 Shop
Inspired by Italy's most romantic cities, guests can shop and dine amidst the Venice Grand Canal Mall's luxurious Venetian ambiance. Among the leisure destination's highlights is its grand canal, where one can enjoy a leisurely gondola while listening to the singing gondoliers.
People
Families, professionals living on their own, and retirees looking for a property investment are attracted to McKinley Hill's warm, inviting atmosphere and proximity to schools, offices, dining, and recreational facilities. With its international vibe, expatriates are also calling McKinley Hill home.
Residents are encouraged to just walk to and from places they want to get to; they don't have to endure the stress of a long commute while reducing their carbon footprint.
Lifestyle
McKinley Hill successfully integrates residential communities inspired by Europe's old-world charm with world-class learning facilities, multicultural workplaces, and exciting leisure options. It's a place that nurtures a global mindset and way of life.
Check out this map from Megaworld to find your way around McKinley Hill.
Planning to move to McKinley Hill? Search for condominiums for sale or rent here.
Like What you've read?
If so, please join our newsletter and receive exclusive weekly home buying tips, financing guides and Philippine real estate news. Enter your email and click Send Me Free Updates