In our last article, we discussed about the difference when buying a home using cash or mortgage. We have also weighed in the pros and cons of investing in your new home and asked experts' advice on deciding the right home financing.
The feedback we received from the first article inspired us to do another spin on the home mortgage debate, particularly when choosing either in-house financing or a Pag-IBIG Fund loan to buy a condo, townhouse, or house and lot for sale.
Buying a home through in-house financing
In-house financing, by definition, is a type of home financing wherein a real estate developer allows a potential homebuyer to acquire a home on a loan.
If you're considering purchasing your new home via in-house financing, payment schemes are much more flexible as compared to paying via a mortgage.
This is because the real estate developer does not rely on the financial sector (i.e. banks) to provide their homebuyer funds to purchase their items. It means that the real estate developer is shouldering the risk that the homebuyer will not completely pay off the agreed total contract price of the home.
Because payment schemes are flexible, interest rates are lower than bank loan rates. Interest rates are often based on how much the real estate developer is willing to take should the homebuyer failed to comply with the loan payments well after the sales contract has been signed.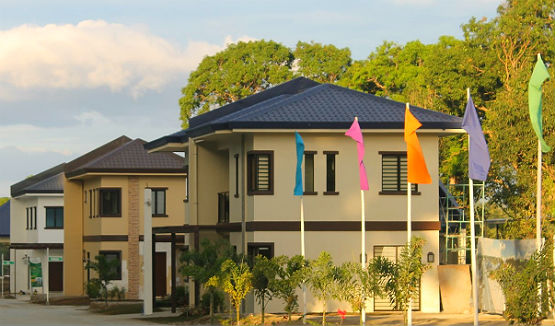 While the payment flexibility sounds good, the very nature of it might limit you to choosing the actual property unit you want. This means that a real estate developer may offer in-house financing, but only to properties that they can afford to take a risk on. As such, ready-for-occupancy units are rarely offered under in-house financing simply because there are more abled homebuyers to purchase them using cash and/bank mortgage.
But on the other hand, the beauty of in-house financing is that a real estate developer allows more potential homebuyers who do not have a good credit history to make their real estate investment a reality.
As banks and other lending institutions reject loan applications due to stringent requirements, a real estate developer can choose a potential buyer to own a home as long as the latter provides the requirements and passes buyer screening process.
Buy your home through in-house financing if:
You are on a tight budget and would like a more flexible payment scheme;
If you have been rejected for a bank/lending loan and don't have a great credit record;
If you like a straightforward transaction, meaning you don't want to deal with a third party (bank/lender) to purchase your next home;
If you're meaning to move into a new home instantly.
Buying a home using Pag-IBIG Fund
Getting your home on a Pag-IBIG Fund loan is just like purchasing a condo, townhouse, or house and lot on a bank or lender loan. If you're already a member of the Pag-IBIG Fund, it gets easier by following a few steps and filing the application online or at a nearest branch.
In the last few years, the Home Development Mutual Fund (HDMF) or the Pag-IBIG Fund has made it easier even for a Filipino minimum-wage earner to own his or her very home in the Philippines without needing to shell a lot of cash.
Because it is a government-supported initiative, interest payments and amortization are not that expensive. Moreover, there are real estate developers who have partnered with the Pag-IBIG Fund by offering assistance in processing the Pag-IBIG Fund home loan of a paying member.
Ironwood Estates, a real estate development in Batangas for one, can help move home seekers to actually make home ownership a reality by offering their best house and lot units for sale through Pag-IBIG Fund financing. Once the housing loan has been approved, the homebuyer only needs to make the payments directly as Pag-IBIG Fund amortization payments.
But if you're planning to own a condo or a townhouse as your next home, it is highly unlikely that you'd be able to purchase the property via Pag-IBIG Fund.
This is because that as a secured form of financing, Pag-IBIG Fund will require a collateral, which in this case, is your future home's clean Title (TCT/CCT) issued by the Registry of Deeds.
Moreover, if you do fail to pay your amortization payments on time, there is a huge risk of getting your property foreclosed, or taken away by Pag-IBIG to recuperate the loss from failed payments.
Buy your home using Pag-IBIG Fund if:
You are a Pag-IBIG Fund paying member (seriously, take advantage of this benefit!);
If you're planning to own a house and lot;
If you do not foresee into paying high amortization payments in the succeeding years;
If your developer is already offering this financing type as an option.
Choose the one that suits you
At the end of the day, what matters is that whatever your home financing preference, it pays to be responsible with your payments and to be proactive with your lender or real estate developer to secure your home ownership.
Planning to own your next home through in-house or Pag-IBIG Fund financing? Choose any of these new house and lot units to start.
Like What you've read?
If so, please join our newsletter and receive exclusive weekly home buying tips, financing guides and Philippine real estate news. Enter your email and click Send Me Free Updates