Not all condominiums are created equal. It goes without saying that the rules and regulations for each will differ greatly. It's important that you familiarize yourself with all the policies of your condominium building as you don't want to catch yourself unaware after you've moved in to your new home.
Here are questions you should ask your management when buying a condo.
1. What are the condominium rules and regulations?
Owning a house is different from owning a condominium. Unlike a house, you only own the condo from the walls in. Anything outside is mutually shared with other homeowners. And since you're buying into a shared community, there are rules you need to follow.
Finding out the condo policies is your most important consideration when you're buying this type of real estate property. Every condominium in the Philippines has their own set of rules. To help you settle in comfortably, make sure you familiarize yourself with them, lest you earn the ire of other tenants for letting your kasambahay ride the elevator with you.
2. What are the restrictions on pets in terms of size, breed, and housekeeping?
Many Filipinos love pets, especially dogs and cats. You'd find numerous homes in the Philippines that have their own bantay. However, few condominium buildings in Metro Manila allow your furry friends to stay with you. And they have strict policies regarding pets. For example, DMCI Homes only allow toy dogs.
As such, you have to verify with the management if your pet will qualify to be your roommate. Inquire about the size, weight, number, and breed limit specifications. Remember, you'll encounter different types of neighbors and not every one of them will find your pet adorable.
3. What amenities require membership fees or extra charges?
Follow up: Are there schedules for the amenities?
Amenities such as swimming pools and gyms are an integral part of a condominium. Some property developers have even included more exotic amenities including theater rooms and game rooms. These are the features most homebuyers would check out first when looking at a vertical living option.
While most amenities are free of charge, some require that you pay for additional fees such as function rooms or spas.
Many condo buyers also assume that amenities are open 24/7 just to find out that these have operational hours. One such example is the use of swimming pool, wherein it only operates from 6:00 am to 9:00 pm daily.
4. What amenities are open/restricted to homeowner's guests?
Follow up: Can we extend the amenities to tenants' guests?
There are certain amenities in a condominium that are restricted to guests. It is best that you know beforehand what facilities your friends can use or not. In addition, you should also ask if the amenities allowed for your visitors may require additional fees such as the use of basketball court or gym.
5. What are included in the condominium fees?
Follow up: When was the last time association dues were increased? Are there plans to increase it in the future?
Condominium fees include association dues and fees for common area, which you share with other tenants including water in the pool, electricity in the hallways, etc. Ask for a breakdown to know what items you are paying for.
There are instances when the PMO charges you for a special assessment fee such as the repainting of the building or improving the landscape. Make sure you know as well their future plans so you won't be surprised when your next bill arrives.
6. How much are the association dues?
Follow up: What is the frequency of payment (monthly, bi-annually, annually)? Can I get back those annual fees if I decide to sell my property?
Your association dues are computed based on your unit floor size – the larger your unit, the higher fee you need to pay. This is commonly billed to homeowners monthly, but there are some developments that offer discounts if you pay annually. Make sure you know so you can avail it and save money.
Related Topic: FAQs you need to know about association dues
7. What is covered in the building maintenance and unit upkeep?
You are going to want to know exactly what your responsibilities are in terms of maintenance. The PMO usually handles the upkeep of the entire building. And while homeowners are responsible for their own unit, you might want to know if there are instances when the Property Management Office (PMO) would shoulder the expense of your unit renovation, especially if the repair is about the building's structural integrity.
8. Is the condominium under a professional management or managed by a homeowner's association?
Most large property developers in the Philippines put up a PMO to administer the entire operations and maintenance of the building. For others, they create a homeowner's association to oversee the running of a condominium. Setting up a PMO usually incurs added cost for the homeowner.
9. What are my rights as a member of a homeowner's association?
To avoid getting into any legal disputes or misunderstandings, you should know your rights as a member of a homeowner's association. Check out the Philippines' Magna Carta for Homeowners and Homeowners' Association.
10. What is the age of the building?
Don't be fooled by old buildings that present a fresh look only because it went recent renovations. Older buildings often need more repairs or maintenance than newly constructed ones. This will require you to pay more association dues.
Related topic: What happens to a condominium after 50 years
11. What is the profile of tenants?
Follow up: What percentage of the units are occupied by renters?
Condo living is about choosing a lifestyle that will best suit your needs. It is important that the condominium you select will give the standard of living you want for you and your family.
Having a home in a building that has a high percentage of owner-occupied units makes it more marketable than the tenant-occupied ones. On another note, pride of homeownership is very different with pride of living in a high-end condominium. There are people who wouldn't care about rules or properties especially when they are staying in a place that isn't really theirs.
12. What is the condominium rental policy?
While condominiums in the Philippines are viewed as an investment property and thus allow you to rent out your unit, it won't hurt to ask your developer on their rental policy. They may either require that you put up your rental unit only through their leasing department or the management has specific guidelines for tenants.
13. What is the parking situation in the building?
Follow up: Is a parking slot included in your unit sale? What are the parking rules for visitors?
Pinoys are very social. We love to have family reunions and celebrations all year round, especially during Christmas season when our balikbayan relatives are coming home. So if you have guests coming over frequently, parking is one of the most important concerns you have to look into.
Parking policies vary from one condominium property to another. Some condominiums allot one parking space for one unit, while others can opt to go without. There are also properties wherein you have to pay for the parking space separately, while some include it in the unit selling price.
Similarly, guest parking is different for every condominium property. There are those that have dedicated parking for visitors, while others don't. Thus, your guests would have to find a nearby public parking lot or risk parking along the street. It is important you know what your options are for you and your guests.
14. Is the property developer involved in any pending or current lawsuits?
This is another crucial question you should ask before finally saying yes to a condominium. It is worth investigating as it could impact you financially – finding the right financing or hurting the condo's resale value in the future.
You shouldn't buy a property from a developer that is embroiled in several legal battles particularly about issues related to license to sell or delayed turnovers. This is an indication that they may not be as reliable as you think they are. And your dream home may not come into fruition especially if it's a pre-selling condominium, and the developer has a reputation for not delivering finished buildings.
15. What are the common concerns or complaints of residents in the building?
As a smart home buyer, it is a must that you know what issues have been affecting the condominium. This will help you identify the problems that the building usually encounters and see how these will have an effect on your lifestyle, if you choose to live in the condo.
You can ask for a copy of minutes of the meetings, or chat with current residents to get insights. If the management isn't quick about the fixes or disregards complaints, then you might want to think twice before buying.
Check out these online reviews about properties in Makati
.
16. How does the management handle homeowners' issues or concerns?
Follow up: How do I reach them, especially during holidays/emergencies?
Before purchasing a condominium, make sure you interview the condo manager personally so you'll get to experience how he or she will respond to tenants' issues or concerns. You could also talk to your neighbors to know more about the management and ask their knowledge of them. After all, a lousy property management team can make condo living a difficult experience.
Get your printable copy!
We also created a downloadable version of these questions that you can print and bring the next time you meet with the management of the condo you're planning buying.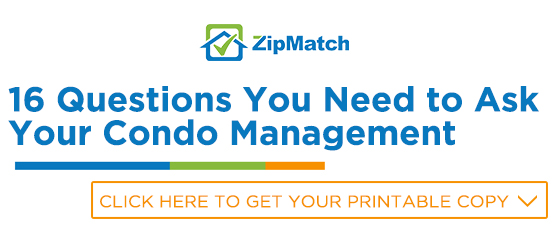 Know what condominium residents are saying about their property management. Explore condominium reviews here.
Like What you've read?
If so, please join our newsletter and receive exclusive weekly home buying tips, financing guides and Philippine real estate news. Enter your email and click Send Me Free Updates