Expats should feel right at home in the Philippines, a country blessed with great outdoors, friendly and English-speaking locals, warm weather, and a relatively cheap cost of living.
In fact, the Philippines is a country of expats. In 2010, the National Statistics Office (NSO) recorded a total of 177,368 foreigners living in the country, which is equivalent to 0.2 percent of its 92 million population. The majority of these expats are Americans and Chinese, but the country is also fast becoming popular with Japanese, Indians, and Koreans. Tourists also flock the country. In 2013, NSO recorded a total of 4,681,307 visitors from different parts of the world.
Most of the expats living across the country are drawn to the National Capital Region, while others find themselves residing in the provinces of Central Luzon and the Calabarzon Regions, and many choose to retire in Central Visayas where many of the country's tourist draws, such as Cebu and Bohol, are located.
In recent years the numbers of expats moving to the country have increased because of the entry and expansion of outsourcing and offshoring companies. The influx of expats is due to favorable macroeconomic situation, tourism, and the Department of Labor and Employment's plan to hire foreigners for local jobs that lack skilled workers.
As a result, the growth in expat population spurred the demand for condominium units in the country's highly urbanized areas, particularly Metro Manila. Those who chose to live here can enjoy the capital's busy social life and fantastic shopping and dining opportunities while at the same time be in proximity with the surrounding provinces' nature draws, such as the picturesque Tagaytay, the beaches and dive sites of Batangas, or the nature trails of Subic.
Cost of Living
Life can be expensive, particularly in the National Capital Region, but it is comparatively cheaper to enjoy a high quality of life for less than in other parts of the world.
Here's a comparison of prices of housing in Manila and Cebu: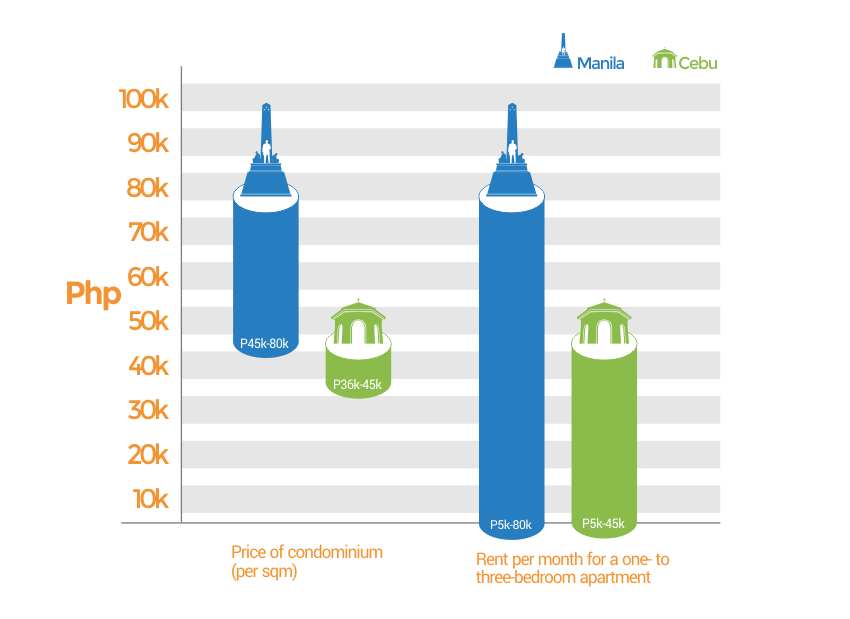 There is a considerable difference between prices of common goods and services in Metro Manila and the Philippines' rural areas. For one, monthly rent is cheaper in, say, Cebu and Davao; the cost of transportation such as taxi or bus fares is less expensive; and fresh produce in local markets are cheaper because they're mostly sourced nearby. As a treat, living in the provinces means being close to many of the country's tourist draws. For example, Dumaguete City in Negros Oriental is close to Apo Island, which is a popular dive site, while Davao City is close to Samal Island and Mount Apo National Park. Many other cities and municipalities have public beaches, parks, and nature landscapes that welcome visitors for free. In some, the government sponsor concerts, beauty pageants, and festivals that locals can enjoy for free.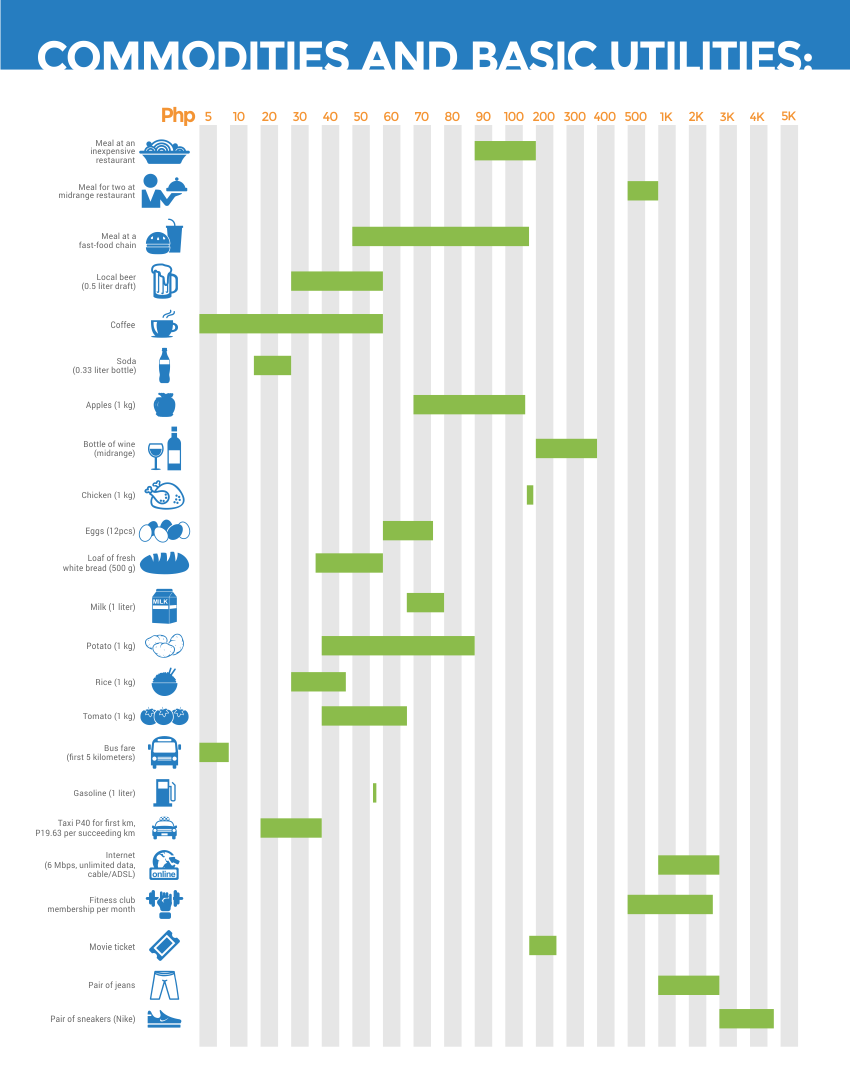 However, the biggest expense in urban areas, especially Metro Manila, would be rent. Apartments and houses for rent are cheaper in the province because of lesser demand. However, a retiree could save on his or her rent in Metro Manila and other highly urbanized areas if they choose a cheaper apartment.
Visa Requirements
If a foreigner wants to spend an extended length of time in the Philippines, he or she needs to apply for a visa. Broadly speaking, you will also need a work permit and residence visa to work and stay in the country.
Taxes
A retiree will need to file the appropriate tax returns. If a nonresident alien engaged in trade or business within the country, he or she has to pay a withholding income tax rate of 20 percent on the total amount they receive. If a nonresident alien who came to the country and stayed here for more than 180 days within the calendar year, he or she is considered a "nonresident alien who's doing business in the country," but will not be taxed for compensation for services performed outside the country.
Education
Public basic education (kindergarten, primary, and secondary) is free in the Philippines. State universities (institutions of higher learning funded by the government) also offer very low tuition fees. For example, the Polytechnic University of the Philippines offers Php12 tuition fee per unit for undergraduate courses, and Php200 per unit for graduate courses, while the average tuition fee in the country's state university, the University of the Philippines, range from Php200 to Php1,500 (depending on family's financial capacity).
However, if retirees want to send their children to prestigious private schools like De La Salle University, Ateneo de Manila University, and the University of Santo Tomas, they should expect a tuition fee of at least Php84,000 per semester excluding the registration fees and miscellaneous fees.
Average Expenses
Filipinos in urban areas claim that their household income is about Php24,000 per month, while their rural counterparts earn about Php15,000 per month. Food expenses range from Php6,500 to Php7,500 per month. The average monthly household expenses range from Php13,500 to Php15,500. Expenses vary depending on the number of children, location, education, medical expenses, and the like.
It's not easy to live on a small budget but it's certainly possible given that the cost of living in the Philippines is much lower compared to, say, Hong Kong, Singapore, and most of the Western world.
Like What you've read?
If so, please join our newsletter and receive exclusive weekly home buying tips, financing guides and Philippine real estate news. Enter your email and click Send Me Free Updates