It's a race to the top. With high-rise condominiums becoming the latest trend in vertical living, many property developers are clamoring to have one of their own buildings earn the prestigious title of the tallest in the country. Surprisingly, it's not about which property has the greatest number of floors, but which building simply has the greatest overall height.
Here are the tallest condominiums in the country and a quick overview of what's in store for you if you choose to live in any of these properties.
The Gramercy Residences
(Image source: www.commonwealthbycentury.com)
Rising as the tallest condominium in the country and the first residential skyscraper in Century City, The Gramercy Residences is one of the most sought-after addresses in the metro.
It is the epitome of a luxurious city home – from its contemporary architectural design to its wonderful amenities. The building features a modern, New-York inspired design that will be enjoyed by the young and energetic urbanites.
Located on the former site of International School Manila, it enjoys an accessible position where everything you need is in proximity, such as A. Venue Mall and Century City Mall. If you love the exciting urban vibe and want to be near where the latest happenings are, this is indeed the best place for you.
The Gramercy Residences is also home to 71 Gramercy, the highest and hippest place to party. This upscale bar, lounge, and restaurant all rolled into one redefines clubbing in Manila. Many expats, yuppies, and even famous personalities go here to have fun and to socialize. Aside from good food and great music, 71 Gramercy boasts a magnificent view of the city, making it the hottest nightspot in Makati.
Discovery Primea
(Image source: www.architecturescope.com)
From a veritable wasteland to a thriving metropolis, Makati's impressive journey to become the country's leading financial and residential district is etched within the walls of its distinct structures.
Discovery Primea relives the beauty of Makati's past and ups the ante with state-of-the-art facilities and amenities. This high-rise building is situated on Apartment Ridge, a prime address along Ayala Avenue. It is the ultimate vertical home for a few cosmopolitan families. You are treated to full hotel services to ensure you get the most out of your stay.
The building's meticulous and breathtaking architecture marries comfort and convenience seamlessly. It was designed by renowned Japanese architect Kenzo Tange, who took absolute care in creating a home that will withstand powerful forces of nature.
Here in Discovery Primea, it's all about giving you a home where there is ample space for you and your family to move around, yet still maintain a close-knit community. Living here is also about having what you need and want right at your doorstep. It is right across Glorietta Complex where you can shop, dine, and more.
Grand Riviera Suites
(Image source: www.moldexrealty.ph)
Enjoy a view of the famous Manila Bay and its beautiful sunset when you live in Grand Riviera Suites. It rises majestically in Manila, home to the political seat of the country and various historical sites.
The modern façade is complemented by the natural landscape, creating a great sanctuary for everyone. Grand Riviera Suites' amenities ensure you get to enjoy leisure time without leaving the comforts of your home. This is perfect for families, expats, and professionals who want a different urban lifestyle experience.
Taking advantage of its prime location along the prominent Roxas Boulevard strip, which is just a stone's throw away from modern conveniences. Visit Intramuros, Manila Ocean Park, and Rizal Park on weekends. Or visit the Cultural center of the Philippines to brush up on your arts and culture. Just about everything is within easy reach – hospitals, government offices, malls, and schools.
One Shangri-La Place
(Image source: www.philrealty-showroom.com)
Carrying the signature Shang Properties brand, this impressive twin-tower residential condominium sets the bar for luxury living in Ortigas Center. From its large, glass architecture to its world-class amenities, One Shangri-La Place gives a great urban home advantage.
Located atop a prime six-level mall, you can shop and dine at your own leisure. Schools, malls, and other commercial establishments are also nearby. Commuting is also easy with its proximity to major thoroughfares – EDSA, Shaw Boulevard, and Ortigas.
The development is part of the Shang Complex that makes city living efficient and enjoyable. Each living space is designed with the entire family's utmost convenience and comfort in mind. Staying at One Shangri-La Place certainly gives you the full urban experience where you can live, work, and play all in one place.
BSA Twin Tower 1 and 2
(Image source: www.wikipedia.org)
Strategically located at the heart of Ortigas Center, BSA Twin Tower is the next tallest twin-tower in the country after One Shangri-La Place. It provides wonderful accommodations at a good value, where your expectations are not just met, but exceeded.
The homey ambiance found within its walls make it an ideal setting for rest and relaxation after a busy day at work. It is for this reason that many professionals and their families have made it their residence.
The amenities offered also ensure that you get to enjoy a balance life. There is a recreational area where you can bond with your loved ones, a gym to keep you fit and healthy, a business center where you can conduct business, and more.
Many office buildings, learning institutions, and even shopping malls, like SM Megamall and Robinsons Galleria, are nearby. All of these are easily accessible and more certainly lets you and your family have an advantageous home in the city.
The Knightsbridge Residences
(Image source: www.century-properties.com)
Century Properties delivers another exemplary high-rise building with The Knightsbridge Residences. This time you get to enjoy the distinct London vibe. It draws inspiration from Knightsbridge, the most expensive neighborhood in London and home to Harrods, a world-renowned department store.
As one of the leading real estate companies in the country, Century Properties takes pride in giving Filipinos a taste of international living without changing addresses. And The Knightsbridge Residences certainly lives up to its name.
Upon entering, you are immediately welcomed to a high-ceilinged lobby and an interior with a Union Jack theme. Its "hyper-sized" amenities include a library, swimming pool, rec room, and even an observatory space. These are things that friends and families will have fun exploring.
One of its defining features is "The Lanterns," strategically placed luminescent lights that makes The Knightsbridge Residences really stand out especially at night. The dramatic effect created by the lights make it look like a beacon.
The St. Francis Shangri-La Place Tower 1 and 2
(Image source: www.skyscrapercity.com)
Developed by Shang Properties, The St. Francis Shangri-La Place is a prominent landmark in Ortigas Center. This upscale development's stylish and modern design aims to give urban families and professionals a home that keeps up with their lifestyles. It is the third two-tower development that makes the tallest condominiums list.
Like One Shangri-La place, The St. Francis Towers 1 and 2, as it is also known, lets you experience a distinctive urban living. It welcomes you to spacious interiors that feature high ceilings and large glass windows, giving you great views of the city. Enjoying a prime location right beside Shangri-La Mall and across EDSA Shangri-La Hotel and an elevated walkway to each, you have your own exclusive access to both.
What sets this condominium apart is its ground-breaking "damping" system. Developed by Arup, a well-known design and planning company, this feature was designed to minimize the standard wobble in tall buildings. Thus, making The St. Francis Shangri-La Place not only one of the tallest vertical residences, but also one of the safest place to live.
Edades Tower and Garden Villas
(Image source: www.prsparchitects.com)
One of the game-changers and leading visionaries in the real estate industry, Rockwell Land brings another world-class vertical home in the country with its latest development – Edades Tower and Garden Villas. This is paradise right in the middle of the city's hustle and bustle.
The first condominium to rise in the West Block of Rockwell Center, its design draws inspiration from its namesake, Victorio Edades, a National Artist and the father of modernist Philippine art. Edades Tower and Garden Villas has a cutting edge, breakup façade that deviates from the norm and creates its own mark in the country's architectural landscape.
A distinct feature is the building's own underground passage to Rockwell Powerplant Mall. How cool is that? Having your own tunnel access to the myriad of high-end retail shops and fine dining.
Indeed, Edades Tower and garden Villas not only offers a prestigious address, but also a dynamic neighborhood that makes it a great place for families and successful professionals to live. Combined with its staycation worthy amenities and environment, everything is laid out for you to enjoy.
The Residences at Greenbelt – San Lorenzo Tower
(Image source: www.skyscrapercity.com)
San Lorenzo Tower completes the sprawling three-tower The Residences at Greenbelt, also known as TRAG, residential complex. It is designed to give urban dwellers an amazing sanctuary that has a solid building foundation.
Its prime location within the Ayala Center gives it the ultimate edge, and not just the title of the tallest building among the trio. There is ease of access to several major roads including A. Arnaiz Road and Paseo de Roxas.
Each living space was carefully designed to satisfy the need for a well-located home that still maintains privacy and exclusivity. Those who live here enjoys being at the center of everything – doing business, shopping and dining, and enjoying recreational activities.
1322 Golden Empire Tower
(Image source: www.skyscrapercity.com)
The 1322 Golden Empire Tower is splendid development that has a commanding presence along the historical strip of Roxas Boulevard. This rises as the second highest condominium in Manila and is also a project of Moldex Realty Inc.
Considered as one of the most luxurious residential buildings in the area, the Golden Empire Tower spared no expense in providing a premium home that is a cut above the rest. The units have spacious floor plans that can easily accommodate your family and won't put a cramp in your lifestyle.
To further give owners the perfect address, the building's design ensures that you have a refreshing home where you'll feel like you're waking up beside the beach. You get to maximize the cool sea breeze, natural light, and an unobstructed view of Manila Bay and the surrounding area.
One Rockwell – West Tower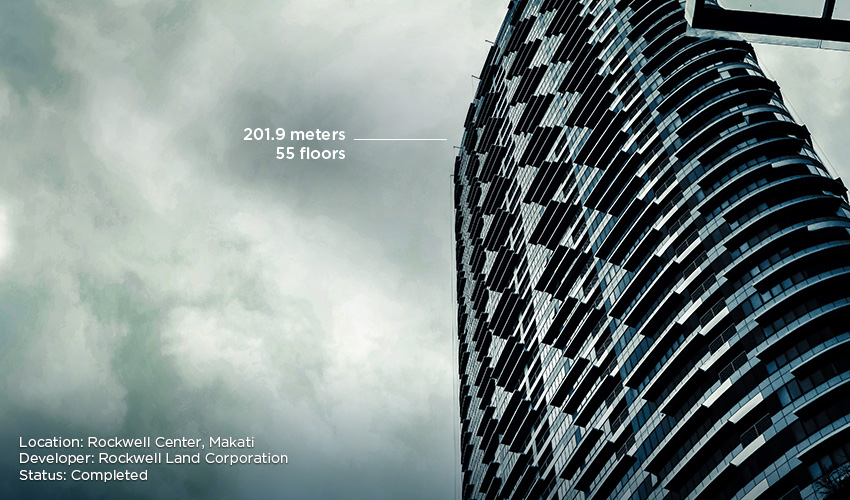 (Image source: www.flickr.com)
With its distinctive curvilinear design, One Rockwell – West Tower stands as an iconic structure and the tallest condominium in Rockwell Center. This signature project lets you choose among its fine selection of urban space – from its bi-level units to high-ceilinged lofts as well as its unique Z-shaped rooms.
Yes, One Rockwell is the first residential development that introduced Z-shaped interiors, which lets you enjoy and take advantage of two opposing views from your rooms. It definitely raises the bar for unique living spaces in the metro.
The lively Rockwell community is perfect for independent yuppies and modern families who want a comfortable and secured place to come home to, yet still be near everything they want.
Is bigger, better?
Are the tallest condominiums in the Philippines necessarily the best ones? Share us your thoughts by leaving a comment below.
(Building height source: http://www.emporis.com/statistics/tallest-buildings-philippines)
Like What you've read?
If so, please join our newsletter and receive exclusive weekly home buying tips, financing guides and Philippine real estate news. Enter your email and click Send Me Free Updates