Wack Wack, or Wack Wack Greenhills, is one of the 27 barangays under the city of Mandaluyong. It is famous for the exclusive leisure resort complex that covers almost 60% of the area, the Wack Wack Golf and Country Club. Nestled between barangays Addition Hills and the intersection of Pan-Philippine Highway and Ortigas Avenue, it is considered one of the underrated locations to look into when property hunting.
For urbanites and families who crave for a piece of the countryside without leaving the city, Wack Wack is a great place to live in.
The former vast grassland that was supposedly named after the the crows (uwak) that populated the area is now home to at least 17 residential townhouse and condominium properties.
Neighbors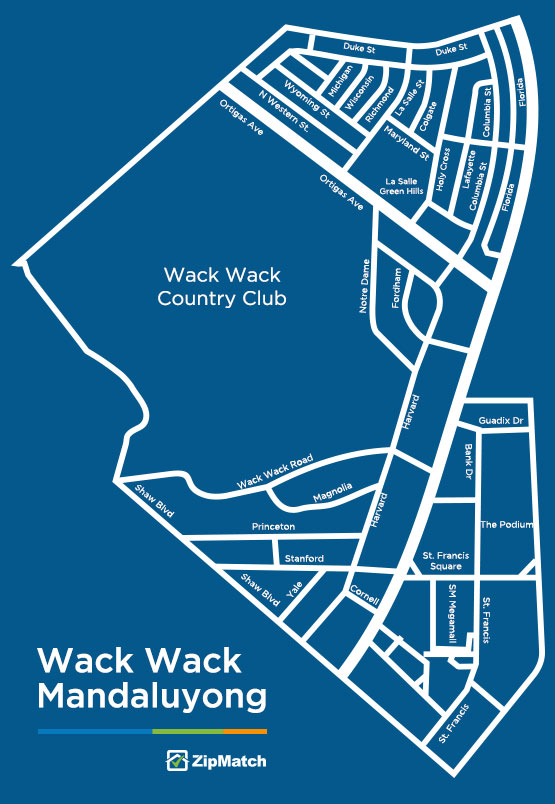 East – Addition Hills/Wack Wack Golf and Country Club
West – Philippine Overseas Employment Agency (POEA)/Ortigas Avenue
North – Greenhills Shopping Center/Ortigas Avenue
South – Shaw Boulevard/MRT Line 3
Why You'll Love The Place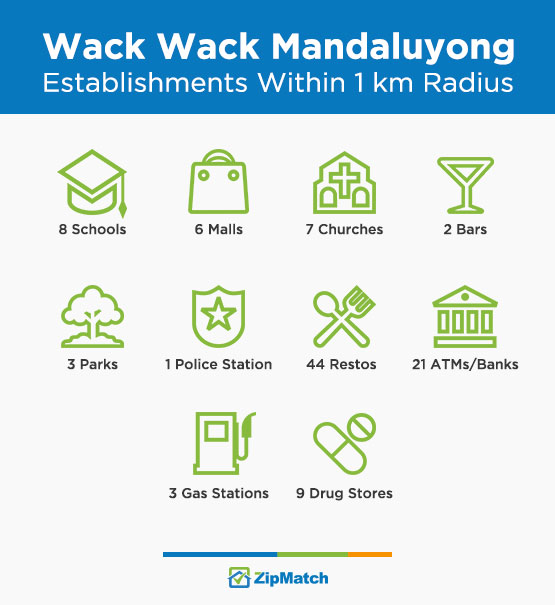 Growing families will love the place simply because of its less than 2-kilometer vicinity to some of Metro Manila's top-rated schools: Saint Pedro Poveda College, La Salle Green Hills, OB Montessori Center, AMA Computer Learning Center, Xavier School, Rizal Technological University, and Mandaluyong Science High School.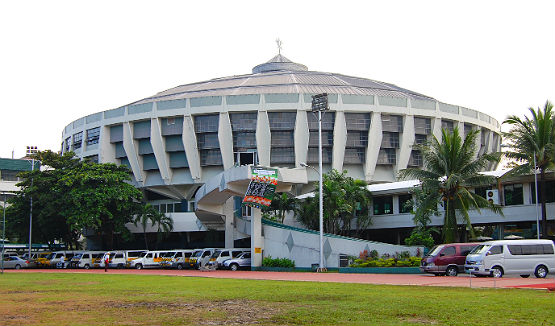 (Image source: panoramio.com)
Because it is near EDSA, families can spend quality time shopping at the tiangge in Greenhills, or in one of the malls along the Shopping Belt (Robinson's Pioneer, EDSA Shangri-la, SM Megamall, Robinson's Galleria), which is just a few blocks away.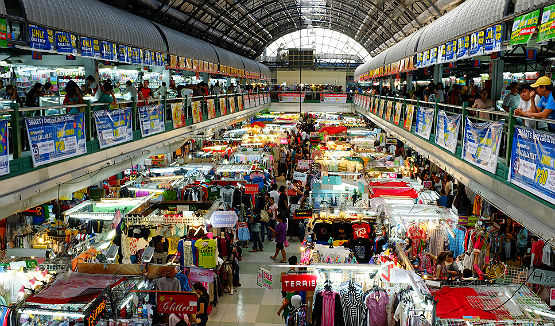 (Image source: Flickr/Juan Pablo Gutierrez)
Grocery runs can also be done at a local Puregold or at S&R's along Shaw Boulevard or at the nearby malls.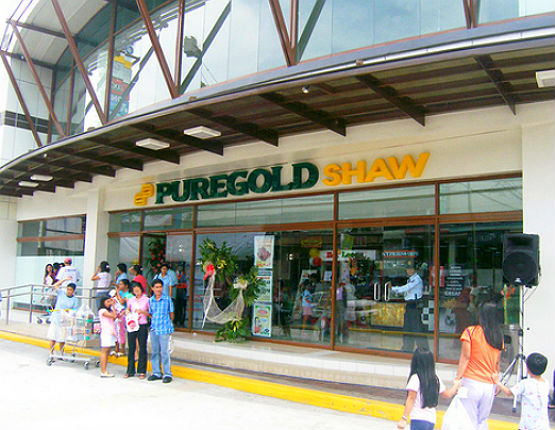 (Image source: www.affordablecebu.com)
But what's really nice about Wack Wack, Mandaluyong is that the land use allows residents to have a semblance of privacy. For long-standing residents, first-time millennial homebuyers and professionals who have made Wack Wack their home, this is a benefit worth investing for.
As such, newcomers are expected to travel to Ortigas Center, BGC, Capital Commons in Pasig, or Greenbelt in Makati, for example, for after-hour drinks and nightlife.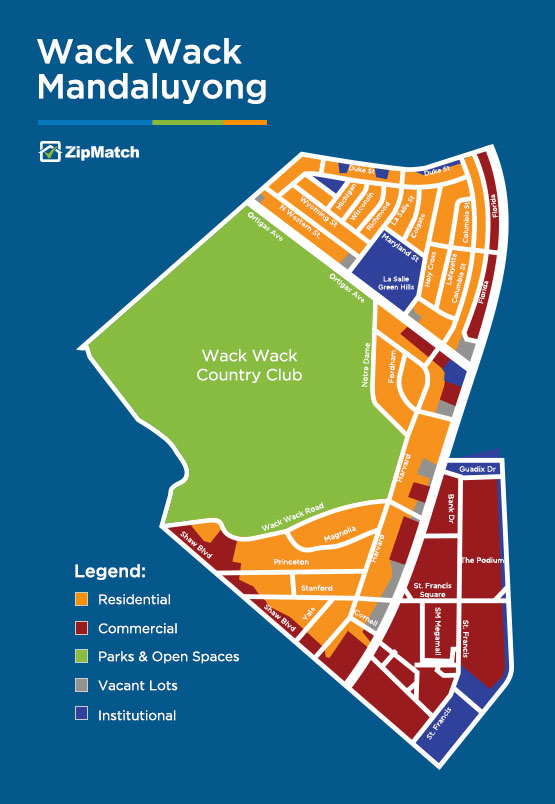 This is because a large portion of the barangay from the east portion stretching to the northern east part is reserved for greenery (green). Majority of the residential homes circle around the green spaces (orange), followed by commercial and other types of properties (red, blue and gray).
Getting Around*
Victor R.Potenciano Medical Center – (9-minute drive)
Cardinal Santos Medical Center – (7-minute drive)
MRT-3 Ortigas Station – (24-minute walk)
La Salle Greenhills – (5-minute drive)
Access to EDSA and Shaw Boulevard (5 to 6-minute drive)
*based on Google Map calculations.
The barangay of Wack Wack is surrounded by three major roads: Ortigas Avenue, Shaw Boulevard, and Epifanio Delos Santos Avenue (or commonly known as EDSA).
Commuters coming from here take advantage of the Manila Metro Rail Transit System (MRT) to reach their destination, particularly during rush hour. The other popular alternative are the buses, of which a major percentage of them are air-conditioned, to beat the city heat.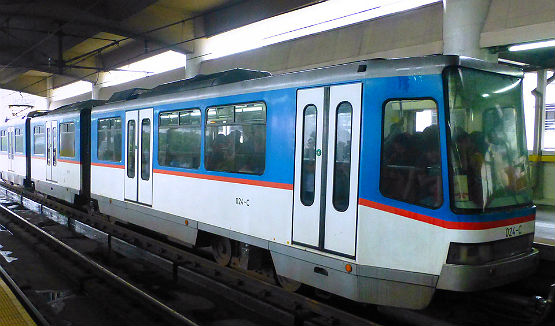 (Image source: Flickr/Diego Roxas Photography)
Commuters can still access parts of Mandaluyong via jeepneys.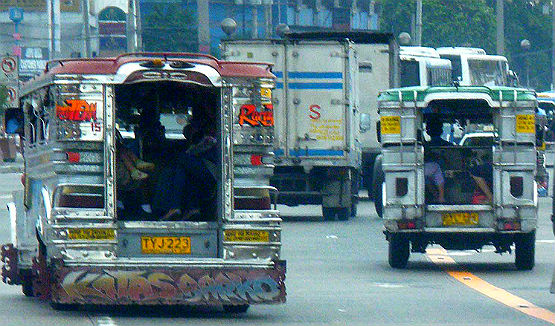 For getting to and from barangays or smaller routes, the tricycle is a relied mode of transportation.
People
Any resident can feel the advantages that Barangay Wack Wack presents: accessibility to major urban conveniences like malls, job opportunities, and nice residential neighborhoods.
Barangay Wack Wack has three prominent types of residents: the old-timers, the next-generation, and the professionals. The old-timers are long-time residents in the barangay and has long embedded themselves in the community either through membership in the nearby country club or participation in the barangay's communal activities.
(Image source: Manila Bulletin.)
Next-generation residents are the descendants of old-timers who have long acknowledged the convenience of Wack Wack to their places of work. Professionals are new residents from different backgrounds who wants to live in a laid-back environment while enjoying the comforts of city living.
Check out why this active mom and entrepreneur decided to make Mandaluyong her family's next home.
Lifestyle
Wack Wack is aiming to create a community that will help newcomers fit seamlessly in the community while continuing to enjoy the modernities of urban life.
Because of the reputation attached to the area, residential properties are slightly higher compared to other properties for sale in Mandaluyong. However, modern urbanites and families can expect the comforts of a cityscape lifestyle with fantastic views of open spaces.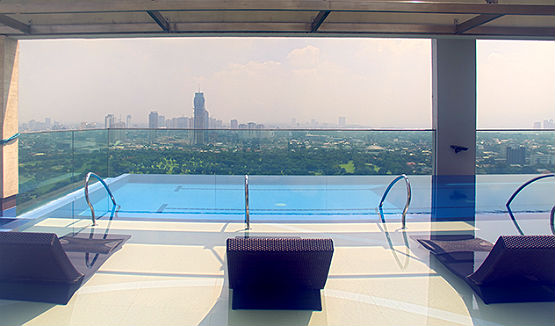 The people who walk about the community are probably professionals who go to and from any point in the barangay. Families, most especially children are chauffeured in cars or rentals from their homes to either school or any establishment. Due to the lack of traffic within residential developments, the occasional jogger or two may take advantage of the paths within the barangay.
As in any urban area, majority of the residents take advantage of their in-house amenities. Residential properties such as The Address at Wack Wack offer certain privileges that are only available on luxury apartments. Aside from having spectacular views of the vast green field of the country club next door, residents at the condominium building enjoy the following amenities:
infinity pool
pool bar
kiddie pool
gaming and entertainment room
fitness room
function halls
multi-purpose deck
mini-garden on 6th floor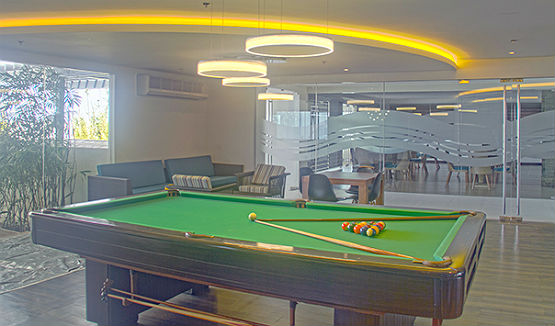 Madrigal-Bayot Development Corporation made sure to replicate the breathing room provided by the luscious views of the country club to its residential units offered at The Address in Wack Wack no matter the household size of its future tenants.
There are nine airways in the building for living space ventilation. Units per floor are limited to just eight to fifteen, and future homeowners can even have the chance to purchase adjoining or combined units and designing cohesive spaces out of it.
Still on the hunt for your next home in Mandaluyong? Start the search here.
Like What you've read?
If so, please join our newsletter and receive exclusive weekly home buying tips, financing guides and Philippine real estate news. Enter your email and click Send Me Free Updates