They say that 2012 was a banner year for the Philippines' property market. During the year, approximately 52,000 condo units in were sold in Metro Manila alone. Numerous projects were unveiled not just within the capital but also in neighboring provinces and other key cities.
Metro Manila's office real estate sector, too, is performing quite well on the back of the buoyant business process outsourcing (BPO) industry. According to data from the Business Process Association of the Philippines, the industry now employs close to a million Filipinos and this translates to approximately 2.8 million sqm of office space need. In addition, a report published by the Urban Land Institute and PricewaterhouseCoopers says that Metro Manila will be among the Asia-Pacific region's top real estate destinations after Tokyo, Shanghai, and Jakarta and a notch ahead of Sydney.
Although players are still cautious (there's this constant talk about an impending property bubble and who can forget the 1997 Asian financial crisis), there is no denying that the industry is basking under an atmosphere that's becoming more vibrant each day. Even new players are entering the business, launching new projects left and right in the hope of cashing in on the market's boom, and old ones are re-strategizing (and consolidating their business units) to strengthen foothold—and take advantage of larger and cheaper financing in the process.
Looking at the Philippines' real estate market one will notice that the industry is still dominated by a few major players. In this article I summarize and rank them using their most recent market capitalization (or their parent companies', if not publicly listed), and here's what I found out.
1. Ayala Land
Publicly listed Ayala Land is still the largest Philippine real estate developer based on market capitalization, which amounts to $9.87 billion as of April 10, 2014. The company's residential arm has five brands—Ayala Land Premier, Alveo, Avida, Amaia, and BellaVita—and have a combined 147 residential projects estimated to be worth Php240 billion in sales value.
Ayala Land's high-end arm Ayala Land Premier is the name behind some of Makati's and Bonifacio Global City's most notable residential projects, such as the three-tower The Residences at Greenbelt, One Roxas Triangle, and One Serendra. Its projects currently in the works include The Suites and East Gallery (both in The Fort) and Park Terraces, Garden Towers, and Two Roxas Triangle (in Makati).
Alveo Land takes of the company's upscale market; it's also the name behind some of Metro Manila's well-known projects, such as The Columns and Two Serendra. Alveo also has a number of projects in various stages of completion, most notable of which are High Street South Block in The Fort (Verve Residences and Maridien), Lerato, Kroma, and Solstice in Makati, and Portico in Pasig.
In addition, Ayala Land has large-scale township projects currently in the pipeline. These include Vertis North in Quezon City, Arca South in Taguig City (the former FTI property), The Circuit in Makati City, and Altaraza in San Jose Del Monte, Bulacan.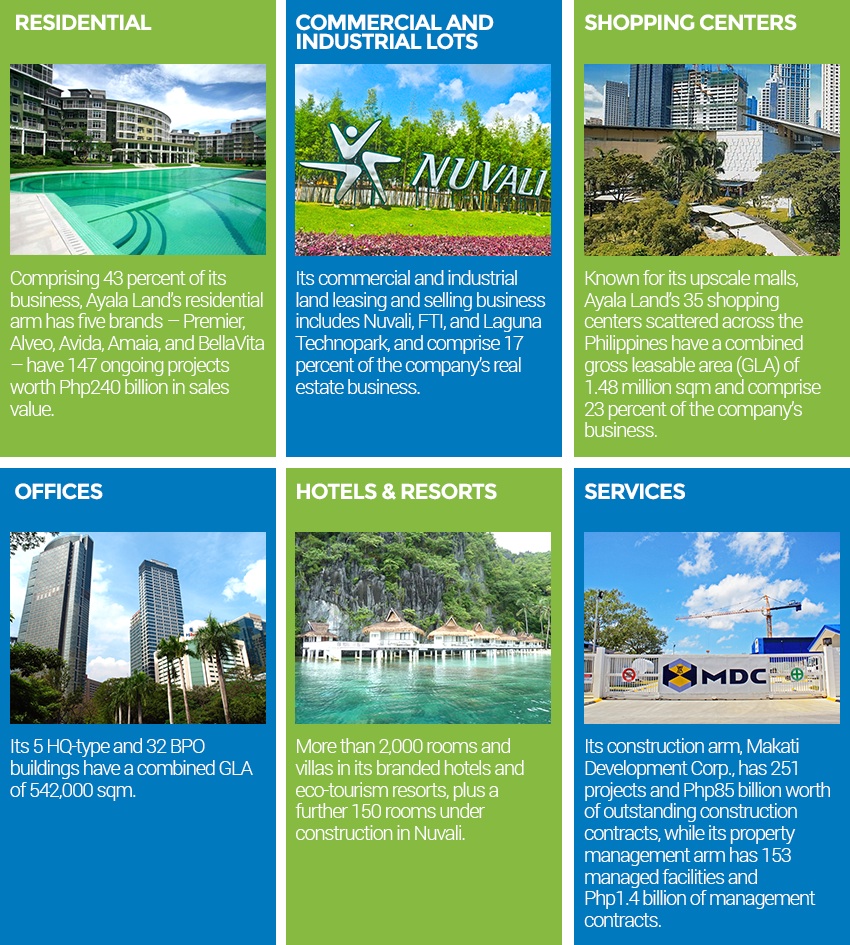 2. SM Prime
In 2013, SM Prime announced the consolidation of the conglomerate's real estate businesses, which will rival Ayala Land's foothold as the country's largest and most diversified real estate company.
Once consolidation is complete, the company owned by the Philippines' richest man is expected to become one of the biggest property firms in Southeast Asia in terms of market capitalization, which has so far ballooned to $9.554 billion as of April 15, 2014.
The transformed SM Prime will operate 47 malls across the Philippines with a gross floor area (GFA) of 5.8 million square meters and 6 in the China with a combined GFA of ~800,000 square meters; 17 high-rise condominium projects and will turn over 34,482 units from 2013 up until 2018; and total landbank of 920 hectares. After the consolidation, the main operating units of SM Prime will focus on malls, residential, commercial, hospitality and leisure, and lifestyle cities.
Among SM's noted residential projects include Jazz Residences in Makati, Light Residences along EDSA in Mandaluyong, Sun and Green Residences in Manila, and Blue Residences in Quezon City.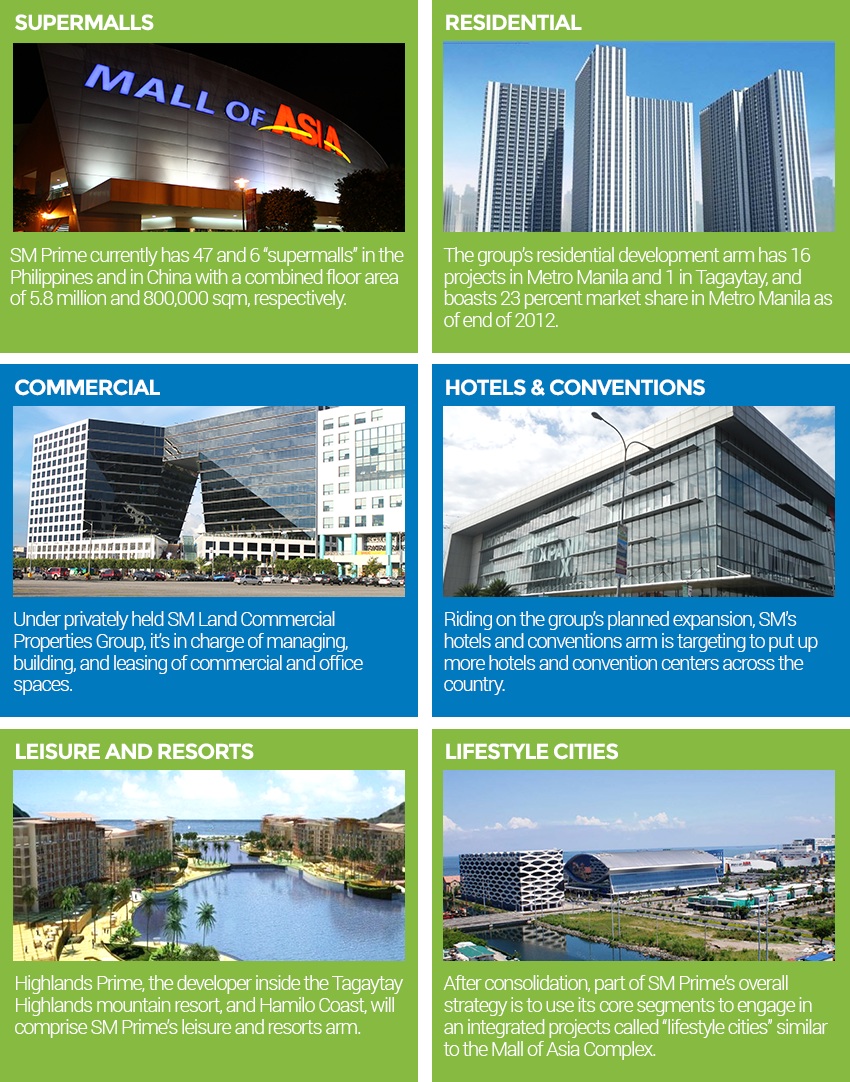 SM Prime has also recently embarked on developing its own mixed-use projects starting with the Mall of Asia Complex in Pasay City. When completed, the 60-hectare project will boast two residential projects (Shore and Sea Residences), BPO office buildings, two hotels, and the country's third largest shopping mall. Similar plans are underway to transform its other properties into lifestyle cities.
3. Megaworld
Helmed by the Philippines' third richest man, Andrew Tan's Megaworld Corporation introduced the "live-work-play-learn" concept to Filipinos with his 18-hectare Eastwood City. This township located in Libis, Quezon City, currently houses 15 completed luxury condos, 7 ongoing residential projects, and 9 corporate buildings, which are home to around 25,000 residents and more than 100 office tenants and BPO companies. As of 2013, Megaworld has 10 more townships in various stages of development, with a combined land area of 253 hectares.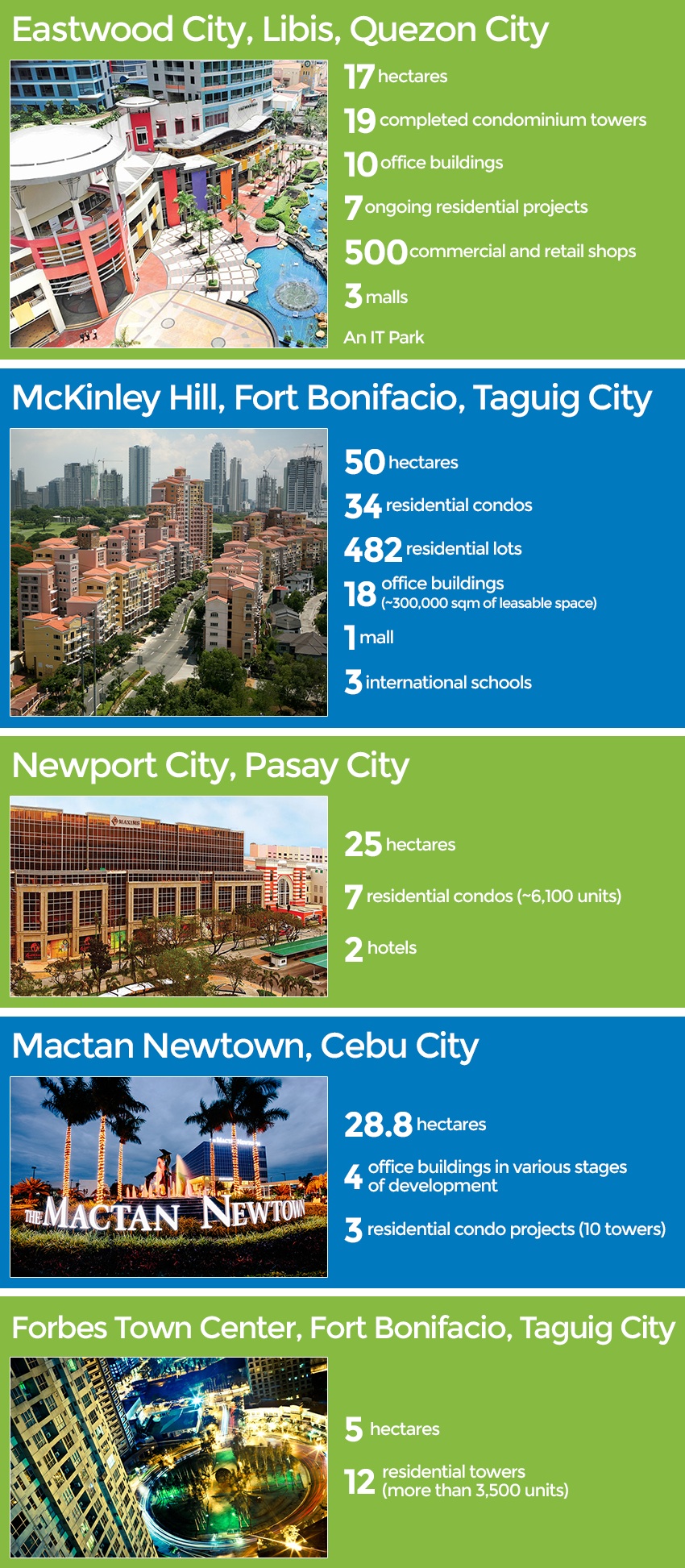 Aside from townships, Megaworld is also developing a number of "standalone" residential projects within Metro Manila. They include Greenbelt Hamilton, Paseo Heights, and Three Central in Makati City.
4. DMCI Homes
Helmed by David M. Consunji, the Philippines' eight richest man, DMCI Homes is a wholly owned subsidiary of DMCI Holdings, a company engaged in general construction, mining, power generation, water distribution, and infrastructure.
According to DMCI Holdings' 2012 annual report, DMCI Homes posted Php2.2 billion net contribution to the holding company's annual income and posted about Php9.2 billion in revenues. As of its 2012 annual report, DMCI Homes has 53 residential projects, has sold more than 15,000 units in 2011 and 2012, amounting to about Php34.3 billion in sales. DMCI Homes expects to turn over about 13,493 units from 2013 to 2018.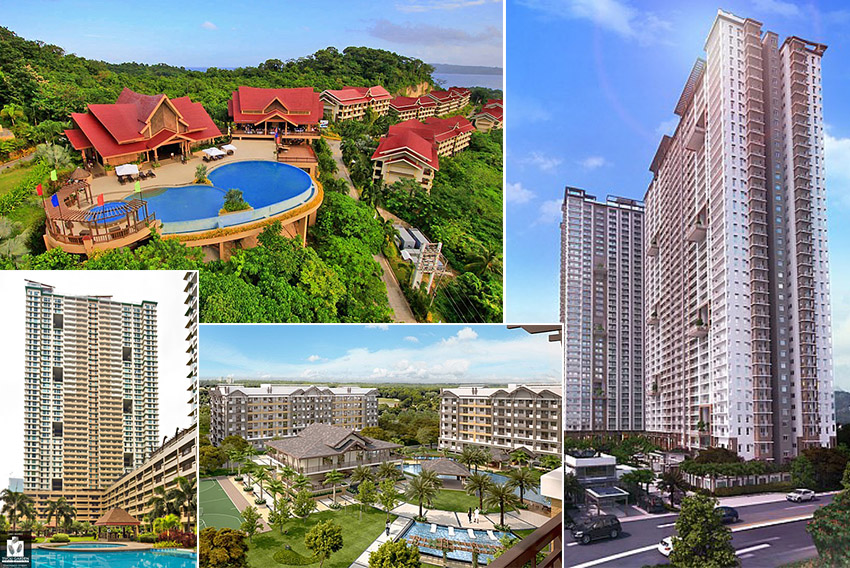 Over the years, DMCI Homes has built a number of noteworthy projects, including the multiproject Acacia Estates in Taguig. Other developments currently in the works include One Castilla Place, Sorrel Residences, and Torre de Manila.
5. Federal Land
The sole real estate arm of GT Capital Holdings, Federal Land in the company's annual report posted a 2012 consolidated income of Php2 billion, up 231 percent from a year earlier. Unit sales were also up 59 percent to 3,448 units compared to a year earlier and reservation sales up 90 percent to Php14.9B for the same period. As of 2012, the company has 18 projects in varying stages of completion and a landbank of over 100 hectares.
The real estate developer, first known as Federal Homes, launched its first project in 1972 with its Soler Tower residential condo in Binondo, Manila. It took a new name in 2002—Federal Land Inc.—in 2002, has since unveiled a number of notable residential projects; namely, Tropicana Garden City, Oriental Garden Makati, Paseo de Roces, and The Oriental Place.
The company in partnership with Japan's Orix Corporation will bring to the Philippines the country's first Hyatt residences, which will stand side-by-side the Grand Hyatt Hotel within Federal Land's Veritown Fort project in Bonifacio Global City. When completed, the township will boast several other residential projects, such as Central Park West, Madison Park West, and Park West.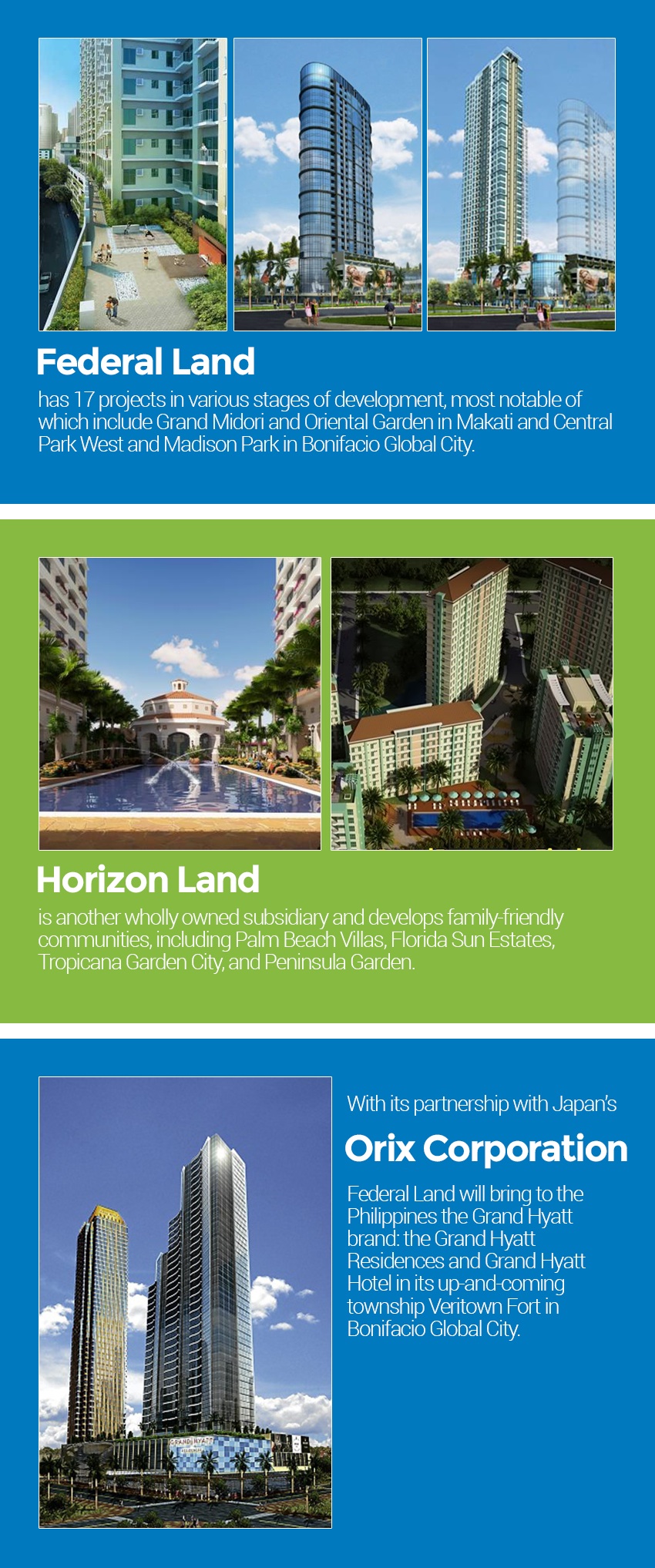 6. Robinsons Land Corp.
Better known as the Philippines' second largest mall operator, John Gokongwei–led Robinsons Land Corporation (RLC) is the real estate arm of JG Summit, one of the country's largest conglomerates. As of December 31, 2013, RLC has a total landbank of 573.9 hectares, a bulk of which are intended for its residential segments.
RLC's real estate business is divided into four sections: malls, residences, offices, and hotels. Currently the company operates 32 shopping malls, 8 completed buildings with approximately 193,000 sqm of net leasable space, 6 hotels, and 59 residential projects, the most notable of which include The Radiance at Manila Bay and Magnolia Residences.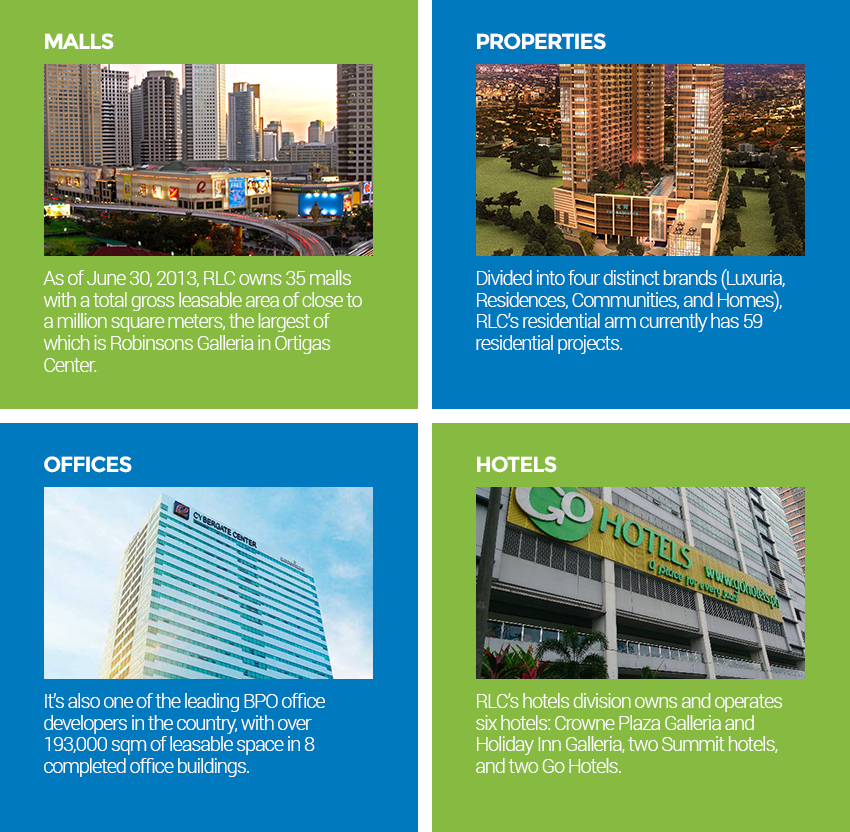 7. Vista Land and Lifescapes
Dubbed as the only Philippine real estate developer with a nationwide presence, Manny Villar's Vista Land reported an 18% increase in its net income for the first half of 2013 (to Php2.6 billion from Php2.2 billion) compared to the same period in 2012. The company's estimated full-year sales are about Php46 billion.
According to its website, Vista Land is the country's largest homebuilder, having constructed more than 200,000 homes in 67 cities and municipalities across the Philippines. The products it offers range from affordable Php750,000 to luxury Php48 million condo apartments.
The company's real estate business operates under five brands: Brittany, Crown Asia, Camella, Communities Philippines, and Vista Residences. Its most notable projects include Crosswinds, The Hudson at the Fort, and Avant at the Fort.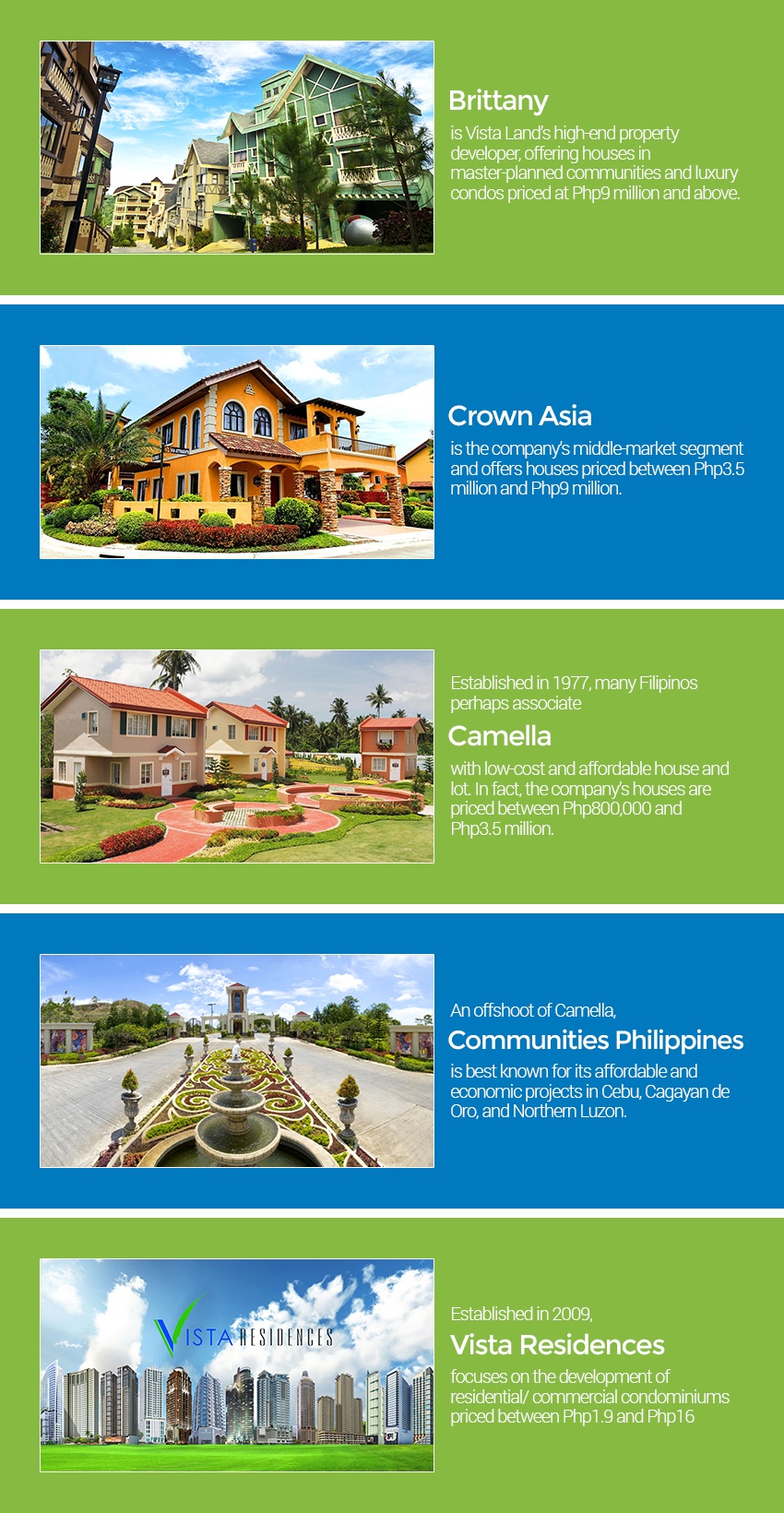 From its first middle-income residential subdivision in Cebu, Filinvest's core business of affordable and middle-income housing grew to become one of the Philippines' most diversified real estate developer: high-rise condos, medium-rise projects, BPO buildings, shopping centers, and leisure developments.
Perhaps its most well-known project is Filinvest City in Alabang, Metro Manila's first CBD in the south. According to the company's 2012 annual report, lot prices in the CBD reached an all-time high of Php115,000 per square meter, attributed to the completion of the Skyway extension and beating the previous highest price reached during the property boom in 1997.
Currently Filinvest has almost 100 residential projects, and the most well-known are Linear Makati, the two-tower Beaufort at the Fort, and Vinia Residences in Quezon City.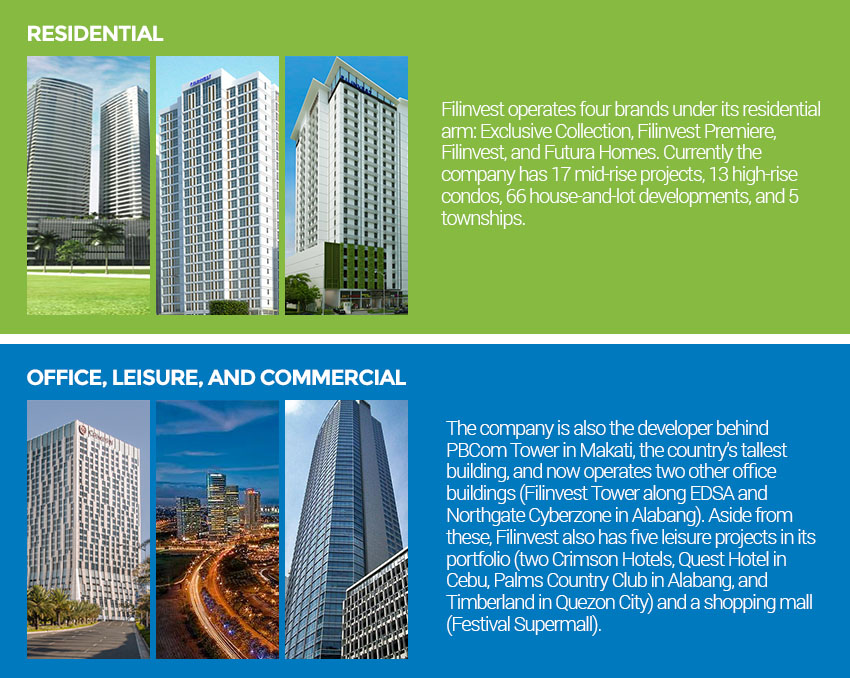 9. Shang Properties
An offshoot of the merger between Edsa Properties Holdings Inc. and Kuok Philippine Properties Inc., Shang Properties expanded its portfolio in 2002 by entering the residential condominium market with its first project, the Php2 billion, 46-story Shang Grand Tower in Legaspi Village, Makati. The company's property portfolio comprises four Shangri-La hotels and resorts, the Shangri-La Plaza mall in Ortigas, the two-tower Enterprise Center in Makati, and the two-tower St. Francis Shangri-La Place also in Ortigas.
The company's upcoming projects include Shang Salcedo Place, One Shangri-La Place, and the 500-plus-room Shangri-La at The Fort, scheduled to open in 2015.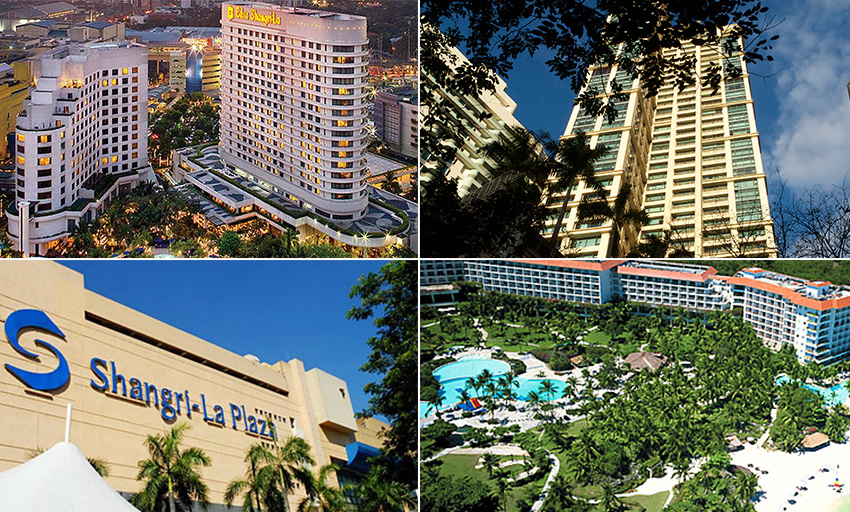 10. Century Properties
Luxury property developer Century Properties is the name behind some of the most recognizable projects in Metro Manila in recent years: Azure Urban Residences in Parañaque, Trump Tower Manila in Century City, and Acqua Private Residences in Mandaluyong, to name just a few. In an article published in Interaksyon, Century's presales amounted to Php24.6 billion in 2013, and during the year launched over 3,400 units worth close of Php20 billion.
Century Properties is also responsible for the Century City project, a Makati township sitting on the former Manila International School site. The project when completed will include 5 residential towers (including a Trump-branded tower), one mall, and a health facility.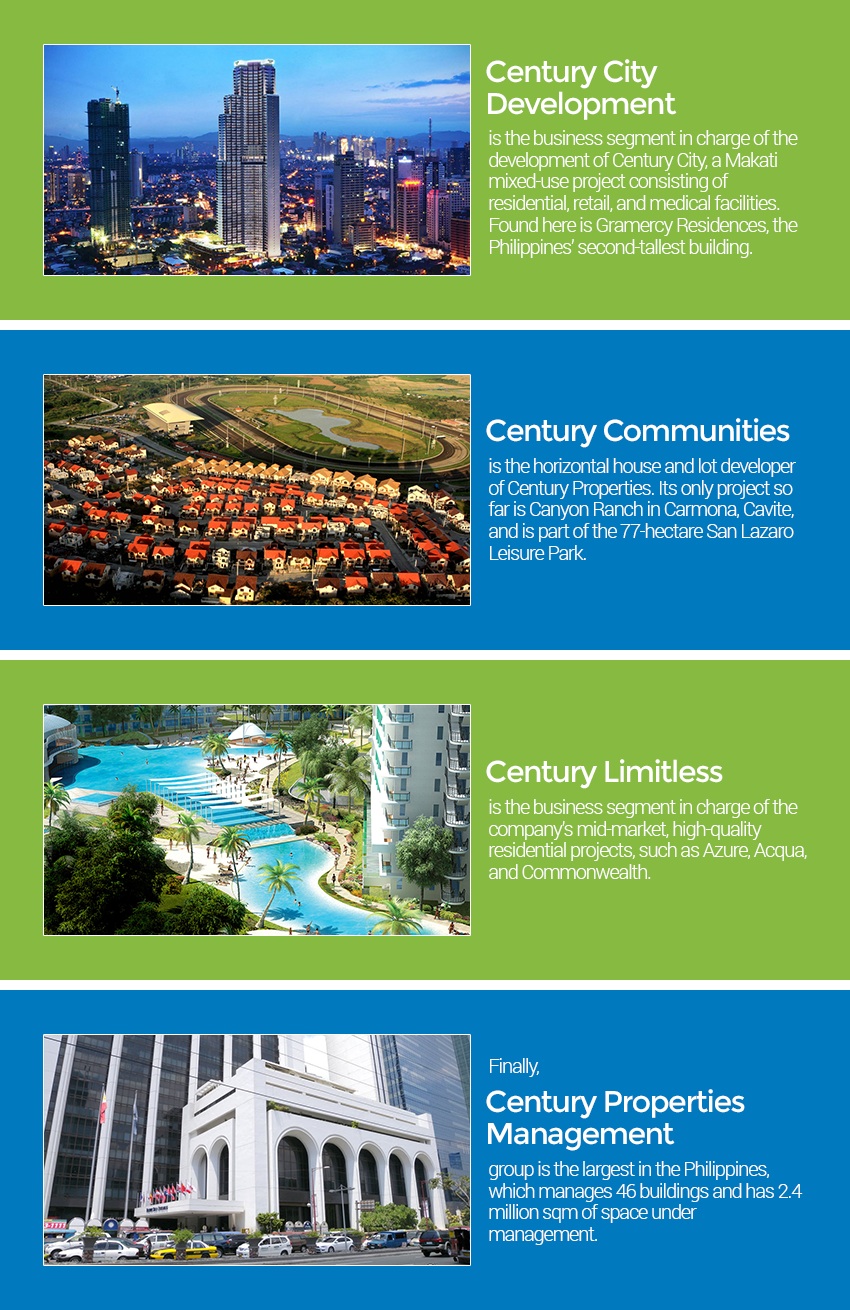 11. Empire East
Formerly a division of Megaworld, Andrew Tan's Empire East Land Holdings was incorporated in 1994 to separate it from the former's high-end residential and office business. Its core business is building, developing, and selling residential properties ranging from mid-to-high rise condominiums in prime locations within Metro Manila and single-detached homes in neighboring areas. Empire East has completed 9 projects and has 6 in various stages of completion. The most well known of them include Pioneer Woodlands, Kasara, Little Baguio Terraces, Cambridge Village, and San Lorenzo Place.

Established in 1995, noted luxury developer is the name behind the highly successful Rockwell Center in Makati, a former thermal power plant owned by the Lopez family. Today the 15.5-hectare township is home to 8 residential condominiums comprising 10 towers, the Power Plant Mall, an office tower, and the headquarters of Nestle Philippines. The township has expanded when the company purchased the site of the former Colgate-Palmolive headquarters in the Philippines, and unveiled Proscenium, a 3.6-hectare mixed-use project which when completed will comprise at least 4 residential towers.
Rockwell Center's residential towers are grouped into the East and West Blocks, the most recent of which are the ones in the former, such as Joya Lofts and Towers, The Manansala, and Number One Rockwell. Towers at the West Block include Rizal Tower, Luna Gardens, Amorsolo Square, Hidalgo Place, and Edades Tower and Garden Villas.
At present Rockwell has 5 ongoing projects: 32 Sanson in Cebu, 205 Santolan, The Grove, Proscenium, and Alvendia. A wholly owned subsidiary, Primaries, also launched its first project, 53 Benitez, in 2013.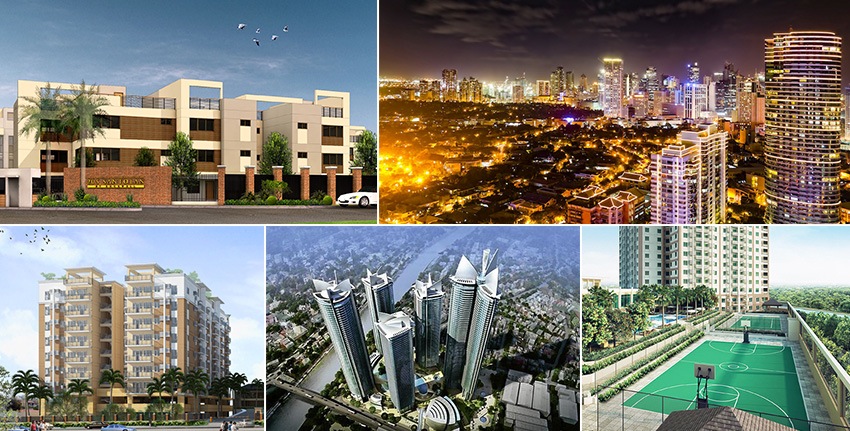 Like What you've read?
If so, please join our newsletter and receive exclusive weekly home buying tips, financing guides and Philippine real estate news. Enter your email and click Send Me Free Updates