Over the course of our recent consumer surveys with prospective and new homebuyers, a surprising revelation about millennials revealed itself when it comes to property hunting and researching.
According to some of our interviewees, looking for their next home via traditional ways are still important and part of the homebuying process despite the helpfulness of the Internet.
But how do you make sure that your efforts using these means are worth your while? We list down the pros and cons of using traditional and online property searches.
Traditional Means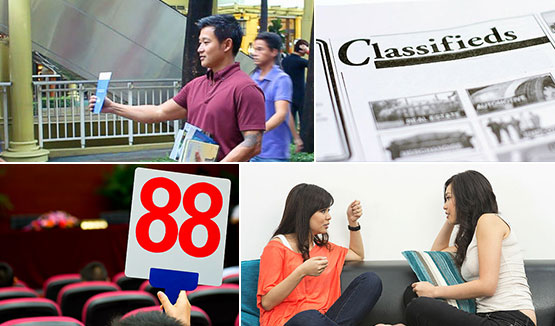 1. Flyers
The Good: You have all the necessary information about a property in a condensed, visually presentable and reader-friendly format.
The Bad: It may not be the property you want to own based on your preferences. Moreover, the discounts and deals offered in the flyer may have either expired or would come with specific, strict terms that you need to comply in real life.
2. Word-of-mouth
The Good: The recommended property may carry more weight simply because the person who suggested it to you knows you better than a real estate agent.
The Bad: The recommendation may be biased in nature, especially if the person who suggested the property to you is the one who's selling it or has a vested interest with the seller (e.g. finder's fee).
3. Property auctions
The Good: They are a great source of getting good deals on properties for sale.
The Bad: Homes sold in these auctions are foreclosed properties, and we all know that these types often come with a great warning label.
4. Real estate booths/events
The Good: These events are often manned by real estate experts who can answer in great detail about homebuying concerns like payment schemes and home financing options. And because you are already talking to the broker, you can even negotiate property prices right then and there.
The Bad: You'll be competing for your broker's focus and attention with several other people who may be equally interested with the property or are just shopping around.
5. Open houses
The Good: Open houses are a great source of getting property prices around the area. Curious neighbors may also drop by and provide unbiased information about their neighborhood. You can even conduct a home inspection using a punchlist.
The Bad: They're not really in selling of homes, but as a free platform for real estate firms and developers to train their new hires. Moreover, the improvements that you saw in the open house may not be available in real life.
6. Newspaper ads
The Good: The newspaper is a higher-quality marketing medium that still manages to get a lot of eyeballs.
The Bad: Can you EVEN read these jargon-written ads?
"Binangonan 3,125m2 cor. lot 0908XXXXXXX"

"Flood Free San Juan NR SCHLS BNEW THSE P5.9M NEGO 3 STY, 3 BR, 3 TB, 1 CG"
Online means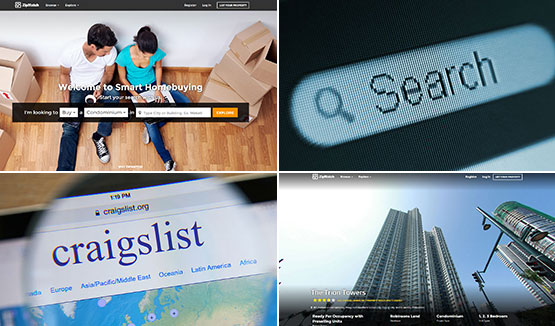 1. Google search
The Good: If you enter the right keywords like "condo for sale in Makati," "house and lot in Quezon City," or "townhouse in Manila", the search results are relevant to what you are looking for.
The Bad: Some entries in your results may not contain relevant information once you click on them. Some people use Internet marketing tactics (ex. search keywords on text), or paid for ads to land on the topmost part of the first page of your search results.
2. Online classifieds
The Good: They are a little bit more descriptive than the ads you see in the newspaper. Plus, you have the luxury to Google the property online and get more information about it.
The Bad: Because sign-up and posting of online classifieds are mostly free, online classifieds sites sometimes fall prey to online scams (check out #3, #5, #7 in our list of popular real estate scams).
3. Social media (Facebook)
The Good: Brokers usually post ads on their own fan pages or in social media groups. As such, the property offerings are usually relevant. Social media also allows you to ask questions via comments or personal messages directly with the broker.
The Bad: Brokers are now treating social media as a means to promote their personal brand. Because of your "connection" with your broker, you may receive unwanted posts or status updates on your newsfeed.
4. Developer or property website
The Good: The property information is coming from a verified source. You'll also be able to see the developer's construction and inventory updates.
The Bad: If you are looking for a pre-selling property for sale, chances are you'll get an artist's mockup of the property and/or a brief marketing-approved description.
The Good: You can come up with a relevant shortlist of properties for sale based from a large pool of listings. If your preferred property type is not available, an online marketplace can alert you with other similar properties according to your search result preferences. You can also save favorites too.
The Bad: Online marketplaces do not have control over the real estate transaction once you have scheduled a "tripping" or property viewing. However, online marketplaces have concierge-like services (e.g. customer support phone number, customer feedback system) to ensure that the homebuyer gets support no matter what.
Start your homebuying journey on the right foot. Look for your next home here.
Like What you've read?
If so, please join our newsletter and receive exclusive weekly home buying tips, financing guides and Philippine real estate news. Enter your email and click Send Me Free Updates