Fort Bonifacio has completely changed the game in terms of urban development in Metro Manila. In your first visit to the Fort, the one thing you'd notice is how the entire place is so different than the the central business districts in Makati, Ortigas, Quezon City and Manila.
Because of these things, BGC has become the place to do business in by government offices, private companies, and startups. It is also a preferred residential location for the modern Filipino homebuyer. But what makes Fort Bonifacio so clean and aesthetically pleasing to our eyes?
1. More open spaces
In a research paper by Yves Boquet of the Universite de Bourgogne, he argued that BGC is a serious rival to the Philippines' premier central business district in Makati City because of this very reason alone. Despite being developed by the same company, Ayala Land, Bouquet said the former military barracks was developed into a central business district without sacrificing an abundance of open spaces. It is obvious to anyone who has been in BGC that they can pretty much see the sky and feel the sunshine in most of the city without any obtrusive infrastructure blocking it.
The French professor noted that Manila would have turned out to be just like BGC if former Metro Manila Development Authority Chairman Bayani Fernando, famous for his U-turn slots and pink footbridges and urinals, had succeeded in his urban development plans for the metro.
2. Tree to building density
The former military camp has not lost its initial identity when Ayala Land decided to develop it. One can observe that the Fort Bonifacio of today has kept a generous smattering of greenery courtesy of public parks to keep in touch with Mother Nature.
You have Terra 28th, which is a children's park with modern infrastructure to encourage kids to play Filipino games against a lush green background. Track 30th is a park designed for fitness enthusiasts who wish to jog, dance, practice yoga, or simply relax, all in the confines of a public garden.
Several public art installations like Pasasalamat by Ferdinand Cacnio at 3rd and 26th Avenues, Balanghai by Leo Gerardo Leonardo at the corner of 23rd Street and 4th Avenue, and Kalikasan by Jerry Araos near Pacific Plaza have themes in line with Earth and nature.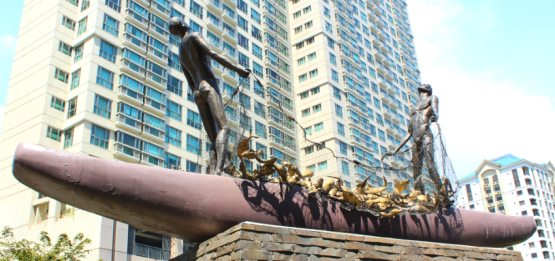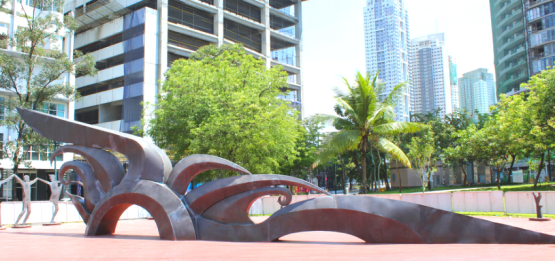 3. Pedestrian-friendly streets
Erwan Heussaff of TheFatKidInside.com wrote that what he appreciates the most about urban planning done in BGC is how the streets are built to be more conducive for pedestrians to walk on or take a stroll in.
There are working traffic lights on every street intersection, and knowledgeable security personnel are available at almost every corner to assist you in getting from one point to another. The countdown timers and the light sequences in every traffic control installation is a wonderful tool for people who needed to cross the road, especially for the disabled and family members who carry their kids with strollers.
These traffic control features are not available in most busy sections in Metro Manila. Many have also observed that traffic control installations and personnel prioritize the safety of pedestrians more than the flow of vehicles. It is safe to say that public road safety in BGC is higher than in other cities in the metro.
4. Traffic and transit circulation
A clear indication of a clean city is the quality of air around it. BGC's air quality is much more better than the air in Makati, Mandaluyong, Pasay and Manila according to the 2011 Air Quality Index results in a regional status report. BGC encourages commuters to take their well-maintained BGC buses and electric tricycles, which help reduce the carbonized smoke emitted by public vehicles.
The city itself invites people to walk from one place to another instead of taking short commutes thanks to its outdoor lifestyle shops and restaurants that line along the main routes such as the ones on Bonifacio High Street, Serendra, and the Fort Strip.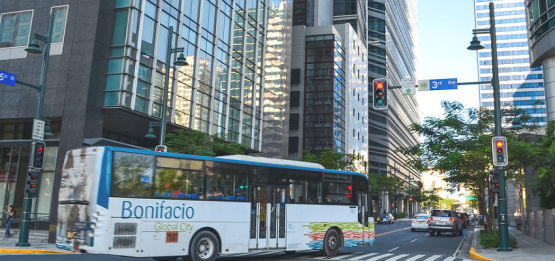 (Image source: Flickr/Dexter Balderon)
5. Flood control
Several areas of Metro Manila have long been experiencing flooding problems, but not Fort Bonifacio. The city's answer to the flooding problem lies beneath Burgos Circle – a five-story cistern that collects rainwater to be flushed to the Manila Bay after the heavy rains.
Because of its effectiveness in keeping the city water-free from super typhoons like Ondoy, Habagat, and recently, Mario, local governments are taking notice. The national government and the city government of Marikina has revealed plans to pattern its flood control programs to that of BGC to resolve the flood issue in the city.
6. Waste management
A city's clean image is directly linked to how the city manages its waste. Visitors have observed the ample number of colorful trash cans in several public locations in the city. Since all of the buildings in the area are owned by developers, a proper waste management program is usually in place to ensure that trash does not destroy the clean image of BGC.
For example, the waste of all buildings registered with the Philippine Economic Zone Authority (PEZA) are being managed by a department of the city government under a memorandum of agreement.
7. Centralized utility networks
Unsightly power, water and pipelines plague even business districts. However, there is nary a power line, water meter, or a gas pipe that can be seen in Fort Bonifacio. According to the Fort Bonifacio Development Corporation, the public-private partnership of government and private entities involved in the development of BGC, electricity supply is serviced to buildings and infrastructures courtesy of wires hidden underground to keep the city's landscape clean.
FDBC also said that the gas supply of the city is serviced through a network also well-hidden as well, courtesy of Bonifacio Gas Corporation, a joint venture between FBDC and Pilipinas Shell. The city also has a fiber optic communications network that is also built underground to provide services like high-speed Internet, Voice over Internet Protocol (VOIP), and local phone lines to businesses.
8. Discipline
There have been many complaints on how security personnel in BGC are rough with implementing city rules, especially to visitors who are unaware of traffic rules in the area. Recently, the security personnel were also called out by netizens for apparently rough-handling two British nationals for skating in a prohibited area.
In a separate article on public discipline, a Rappler contributor highlighted the importance of rule enforcers in keeping a city in order. In her piece about how a political family in Marikina rule the city with an iron fist, Felyne Siao argued,
It was necessary – and it later eased – to allow the government to do what it was supposed to do. The officials created systems that appealed to values and the beautification of the little town everyone loved. And Marikina adapted to change…They now complement each other: a strong, firm government hand-in-hand with a strong society."
Want to live in this clean city? Explore condominiums for sale in Bonifacio Global City.
Like What you've read?
If so, please join our newsletter and receive exclusive weekly home buying tips, financing guides and Philippine real estate news. Enter your email and click Send Me Free Updates