Arm yourself with these useful apps: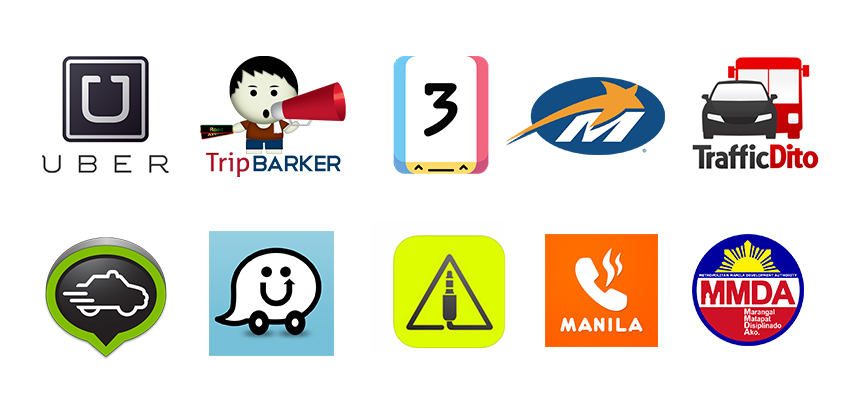 1. Waze
What for: Use this app to access real-time reporting about traffic in a particular road or route from other mobile users. Waze users also swear by the app as their go-to traffic navigator.
Tip: Go to Settings to have Sleepy Hollow star Tom Mison as your celebrity navigator.
2. Metro Manila Traffic Navigator
What for: The Metropolitan Manila Development Agency has partnered with news portal Interaksyon to create an app to provide users authoritative information about the traffic situation in the metro.
Tip: If your mobile broadband has enough juice for streaming, access Traffic Mirror to view live feeds of some of the major roads in Manila.
3. TrafficDito
What for: If you like a filtered report of traffic updates from people who are actually stuck in traffic, then this app is for you. The app complements other navigation apps like Waze.
Tip: Check reports coming from local government Twitter accounts like Makati Traffic.
4. TripBarker
What for: Plan your daily commute wisely courtesy of your fellow commuters. The app helps you save money and time by suggesting the best routes via bus, jeep, Metro Rail Transit (MRT) and Light Rail Transit (LRT).
Tip: You can plan your commutes using this app if you are going to Cebu or Davao.
5. GrabTaxi
What for: This app allows you to hail a cab with only a couple of taps without experiencing the woes of manually flagging a taxi – taxi driver refuses to take you to your location; taxi driver haggles for a ridiculously high fare, etc.
Tip: GrabTaxi currently offers a free ride to customers in their customized Mr. and Mrs. Santa, SElfie, and Rudolph cars.
6. Uber
What for: This app allows commuters to arrange rides in real-time. Uber is essentially a platform for car owners who wish to earn extra from the empty seats in their vehicles, and commuters who are having difficulty getting a ride going to a particular destination.
Tip: Bringing a disabled friend or a family member to your trip? Uber is currently offering wheelchair-accessible vehicles for disabled commuters.
7. MRTCam
What for: If traffic in EDSA is not moving and you are running late to an appointment, commuting via MRT is the best way to beat traffic. Local celebrities have been spotted taking the MRT in order to get to their destination.
Tip: Buy a return ticket as soon as you get off the train station of your destination if you need to make the same trip back.
8. Booky Manila
What for: The app is an offline mobile phonebook of over 11,000 restaurants in Manila. This is especially helpful if you find yourself hungry during traffic.
Tip: Your inner foodie photographer could land you up to P12,000 worth of GCs at the restaurant that was rated in your photo.
9. Yank Alerts
What for: This nifty app alerts your friends and family in case of an emergency by yanking your headphones off.
Tip: Your emergency message should contain information that medical and law authorities would need for identification purposes: your physical features including birthmarks, blood type and medicine allergies, your planned itinerary, and your OOTD (outfit of the day).
10. Threes
What for: Voted as one of the best mobile apps of 2014, Threes is a surefire way to kill time while sitting in traffic.
Tip: A game designer told Kotaku that keeping the larger numbers in corners is an effective strategy in order to keep going in the game.
Weather Advisory

(Image sourced from Rappler)
Vehicle Number Coding and Schedule Per City
Routes
MMDA has no plans to impose their Christmas Lanes this year, according to a news report. However, the agency encouraged people to plan their commute around the new mall hours that would be implemented by all the malls in the metro.
1. EDSA Magallanes to EDSA Kamuning Bus Routes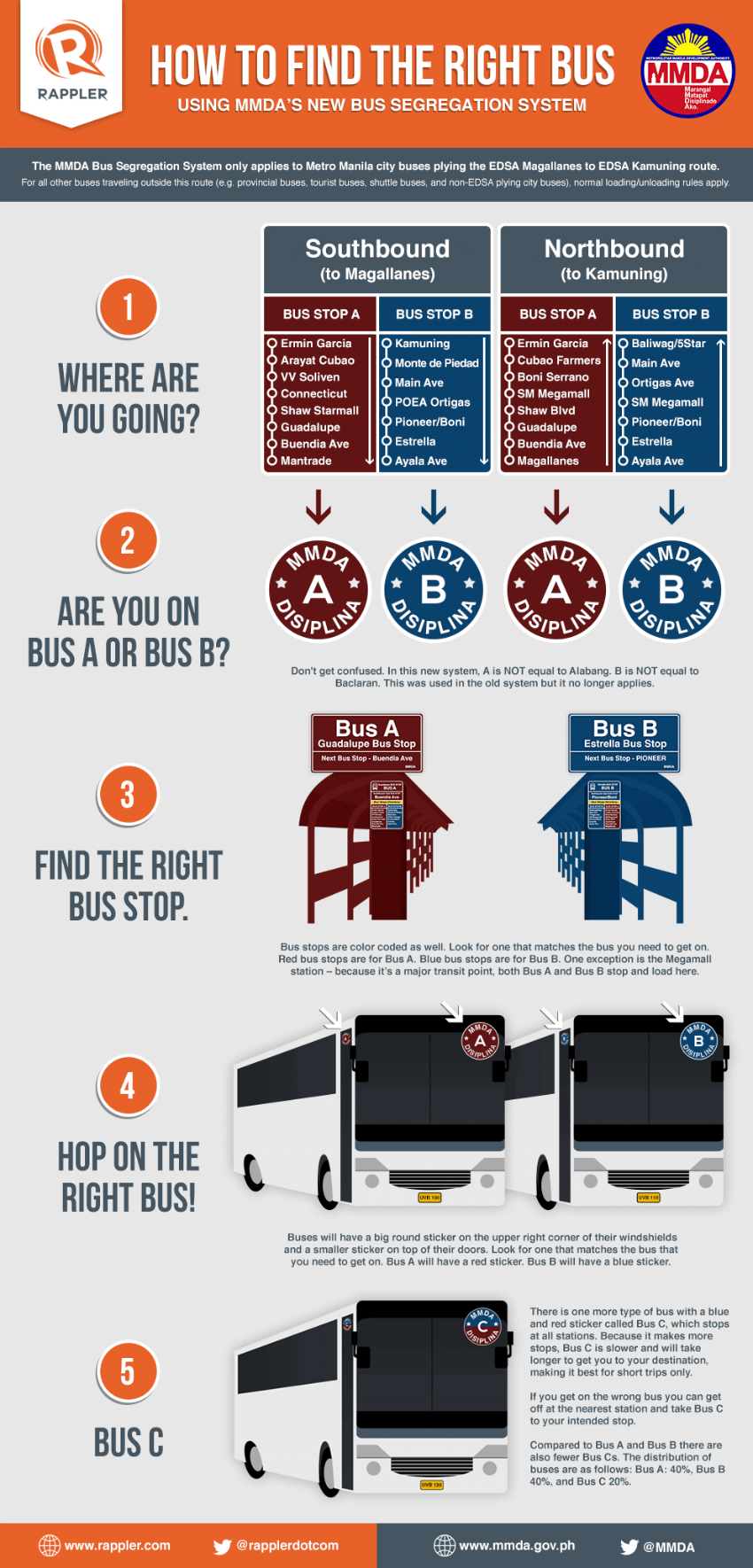 (Infographic source: Rappler)
2. Alternate Routes For South/Skyway private car commuters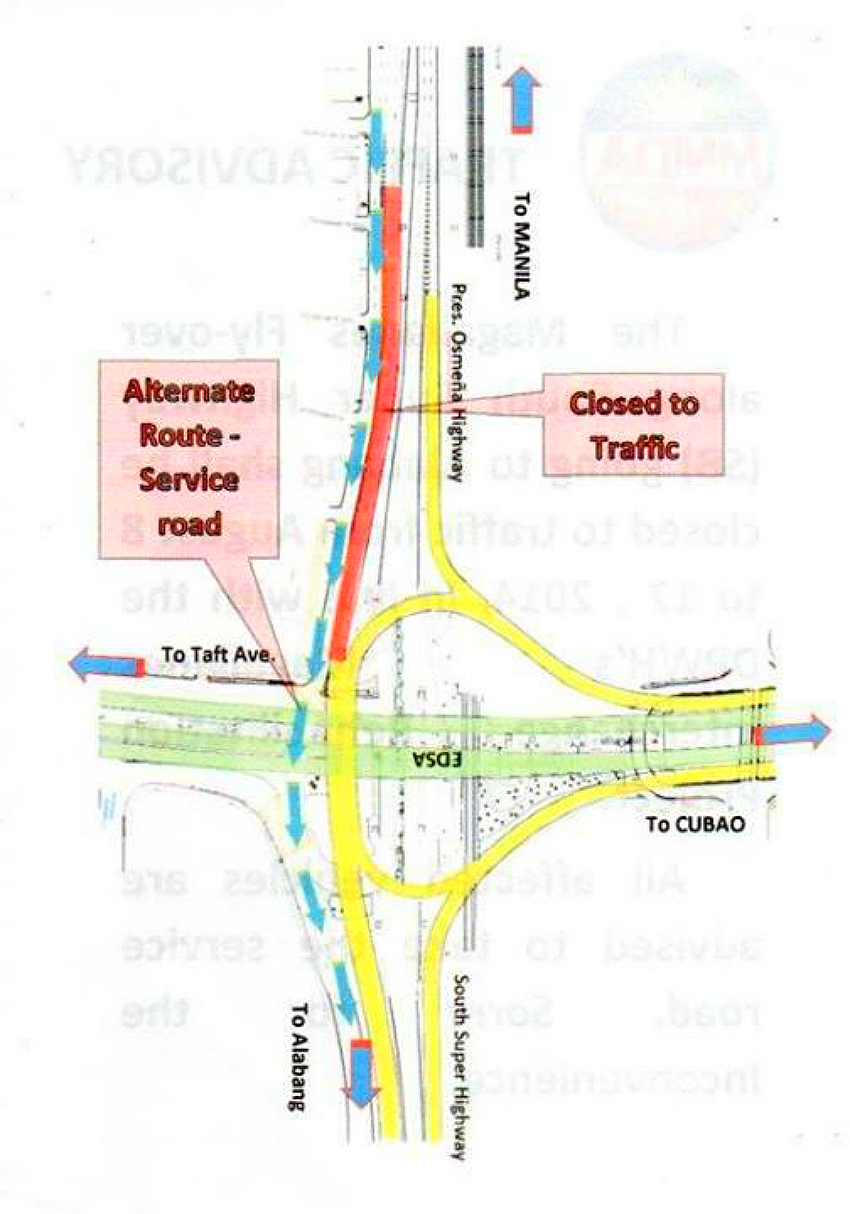 (Image source: MMDA)
If on President Quirino Avenue, you can:
turn left at Roxas Boulevard, right at Senator Gil Puyat, then left at Macapagal Boulevard to your destination, or;
turn left at A. Mabini, go straight to F.B. Harrison, then right at EDSA to your destination, or;
turn left at Leon Guinto, then straight to P. Zamora to your destination.
If on Pedro Gil, you can:
turn right at Tejeron, go straight to, then to Makati Avenue to your destination, or;
turn right at Tejeron, then right at Don Chino Roces Avenue to your destination, or;
turn right at Onyx, left at Zobel Roxas, right at Kalayaan Avenue, then right at Don Chino Roces Avenue to your destination.
3. Alternate Routes for Skyway Stage 3 Project private car commuters
4. Alternate Routes for Sen. Gil Puyat Avenue / Makati Avenue – Paseo De Roxas private car commuters
5. Alternate Routes for C2 – R7 private car commuters
6. Alternate Routes for NAIA Expressway Phase II private car commuters
Are you ready to brave the holiday traffic this year? What useful apps or routes you have been using so far for your daily commute? Share them by leaving a comment below.
Like What you've read?
If so, please join our newsletter and receive exclusive weekly home buying tips, financing guides and Philippine real estate news. Enter your email and click Send Me Free Updates