What motivates the Pinoy millennial homebuyer of today? Is it simply the location of a property? Or whether they should buy a condo in Makati or perhaps a house in Cavite? Are they thinking of the budget first? What really goes into the minds of Pinoy millennials when they are searching for a home?
ZipMatch did a flash study in order to know what millennial homebuyers have in mind when searching for their home. The infographic below shows the general factors homebuyers are looking into on the survey data: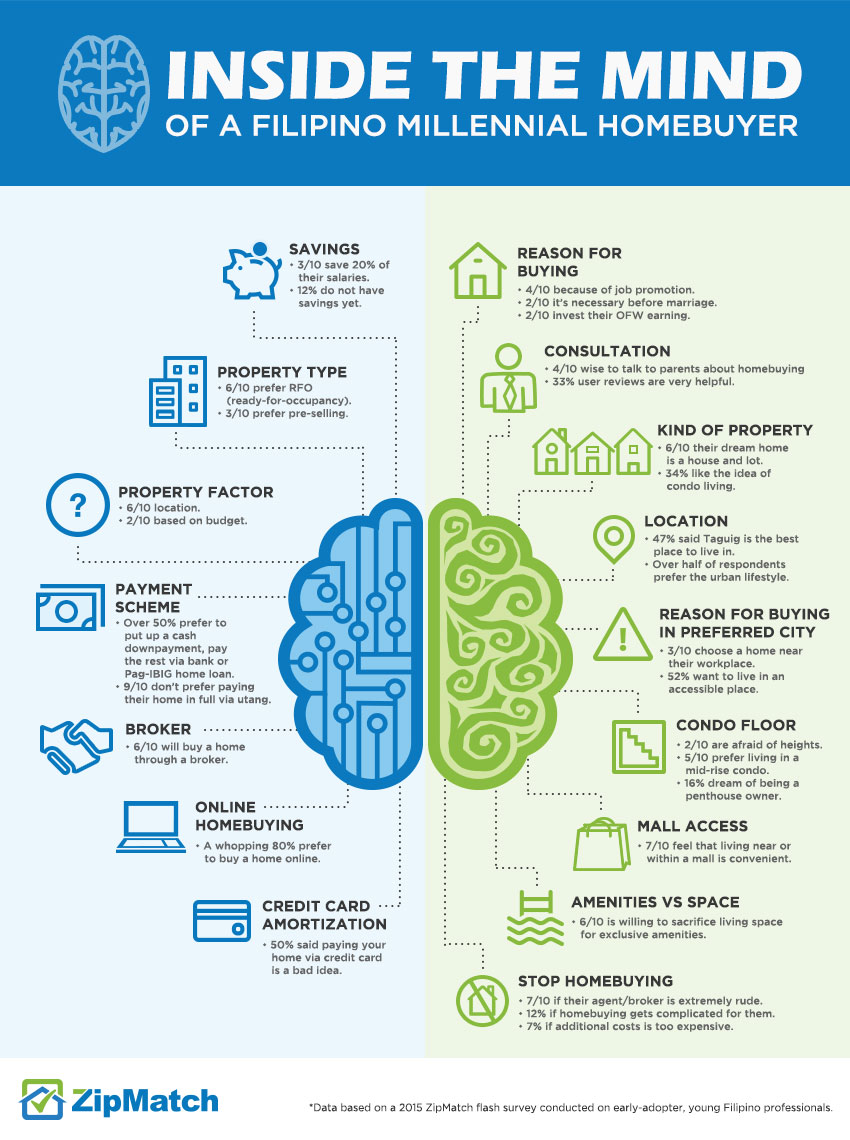 There are many reasons people buy a home, and with it come different factors for choosing a particular Philippine real estate developer or property. It is important, especially for real estate brokers, to understand the needs and wants of each home buyer. By getting inside the mind of potential buyers, real estate professionals can properly assist homebuyers in the process. Here are four takeaways from the study:
1. Location is STILL king.
Many Filipino homebuyers who are in the prime of their career still consider location as the primary factor when choosing a property. More than 40% of respondents are looking into real estate properties that are centrally located and are near modern conveniences like shopping malls, nightlife, etc. Almost 70% said that living within or near a mall, especially if they are staying in a condominium, is a great option. Those who want to live in the outskirts of Metro Manila select areas like Laguna and Cavite.
Around 33% of the homebuyers want to live near their workplace. On the other hand, some homebuyers imbue the Filipino value of having a tight knit family. They choose to live in the area where their parents also live.
2. Homebuyers prefer luxury over necessity.
The study revealed that most homebuyers are looking for a place where they can move in immediately. Only 38% are willing to purchase a pre-selling property. Over half of the respondents prefer a house, and 27% wants to be condominium homeowners. While more than 30% of the respondents are already saving money for their dream home, they are waiting to get promoted before they purchase a home.
3. Homebuyers are calling for convenience in the homebuying process.
A lot of Filipino homebuyers want a convenient homebuying process. Around 80% are open to searching real estate properties online. They also see the value of having another person do the paperwork and other processes for them. As a result, more than 60% prefer to buy a home with the help of a broker.
4. User-generated reviews are a homebuyer's new sound of reason.
Meanwhile, most homebuyers seek advice from their parents about their homebuying decisions. They also put premium on online reviews and recommendations from other people who've bought a home.
Do you want to know more about the Filipino homebuyer mindset? Check out which milestones in a Filipino's life encourages him or her to buy a home.
Like What you've read?
If so, please join our newsletter and receive exclusive weekly home buying tips, financing guides and Philippine real estate news. Enter your email and click Send Me Free Updates