A real estate summit on the future of Philippine real estate and property development, which was hosted by the Organization of Property Stakeholders Inc. (TOPS) in partnership with the Land Registration Authority (LRA) on July 28, centered on one of the most consistent hot-button topics in the industry today: land titling.
The event also became a public platform for the government agency's latest goal: to convert all paper land titles into digitized forms or E-Titles within three years.
We list down why E-Titles are a really great idea:
1. There is less risk of getting scammed or duped by real estate scams.
At the summit, the LRA expressed their confidence that the program would greatly minimize the number of cases filed in court, especially involving fake and spurious land titles (copies that do not come from a legitimate or original, true source) titles.
The E-Title will be stored in a virtual Registry of Deeds (RD) vault and can be only accessed and shared within 154 LRA extension office kiosks.
All existing legal annotations on the paper title will be carried over to the new E-Title, including those that are pending in court. This means one will know whether the land is currently in dispute or not at the onset.
Aside from distinct security features like the bar code and watermarks, the newly-issued owner's duplicate copy is made from the same security paper used by the Bangko Sentral ng Pilipinas (Central Bank of the Philippines).
2. Real estate sales transactions will be quicker.
According to TOPS President Michael Jansen Abella, the procurement and verification of certified true copies of the land titles would be a lot easier, for example, specifically if they need to check the property's ownership history. He stressed,
We have to make sure that properties and documents have no other claimants. So it will be very helpful if titles are computerized because it will be easier for us to get certified true copies of all land titles including way back from 1904, 1907 and beyond.
3. Home mortgage processing will be a whole lot faster.
As such, a few of the LRA's extension office kiosks are hosted by some of the major banks in the country. TOPS-LRA Summit Chairman Atty. Rodolfo Fernandez added that with this kind of access, banks are able to reduce the following when processing home loans:
turnaround time to verify the authenticity of a land title from several days to a matter of minutes, and;
the need for people to visit the location of the Registry of Deeds site where the paper title is physically kept.
4. The E-Title resolves the complex process of replacing lost or destroyed titles (reconstitution).
LRA Deputy Administrator Ronald Ortile cites an all too-common scenario in Filipino families,
[K]unyari, if the original owner passes away, yung mga anak niya or apo niya nagkakaproblema because hindi nila masesettle agad yung estate dahil ipapareconstitute pa nila yung titulo na nawala. But kung may e-title, okay na. Antimano, pwede masettle yung estate ng deceased.
Here's a more powerful proof:
Reconstitution due to substantial loss or destruction of land titles or force majeure (unforeseen circumstances that prevent an involved party from fulfilling an obligation) as determined by the LRA:
(Image source: ombudsman.gov.ph)
Reconstitution due to the loss or destruction in the Registry of Deeds and that the LRA deemed that there is no need for administrative reconstitution necessary.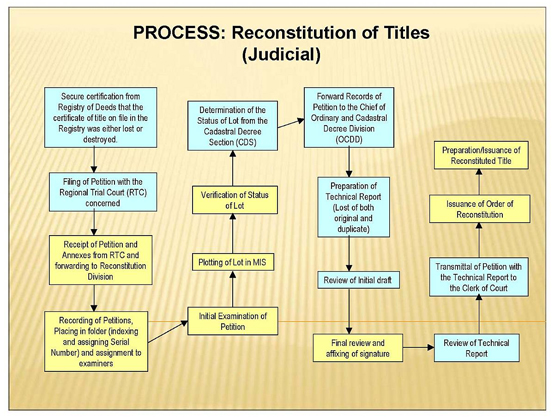 (Image source: ombudsman.gov.ph)
Converting a paper land title to an e-title only takes FIVE steps.
(Video source: YouTube/LRA)
5. The program empowers all property stakeholders, especially the common property owner.
LRA Administrator Eulalio Diaz III said that the recent technology brought about by the E-Title program enables the government agency to push the service to the public. He added that property owners will not only be proactive about managing the properties they own, but also help improve service delivery and efficiency.
If you think nagtagal masyado sa mesa na yun, the next page is the (agency) directory. Call him up, ask him what's the problem.
Don't know how to detect fake land titles? Here's a one-minute video tutorial to help you.
Like What you've read?
If so, please join our newsletter and receive exclusive weekly home buying tips, financing guides and Philippine real estate news. Enter your email and click Send Me Free Updates