The Home Development Mutual Fund (HDMF), or otherwise known as the Pag-IBIG Fund, has been the national government's attempt to address the lack of affordable home financing in the Philippines. The fund hopes to fulfill the dreams of even the minimum-wage earner to own a home without paying high amortization and interest.
For those who wish to apply for a loan, here are six steps in doing so: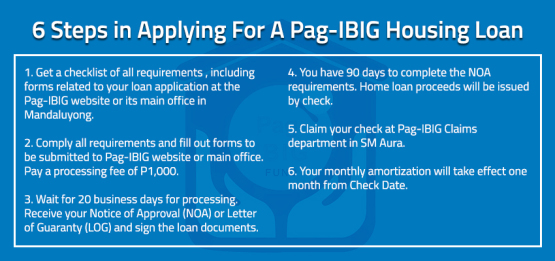 These are the essential forms that you need to download from HDMF online:
Housing Loan Application – This is the main form in applying for a home loan through HDMF.
Checklist of Requirements for Pag-IBIG Housing Loan – On the site, choose the form for Retail Accounts.
Membership Status Verification Slip – This is a form to aid HDMF in checking your status as a Pag-IBIG member.
According to Pag-IBIG, interested home buyers can also opt to submit their housing loan application online. The agency said online application is a relatively new development for Pag-IBIG because of two reasons. The online system is said to help the agency eliminate the bottleneck in the housing loan application process. Moreover, HDMF is eyeing to integrate their departments into one, organized system to hopefully provide a quick, more smoother process for prospective home buyers in the near future.
Developer-Assisted Pag-IBIG Loans
At this stage, home buyers now have a prospective property in mind. There are developers who offer assistance in processing your Pag-IBIG loan. The convenience seen in developer-assisted loans is that HDMF can now identify where the proceeds of the loan would go to once the application has been approved. Moreover, the check will be issued in the developer's name.
You can check whether the developer of the property you are eyeing to buy is accredited with HDMF in this PDF list. It is recommended that you consult with your developer on getting financing for your new home via Pag-IBIG.
Pag-IBIG Loan vs Bank Mortgage
iMoney.ph did a comparison of applying for a home loan via Pag-IBIG and through the bank. For first-time applicants, the requirements look achievable on paper. The maximum loan amount at P6 million is more than enough to buy a home for a small family. But the biggest catch is the interest rates offered by Pag-IBIG, which are arguably lesser than bank rates.
However, the appeal of applying for a Pag-IBIG loan appears to wane whenever the subject of actually applying for one comes up. In the 80 account inquiries made to the ZipMatch home expert hotline on average per day, seven out of 10 callers expressed interest in purchasing their potential home via Pag-IBIG. Because of factors like time, financing qualifications, and type of property, only two decide to go through the pre-qualification process. These two prospective home buyers usually end up opting for bank mortgage instead of a government loan.
Our ZipMatch home experts recommend Pag-IBIG loans for house and lot purchases. This is because house and lots are more affordable and that they do not sell as fast as other properties like condominium units. For buyers who wish to buy condominium properties, for example, bank financing is purportedly preferred by the majority of developers. Although some developers have a payment arrangement with Pag-IBIG, this type of financing program is not given a priority.
Tips/Shortcuts
Check your membership status. This is especially important if you have been inactive for a long time and to avoid getting issued with two membership ID (MID) numbers.
Check your membership contributions. An important requirement in your eligibility for an HDMF housing loan is the number of monthly contributions you have made. Under the Pag-IBIG I Membership program, you should already have remitted 24 monthly contributions prior to applying for a loan. If you wish to pay the amount in a lump sum, you must be a contributing member of the Pag-IBIG Fund for the last 12 months.
Attend a loan counseling session. Although this is no longer a requirement, it would be helpful for you to be able to confirm your initial research via a two-hour session by HDMF on home loans. In the NCR, loan counseling sessions are usually held at satellite offices in Mandaluyong and Makati. You can ask the HDMF call center for information about session schedules at (02) 724-4244.
Call ahead to check whether you have all the requirements. You can reach HDMF's Servicing Department at (02) 422-3000. Dial 1 to key in direct extension line 5013 to reach someone to help you with your checklist of requirements.
If in doubt with the number of photocopies, use the rule of three. This is in case your paperwork has to go through several departments and for you to cut time looking for a business center for extra photocopies. It is also wise to bring the originals documents for reference.
Do you have more questions about our quick Pag-IBIG home loan application guide? Check out our other home loan tips articles.
Like What you've read?
If so, please join our newsletter and receive exclusive weekly home buying tips, financing guides and Philippine real estate news. Enter your email and click Send Me Free Updates