Every generation has something to brag about, and the constant reinventions of style bring back the old trends. As the old adage says, 'vintage is the new chic', so expect that everything good resurfaces in time. Like fashion trends, home designs come back after a 20-year cycle. But there are also styles in the past era that seem to stay longer or remain an all-time favorite, like the '60 and the '80s.
Every year-end, interior designers and home planners are anticipating the fearless predictions of the experts in the industry in terms of home designs – from colors to light fixtures and everything in between. What's trending right now? Let's take a look at the popular old designs that are currently back in the limelight and are giving fresh life to home interiors.
General styles
Maximalism
After years of 'minimalism' style with simple décor, clutter-free rooms, and clean lines, the trend is now leaning to '80s maximalism'. This means fun patterns, bright colors, layered rugs, extra pillows, and a lot of interesting decors. Expect more rounded, weirdly shaped, and curved-edged furniture.
Naturalist design
Another style that remains popular is the naturalist design.  The natural, warm, and cozy look is easy to create with the help of natural materials like rattan, bamboo, wicker, and wood. These elements bring natural flair and freshness to the room. They are coming back with a more mainstream appearance and casual look.
Mid-century modern
Born in the early part of the 1950s, this home-style trend balances functionality and aesthetic beauty. This 2021, this nostalgic modern design uses a mix of metal, glass, and wood materials. The wall colors are bold and bright.
Relaxed eclectic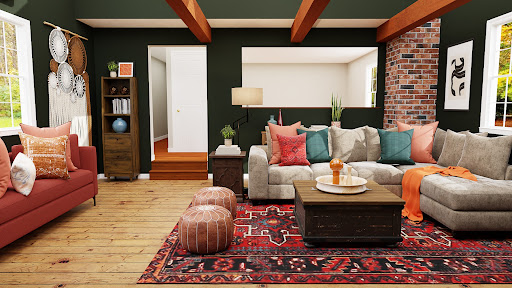 Eclecticism is for people who want to express themselves using patterns and motifs. It is different from the 'shabby chic' of the early 2000s because this iteration is more relaxed and uses light woods and neutral colors. The modern interpretation is more about highlighting personality by having a bold patterned accent wall and intentional mix and match of patterns. 
Rooms and spaces
Dark kitchens
The return of dark kitchens gives a touch of maximalism and sophistication to the heart of every home. The most-favored dark shades are black, navy, and forest green with pops of neutral or white tones. You can also add colorful accents to enhance the appearance and energy of the kitchen. 
Workspaces
After going out of style in the late '90s, work offices became popular again due to the global pandemic caused by Coronavirus. It seems everyone's wish list is having a conducive work area in their homes.
Individual rooms
For the past 15 years or so, almost everyone wanted open floor plans. However, this year 2021, people are aiming for personal space and privacy. Designated areas for living, working, and entertaining makes life more balanced and harmonious.
Tin ceilings
For those who want a unique interior that sparks the envy of others and tells a story, the tin ceiling is a great option. This trendy material adds a classic element while conveying a modern industrial essence to the room.
Wood-paneled walls

Wood panels are getting popular once again. This time, wood paneling has smoother surfaces and slimmer slats. The resurgence of this 1970s wall design has also twist for people who want it painted white for a contrast of colors of the interior furnishings and furniture. 
Classic cabinets
The traditional cabinet is making a big return now, replacing the open shelves, glossy storage cabinets for glassware, and stackable dishes. The choices are wider now in terms of colors, hardware, stain, and material options.  
Light wood flooring
While hardwood floorings are still popular, the light-colored wood flooring is becoming a favorite of modern homemakers. It is mostly due to the influence of Scandinavian designs that make the space feel brighter. Light wood floors also make the rooms appear larger but require more upkeep.
Furniture and furnishings
Art Deco
Art deco is about glamour and eccentric ornamentation that include chaises, velvet accent chairs, zig-zag prints, wood pieces that feature Greek keys, and more. It is a mix and match of handcrafted, vintage items with the trendy pieces of today, creating a perfect blend of classic-modern ambiance.
Brass Fixtures
It's brass time again, replacing rose gold and stainless steel elements. Brass fixtures, hardware, knickknacks, and appliances bring elegance and warmth to your living space. Incorporate this goldish metal for a touch of Art Deco into your home through the doorknobs, light fixtures, and sinks. 
Textured furniture
Textured furniture never goes out of style and keeps gracing the living and working spaces. It seems that 2021 is much more embracing and flexible when it comes to materials and styles. Shearling and Sherpa seating has come back, creating a retro-cool Scandinavian vibe. But unlike before, 'furry', faux fur, and velvet style furniture are more muted now and come in warm wood tones and neutral colors to create a retro-cool vibe in any room.  
Wickers
Wicker furniture has been coming in and out since its popularity in the 1800s. Cane and rattan are two materials of this woven-style furniture that caused the Tiki craze of the 60s and the 70s. But this time, they weave their way through the side tables, trays, storage chests, bar stools, headboards, and light fixtures.
80s chunky furniture
Structural accent chairs and oversized, rounded sofas that are reminiscent of the 1980s style are wonderful elements for easy interior updates. This time, attention-grabbing furniture is finding its way to homes and workplaces. 
Retro appliances
After the domination of stainless steel appliances for several years, retro-style items are becoming hot trends since last year. It's high time to retrieve the family heirloom pieces from the storage and make them focal points in your favorite room. Thanks to advanced technology and innovation, replicas of antique refrigerators or wood-burning stoves add a unique charm to your kitchen area. Vintage-like television and phonograph are great for your entertainment area while offering a sense of historical value to your home space.
Colored appliances
Colored appliances, particularly black ones, are back in the showrooms and homes now. There are black ovens, fridges, microwaves, blenders, coffee makers, air fryers, and a whole lot more. Black is always classic and chic when paired with white or neutral-colored cabinets and shelves.
Freestanding tubs
Because people are now spending more time at home, there is a demand for luxurious stand-alone tubs. Nothing is more relaxing compared to a hot bath after a tiring day. Self-care and pampering are must-haves during this stressful and worrying period.
Four-poster beds
A four-poster bed is an epitome of vintage that can make a modern bedroom more adorable. It is ideal for those who like a distinct feature and more architectural elements in the room.
Offset islands
It is one of the keystone features, but this year, kitchen islands are bolder and highly functional. Designers are opting for tailor-made islands that are more spacious and have multi-tiered or staggered countertops. 
Decors and lights
Houseplants
With the series of lockdowns due to the threat of COVID, many people become 'plantitas and plantitos'. The popularity of houseplants has brought a fresh and natural vibe indoors. This trend was common during the '70s when people used plants as living décor and believed in the health benefits they bring to the family.
Macramé
If you like boho style, macramé is a staple. This trend was highly popular during the '60s and the '70s. The adorable décors can be used as wall hanging pieces, plant hangers, and light fixtures. If you're a creative soul, you can try making your own statement piece. Hang it proudly in your favorite corner of the house.
Globe lighting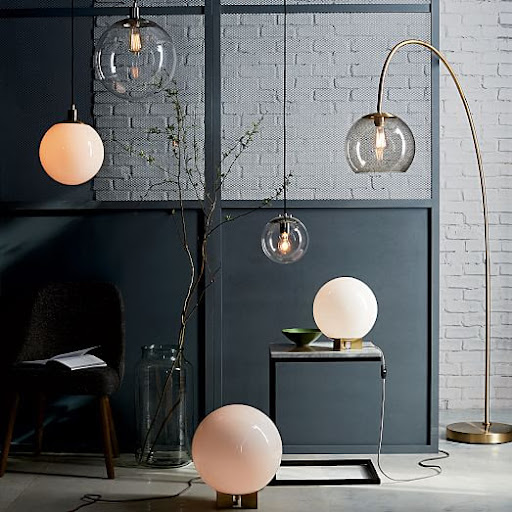 With the reintroduction of the mid-century modern décor comes the 1960s globe lighting. These exquisite light fixtures are giving homes, restaurants, hotels, and other places of interest a vintage appeal.
Glass blocks
This trend was so big during the 1990s. Interior designers frequently used them in the bathrooms and as a wall to separate two areas. Glass blocks also add natural lighting to dark spots and provide a natural retro kick. 
Sunburst motifs
They are starburst mirrors with thin rays that date back to the medieval century. They are stunning decorative pieces and come in gold, silver, brass, or natural wood finishes. 
Colors and patterns
Beige
Beige was a hit in the 1990s because of its relaxing and calming shade. Today, it's back to bringing subtle and neutral color to your home and workspaces. But compared to the former hue that was a bit drab, the new beige has a more soothing tone that is perfect for guest rooms or cabinets.
Wallpaper
Wallpaper is making a comeback, too.  This time the patterns are more modern and bold, unlike the 1980s floral motifs. If you are not keen on using wallpaper on all your walls, putting an attractive accent wall is the best option. For dashes of bright colors and fun designs, add wallpaper to your shelves and cabinets' lining. 
Takeaway
Cliché as it sounds, but 'home is where our heart is.' Having a makeover is a pleasurable journey and gives you the chance to express personal style or add a bit of nostalgic history to your interior. Whatever you decide, the key to showcase the charm of your personal space is to be intentional, plan, and balance everything. 
Like What you've read?
If so, please join our newsletter and receive exclusive weekly home buying tips, financing guides and Philippine real estate news. Enter your email and click Send Me Free Updates