The Philippines is not unfamiliar to natural disasters and calamities that strike our country year after year. According to United Nations, it is the third most disaster-prone country globally. Over the last decade, several deadly typhoons including Pablo (Bopha), Frank (Fengshen), and Reming (Durian) were experienced.
In 2013, Typhoon Yolanda (international name Haiyan) was one of the strongest tropical cyclones to hit the Philippines. It caused massive destruction to properties and resulted in a high death toll in many parts of the country.
Here are twelve important ways to prepare your home and secure your family for any incidents when a typhoon strikes your area:
1. Inspect your house for necessary repairs such as a leaky roof, cracked walls, or broken doors and windows.
If you can do it yourself, fix them immediately. If not, then make sure you hire the services of a professional.
2. Elevate home furniture and appliances such as refrigerators, televisions, and electric fans.
If you have a second floor in your home, it's best that you move these items up there, especially if your area is flood-prone. It's better to be prepared than worry about it when flood water is already inside your house damaging them.
3. Store food supply and water with long shelf life.
Ensure that it is adequate for your entire family and would last for at least three days. These include canned goods (preferably easy-open ones), dried fruits or trail mixes, packaged biscuits, and other easy-to-eat food. Make sure to keep them in a dry place.
4. Prepare an emergency kit home.
This should contain emergency supplies including first-aid bag, hygiene kit, basic medicines and necessary prescriptions (for members of the family who have allergies or have special needs), flashlights, Swiss Army knife, extra batteries for your radio and flashlights, rope, and portable mobile chargers (i.e. power banks).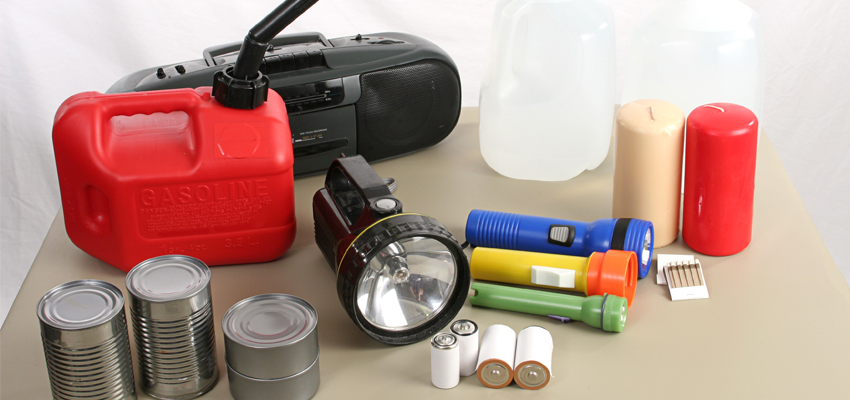 5. Be ready with a battery-powered, transistor AM/FM radio.
This handy tool will help you monitor the latest weather bulletin and other updates even if you don't have electricity. Tune in to AM stations including DZMM Radyo Patrol 630, Super Radyo DZBB 594, and DZRH Nationwide 666 for latest news and current affairs.
6. Get everyone in your family a whistle.
This handy tool is an effective way of calling attention to yourself.
7. Fully charge all your electronic gadgets and emergency batteries.
Make sure all your mobile phones, tablets, and other electronic equipment that you can use for communication is updated and fully charged. Consequently, save your phone battery by calling people when necessary and resorting to text messaging when not.
8. Pay close attention to the weather updates.
Being informed is the first step to disaster preparedness. Keep in mind that knowledge is power. Tune in to television and radio news and be alert on the storm warning signals and flood alert levels in your area. It is crucial that you know what is happening so if there are important announcements from the local or national government, you can make informed decisions on what to do.
Familiarize yourself with PAGASA's Public Storm Warning Signals and what these means. Visit PAGASA's temporary alternate website for more information.
9. Be social media smart.
Technology has changed the way people interact. Now, social media networks are also used during emergencies to let others know of your current situation or report those who are in need so they can be rescued. As an example of how social media changes disaster relief, people use hashtags to coordinate rescue efforts and other important information. Some of these that Filipinos use include #FloodPH to report flood,#RescuePH for rescue needs, and #RoadAlert for traffic updates.
Here are the important hashtags to use: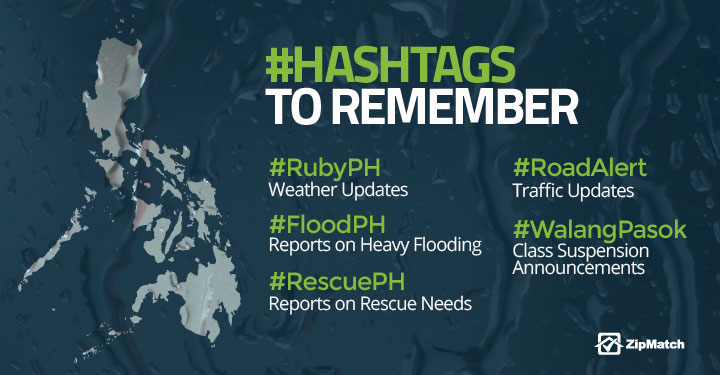 10. Know the important emergency contact numbers.
Save all of them in your mobile numbers, write them down, or print it out. Post it in a noticeable part of the house where everyone can see it. Similarly, list your relatives' numbers so that you can communicate with them continuously and update them of your situation.
Here are some important numbers to know:
Philippine Atmospheric, Geophysical and Astronomical Services Administration (PAGASA) : 434-2696
National Disaster Risk Reduction and Management Council (NDRRMC) : 911-1406 or 912-2665
Philippine National Police (PNP) : 117 or 0917-847-5757
Philippine Coast Guard : 527-6136
Metropolitan Manila Development Authority (MMDA) : 136 or 882-4154 to 74
Philippine National Red Cross : 143 or 527-0000
Bureau of Fire Protection (NCR) : 426-0219, 426-3812, or 426-0246
MERALCO : 162-11
Maynilad : 1626
Manila Water : 1627
11. Have a family disaster plan.
Discuss it well with your family members. Inform them of emergency exit routes, main contact person, who to contact, where to meet if separated, and so on. Let them know that it is important that they are calm and alert.
For those who live in condominiums, make sure you know where the emergency exit routes and stairwells are in case there is a need to vacate the premises and the elevator is not working. Coordinate with your property management and ask them what preparations are in place for your building.
12. Switch off your main power switch to prevent electrical accidents.
Before turning off the main power switch, unplug all electrical appliances and arrange the cords properly.
Check out this ultimate guide to surviving typhoon for Filipinos.
Like What you've read?
If so, please join our newsletter and receive exclusive weekly home buying tips, financing guides and Philippine real estate news. Enter your email and click Send Me Free Updates