Our very own ZipMatch Blog bagged the People's Choice Award for Corporate and Brand Category in the recently held Bloggys 2015 Philippine Blogging Awards last November 21, 2015 held at the SMX Convention Center in SM Aura, Taguig. This award was made possible by public voting.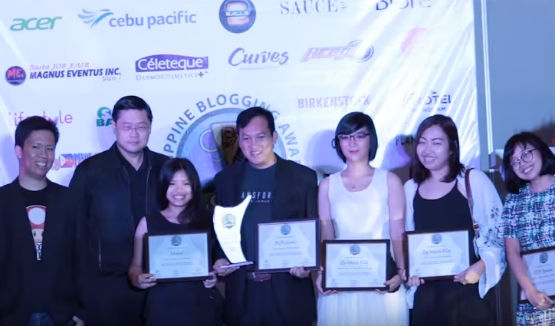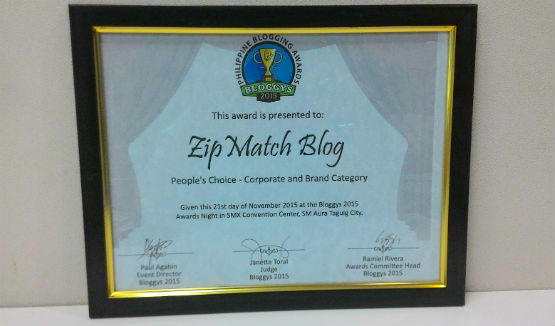 The ZipMatch Blog is one of the home seeker consumer tools of ZipMatch, an online real estate marketplace. Aside from engaging with forum commenters about buying properties and home ownership in the Philippines, the ZipMatch Blog serves as a easy-to-digest resource of tips, guides, and newest trends in Philippine real estate through listicles, features, videos, and infographics.
Other finalists in the Corporate and Brand Blog category include a couple of competitor real estate portals and a major online classifieds. Ask Sonnie, a social business and advocacy blog, won the major prize in the said category.
The event was organized by Essays.ph, the go-to local website for people looking for freelance writing jobs. It was co-presented by McDonald's and MYX Channel. Media partners include Inquirer.net, Cinema One, Hero TV, Lifestyle Network, Balls, JeepneyTV, PinoyExchange.com, Pulp Magazine and Our Awesome Planet.
According to Paul Agubin, CEO of Essays.ph and organizer of the blogging awards,
#bloggys2015 is a nationwide blog awarding event in the Philippines. It continues the legacy of recognizing Filipino bloggers through a variety of niches and industries across the nation."
Many bloggers, journalists, and guests graced the event. It was hosted by Chris Urbano from MaputingCooking, a Philippine YouTube channel focused on food. The event gave awards chosen from 16 judges, who are respected and seasoned professionals handpicked from different industries:
Donald Lim, ABS-CBN Chief Digital Head
Maria Ressa, Founder and CEO of Rappler
Janette Toral, Founder of DigitalFilipino.com
Abe Olandres, Country Manager of Nuffnang Philippines and Founder of Yugatech
Anton Diaz, Founder and Multi-awarded Blogger of Our Awesome Planet
Cristel Gonzales, Digital Director of Universal McCann Cristel
Eduardo Mapa, CEO of Digital Arts Network Manila
Mannix Pabalan, CEO of Hashtag Digital (UAE)
Norman Agatep, Managing Director of Havas Worldwide Manila and President of IMMAP
Jojy Azurin, Co-Founder of Horsepower.ph
Ron Cirujano, Country Head of Upwork PH (Formerly Elance/oDesk)
Sean Si, CEO and SEO Director of SEO-Hacker
JJ Disini, Associate Professor at U.P. Diliman College of Law and Founder of Disini Law Office
John Nery, Editor-in-Chief of INQUIRER.net
JM Nualla, Producer at CNN Philippines; Social Media Head of SubSelfie.com
Wilson Lee Flores, Columnist at Philippine STAR and Real Estate Entrepreneur
Here is the complete list of winners from the different categories:
Arts and Entertainment
Winner: googlygooeys.com
People's Choice: israelmekaniko.tumblr.com
Beauty and Fashion
Winner: projectvanity.com
People's Choice: anneclutz.com
Business and Finance
Winner: tycoon.ph
People's Choice: advertisingandromcumagun.wordpress.com
Corporate and Brand
Winner: asksonnie.info
People's Choice: zipmatch.com/blog
Family and Relationships
Winner: teachwithjoy
People's Choice: cure4mondays.blogspot.com
Fiction and Literature
Winner: michaelsshadesofblue.blogspot.com
People's Choice: michaelsshadesofblue.blogspot.com
Food and Dining
Winner: pepper.ph
People's Choice: melyskitchen.blogspot.com
Health and Fitness
Winner: pinoyfitness.com
People's Choice: endocrine-witch.net
Lifestyle and Hobbies
Winner: wheninmanila.com
People's Choice: thesoshalnetwork.com
Nature and Environment
Winner: avrotor.blogspot.com
People's Choice: diwatangbicolandia.com
News and Events
Winner: thedailypedia.com
People's Choice: wazzuppilipinas.com
Personal/Diary
Winner: sarwrites.blogspot.com
People's Choice: viewfinderskeepers.blogspot.com
Photo Blog
Winner: two2travel.com
People's Choice: jewelclicks.com
Society and Politics
Winner: raissarobles.com
People's Choice: controversyextraordinary.com
Sports and Recreation
Winner: pinoymountaineer.com
People's Choice: analykix.com
Technology and Internet
Winner: back2gaming.com
People's Choice: psychometricpinas.blogspot.com
Travel and Places
Winner: biyaherongbarat.com
People's Choice: dyanlang.wordpress.com
Other major awards were bagged by pepper.ph for Bloggys 2015 Champion and Bloggys 2015 Best Design, Controversy Extraordinary for Bloggys 2015 People's Champion, and The Endocrine Witch for Bloggys 2015 Best Blog Post.
Congratulations to all the winners and thank you to everyone who voted!
Editors' Note: On behalf of all ZipMatch team and our contributors, we would also like to thank our entire ZipMatch blog community for taking time to read our posts and joining in on our discussions.
Like What you've read?
If so, please join our newsletter and receive exclusive weekly home buying tips, financing guides and Philippine real estate news. Enter your email and click Send Me Free Updates