When in the heart of Manila's Chinatown, it seems that everywhere you look, there is a flurry of activity going on — a knot of traffic, lots of pedestrians milling about, overflowing restaurants and noisy mercantile transactions. But there is actually a quieter side of Binondo that is set apart from the hustle and bustle, but still close to life's simple pleasures.
Sky Residence by MCY Development Corporation is located in Dasmariñas Street just beside the Pasig River, in what is considered a more peaceful area of Binondo. Let's take a tour of this new condominium's prime location and find out why it is an ideal place for your next home.
1. Most businesses have set up shop in the area.
Sky Residence is located in the middle of what is similar to Makati's Central Business District. Businesses such as Stateland, Suy Sing Commercial Corporation, China Banking Corporation and Solid Shipping Lines are located near the condominium, as well as government offices such as SSS Binondo and Bureau of Lands, ensuring a more professional neighborhood feel. A bit further west is Escolta, which is filled with interesting heritage buildings and more offices. There are also many banks in the area for your banking needs.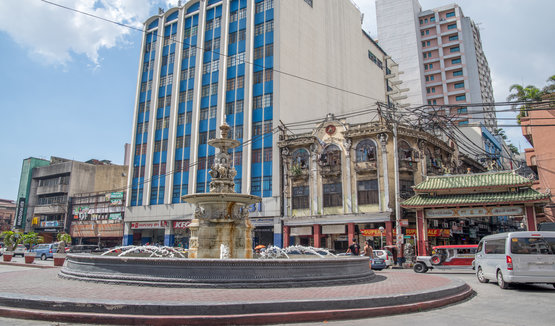 2. There is less traffic.
Compared to the crowded streets of Ongpin and Mapua, the area of Dasmariñas Street near Muelle dela Industria is a safe haven for those weary of Manila's and Binondo's stress-inducing traffic situation. There is even the Estero de Binondo that acts as a physical water border separating it from Binondo's more touristy side.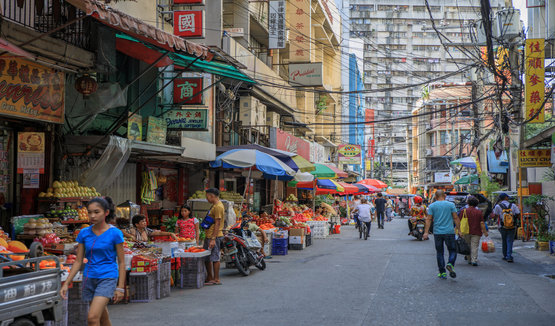 There are also more ways to enter and exit Dasmariñas Street, providing residents in the area utmost convenience. You have four routes to choose from: via Jones Bridge, Delpan Bridge, MacArthur Bridge and Muelle dela Industria Street.
3. It is near the shopping mecca Divisoria.
You can't talk about shopping in Manila without making a mention of Divisoria. The malls and outdoor markets in Divisoria can give you whatever you need: from clothes, accessories and gadgets to school supplies, gift items and knick-knacks to home decor, furniture and industrial supplies to vegetables and fruits. Not only it is practical for you to shop in Divisoria, which is usually the first drop-off point of many imported goods being near the port Manila, but you're also sure that you get the best bargains.
4. There are tranquil views of the Pasig River.
Water is always a calming source of tranquility amid the stresses of modern living. With the Pasig River up close and always in view, you can expect to find peace even in the busiest of times. It also helps that the Chinese consider living beside the river or any natural body of water as a bringer of luck.
5. It is an emerging real estate development hub.
Already, there are three developers — among them MCY Development — that have recognized the enormous potential of this area as an emerging community of individuals who value their privacy, but also some measure of exciting urban living. And that's no surprise, because Sky Residence is still located a stone's throw away from Binondo's famed gastronomical haunts, shopping areas like Lucky Chinatown and traditional Chinese shops, and historical treasures like Intramuros. When it comes to well-balanced city living, Binondo is right up there with the best of them.
If you're looking for a home that offers the best of both busy and peaceful urban worlds, this condominium in Binondo might be a good choice for you.
Like What you've read?
If so, please join our newsletter and receive exclusive weekly home buying tips, financing guides and Philippine real estate news. Enter your email and click Send Me Free Updates