It was during the American occupation that this quiet Quezon City neighborhood into an exclusive residential area for the country's elite: New Manila. Developed by Doña Magdalena Hemady, the tree-lined community became home to affluent residents looking for privacy and tranquillity.
After having survived the Second World War with minimal damages, the most expensive residential land at the time saw progress with the construction of schools, places of worship, and other institutional landmarks. Today, New Manila remains to be a prestigious address that offers the same level of elegance and exclusivity in a city anchored on heritage.
Neighbors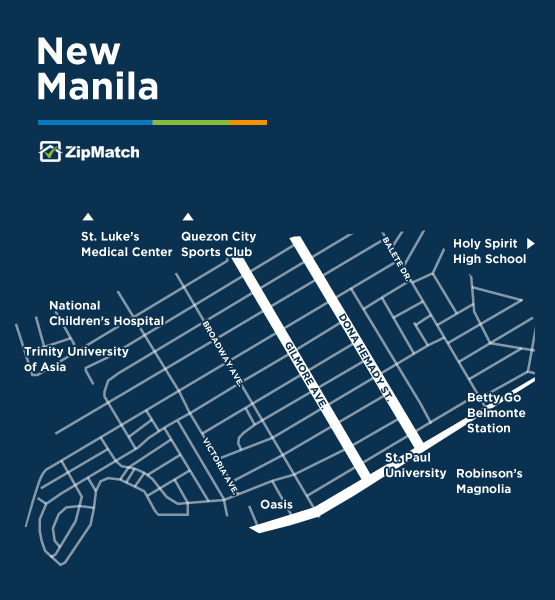 New Manila is located in Quezon City, the most populous city in the Philippines with a land area of over 16,000 hectares. It is comprised of several barangays such as Mariana, Valencia, Damayang Lagi, Kristong Hari, Kalusugan, and Kaunlaran. The main thoroughfare in the district is Balete Drive, a two-lane street connecting Eulogio Rodriguez Sr. Avenue and Nicanor Domingo Street. Other major roads within the vicinity include Gilmore Avenue, Aurora Boulevard, and Broadway Avenue.
Getting Around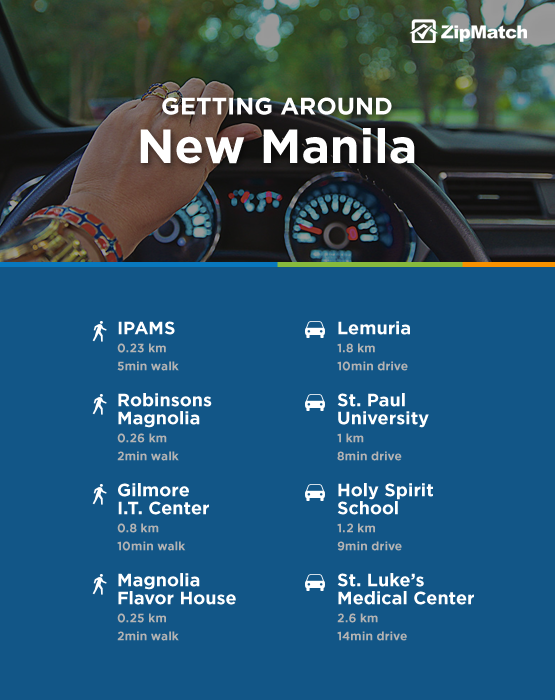 The Manila Light Rail Transit Line 2 (LRT-2), particularly the stations of Betty Go-Belmonte and Gilmore, is the most convenient mode of transportation in New Manila, as it runs along the stretch of Aurora Boulevard. Another inexpensive means of getting around is via the bus terminals located in Gilmore Avenue, Doña Hemady Street, and Balete Drive. Jeepneys, taxis, and tricycles are also available in the area.
Why You'll Love the Place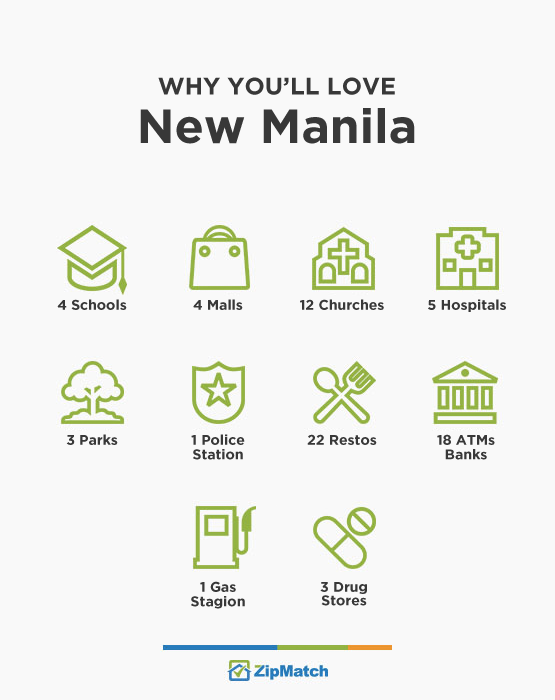 The residential area of New Manila has now expanded to condominium developments that offer the same kind of privacy and exclusivity as its expansive lush subdivisions. It is the ideal community for growing families looking for peace and quiet, yet prefer easy access to central business districts and commercial hubs.
SkyVillas at One Balete, for instance, is a 31-storey luxury condominium that addresses the longing for intimate living in generously sized spaces. It boasts of having only two to eight apartments in each floor, thereby resulting in wider cuts. The single-bedroom units measure 65 square metres, the two-bedroom units 132 square metres, and the three-bedroom units 205 square metres. Conforming to a neutral palette and featuring light wells, each apartment is equipped with a kitchen fully fitted with SMEG appliances, a separate service entrance, a utility area with open-air ventilation, and a maid's room with a spacious bathroom.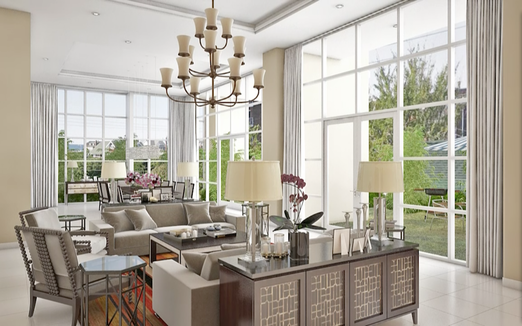 New Manila is surrounded by schools, churches, restaurants, and commercial establishments—all of which represent how the neighbourhood has kept up with the modern times while still taking pride in its storied past.
The high-rise condominium is near educational institutions like St. Paul University Quezon City and Holy Spirit School. Also within walking distance is Robinsons Magnolia, while Greenhills Shopping Centre is just a 15-minute drive. Medical facilities like St. Luke's Medical Centre and churches like Our Lady of Mt. Carmel Shrine can similarly be reached via a short drive.
The community gives a taste of the arts as well, with the Philippine Educational Theatre Association being situated within close proximity. Even Tomas Morato Avenue, one of the most popular food strips in Quezon City, is only a jeepney ride away. Routes are also available towards the central business district of Ortigas and the circumferential highway of EDSA.
Lifestyle
Once the crown jewel of Quezon City, New Manila is a rich community that stood the test of time. Its old mansions are symbolic of elegant living, while the sprawling spaces are representative of a tranquil escape.
Through the years, it managed to retain such luxe atmosphere, but gradually evolved into an accessible community that keeps up with the needs of modern families. What used to be an undeveloped piece of land is now peppered with newly built condominium developments and hangout places influenced by current trends. With the privacy and exclusivity it promises, there's no doubt that New Manila will continue to be a famed residential area in the face of a new era.
Like What you've read?
If so, please join our newsletter and receive exclusive weekly home buying tips, financing guides and Philippine real estate news. Enter your email and click Send Me Free Updates