The Philippine condominium market remains as robust as ever, with 38,000 units being sold via pre-selling in 2016 and an additional 23,000 units being launched. With high concentration within Metro Manila, developers are still keen on traditional areas such as Makati, Ortigas, and Fort Bonifacio. However, we're also anticipating Diliman, Cubao, South Triangle, and Maybunga emerge as top condo districts in no time. With so many properties promising to be one's next great investment, buying a condo in the Philippines could be tricky. ZipMatch's Data Science team crunched the numbers on the thousands of condominiums listed in its database to help potential investors decide where to put their money.
When in Doubt, Check the Rental Yield
Any real-estate expert would state that rental yield is one of the best criteria for investment. The Asian average is around 4.2%, but this number pales in comparison to those of Metro Manila, where rental yields range from 6.51% to 7.98%. The western part of Metro Manila, consisting of Manila (7.91%), Pasay (7.38%), Paranaque (7.98%), and Las Pinas (7.56%), leads the way in rental yield.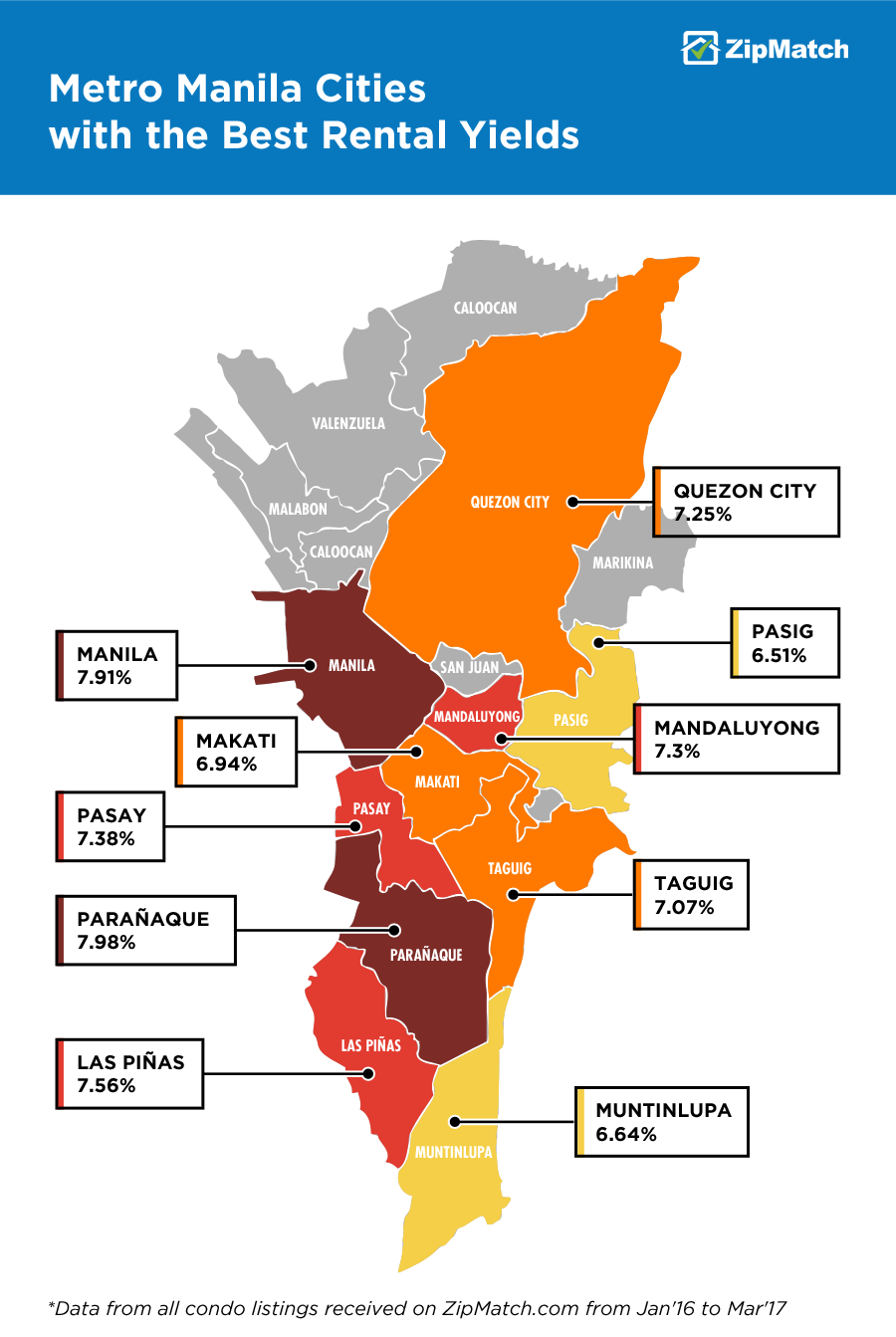 *Have a specific location in mind? Check its rental yield here.
Manila, for instance, receives millions of students year-round, and the revitalization of its old business and entertainment districts has led to the influx of new residents. Pasay and Parañaque, on the other hand, have been benefitting from the establishment of a new entertainment and gaming hub on reclaimed land. The former has the SM Mall of Asia, one of the largest malls in the country, and Resorts World Manila; and the latter boasts of the City of Dreams, Resorts World Bayshore, and Solaire. Both cities benefit from easy access to and from the airport with the opening of the NAIA Expressway, and along with Las Piñas, will soon be connected by rail with the LRT-1 extension.
Traditionally strong areas, such as Makati, Pasig, and Taguig, are of course still exceptional places for condominium investment due to the presence of central business districts, but one trend that has raised rental yields in frontier markets such as Quezon City, Mandaluyong, and Muntinlupa is the BPO industry, with the demand for 24/7 access to services and living space close to technoparks driving new developments. The wealth is constantly being spread throughout Metro Manila, and condominium buyers are reaping the rewards.
The Hottest Pre-Selling Condominiums in the Philippines
*Data is based on all condo rental listings received on ZipMatch from Jan'16 to Mar'17
While condominium projects located in traditional markets such as Fort Bonifacio Global City and Makati are always a good buy, many of the best condominiums for sale at this moment are located in non-traditional areas. For instance, the hottest pre-selling condo for sale, Amaia Series Novaliches, is located in the extreme northern part of Quezon City, a considerable distance from the nearest CBD. This might reflect a trend towards medium-rise developments located in the suburbs.
Others in the top ten, such as Amaia Skies Shaw, Lumiere Residences, The Vantage at Kapitolyo, and Asteria Residences, are conveniently located near CBDs but are not within their jurisdictions. The first three are located along the stretch of Shaw Boulevard that connects Pasig with C-5 Road, and have excellent accessibility to EDSA, Makati, and Fort Bonifacio Global City.
The Hottest Ready for Occupancy Condos for Sale in the Philippines

*Data is based on all condo rental listings received on ZipMatch from Jan'16 to Mar'17
Similarly, while rental demand for Ready for Occupancy (RFO) condominiums is high in traditional markets, there are a few outliers worth noting. Zinnia Towers, in Balintawak, and Grass Residences, in Santo Cristo, are not located near any CBDs, but due to their location along EDSA, it has easy access to major business districts and shopping malls. Tivoli Garden Residences, in Hulo, is a short walk from the Makati-Mandaluyong Bridge, while Light Residences and Pioneer Woodlands are located close to a large shopping mall and the Boni Avenue MRT-3 station, making travel to either Makati or Ortigas Center quick and easy.
Investment Tip: Smaller Unit Types Have Higher Rental Demand
For investors who want to gain more information on the rental behaviour in Metro Manila, ZipMatch's Data Science team gathered information on the demand for different unit types in key Metro Manila districts. With just a few exceptions, they were able to determine that rental demand for studio-type and one-bedroom units is far larger than two-bedroom units and up. This is especially true for central business districts or areas close to them, such as Ortigas Center (with Greenfield District, Ugong, Hulo, and Maybunga) and the Makati CBD (with Salcedo Village, Legazpi Village, San Antonio Village, and Bel-Air Village).
This table shows the demand for each unit type in key Metro Manila districts.

*Data is based on all condo rental listings received on ZipMatch from Jan'16 to Mar'17
Conversely, the demand for larger units (2br and up) goes higher as one goes farther into the residential areas. For instance, Acacia Estates, which is located some distance from Fort Bonifacio Global City, is dominated by two-bedroom and three-bedroom units. San Lorenzo Village in Makati, on the other hand, might be right beside Ayala Center, but is favored by larger families due to the presence of Assumption College, Don Bosco Technical Institute, and the nearby Colegio San Agustin.
This trend is also evident in areas such as Diliman and Loyola Heights, which might actually be considered a separate academic quarter due to the presence of the University of the Philippines, Ateneo de Manila University, and Miriam College. The demand for two-bedroom units in Diliman (including U.P. Village and Teachers' Village) is a very high 62%, while in Loyola Heights, there is strong demand for one-bedroom units (32%) and condominiums with more than three bedrooms (36%).
Other areas that have high demand for large units include Merville Park, Greenhills, and Pamplona, all of which have been long established as residential suburbs.
Conclusion
Condominiums in the Philippines, particularly Metro Manila, make excellent investments. This is mainly due to their affordability and high rental yield rates compared to the Asian average. While a condominium located in the CBDs of Makati, Ortigas Center, or Fort Bonifacio makes a good investment, there is no shortage of options if one wishes to look at other, non-traditional areas, such as Diliman, Hulo, South Triangle, or Shaw-Kapitolyo, as these districts are proving to be popular among young professionals and small families.
Disclaimer: Note that these rankings change periodically. The top condominium rankings mentioned in this article are results from data gathered in the second quarter of 2017. See realtime rankings at www.zipmatch.com/rankings.
Like What you've read?
If so, please join our newsletter and receive exclusive weekly home buying tips, financing guides and Philippine real estate news. Enter your email and click Send Me Free Updates